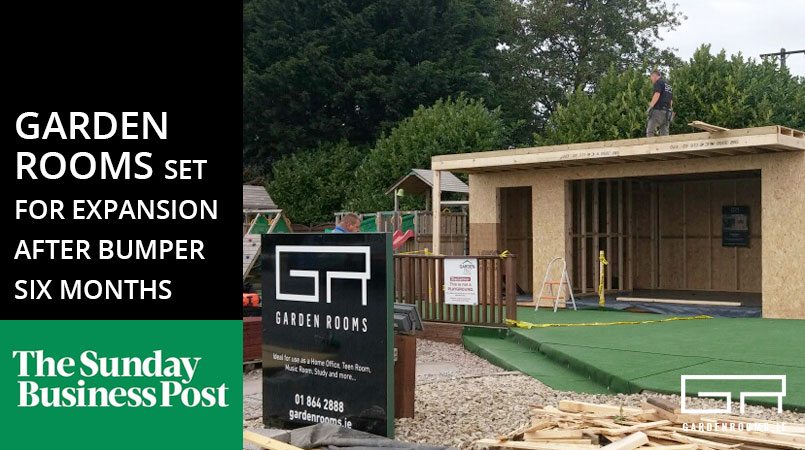 28 Sep

Garden Rooms Set For Expansion After Bumper Six Months

Lily Killeen from the Sunday Business Post delightfully summarised the journey of Garden Rooms, from its start in 2003 to the current day while also highlighting a bright future ahead, in her article on People in Business last month. After a bumper six months we're set for expansion and the above photo shows the work in progress and the improvements currently taking place at the Garden Room showrooms.
From Log Cabins To Garden Rooms
After initially starting out providing a traditional log cabin in the early days, Garden Rooms now manufactures architecturally designed contemporary and aesthetically pleasing 'Cubes', measuring between 15 -25 square metres. Garden Rooms has achieved an excellent reputation for high quality by investing heavily in their materials from double wall insulation, double glazed windows and doors, to wood sourced from 250-300 year old Canadian Cedar for the outside cladding.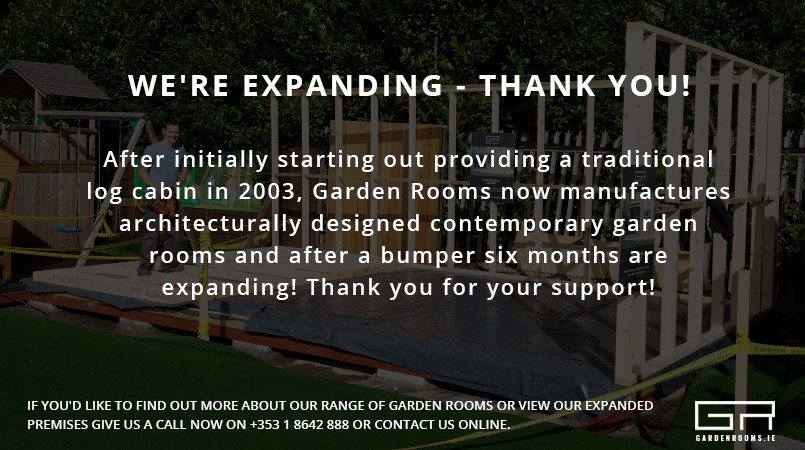 Easier Than Converting The Attic!
Besides covering the Garden Room journey, the article also explains how the purchase of a Garden Room can be an easier option than converting the attic or building an extension, with the wonderful benefit of no planning permission required. Garden Rooms have been built for a variety of purposes – home offices, home gyms, music rooms or therapy rooms, to name a few. Teenager Dens are proving extremely popular, specifically with parents in the 40 to 50-year-old age bracket, wanting to provide their teens with their own space as they mature into adulthood. The Garden Rooms can even be fitted with a wash basin and toilet. Garden Rooms will arrange the necessary plumbing required.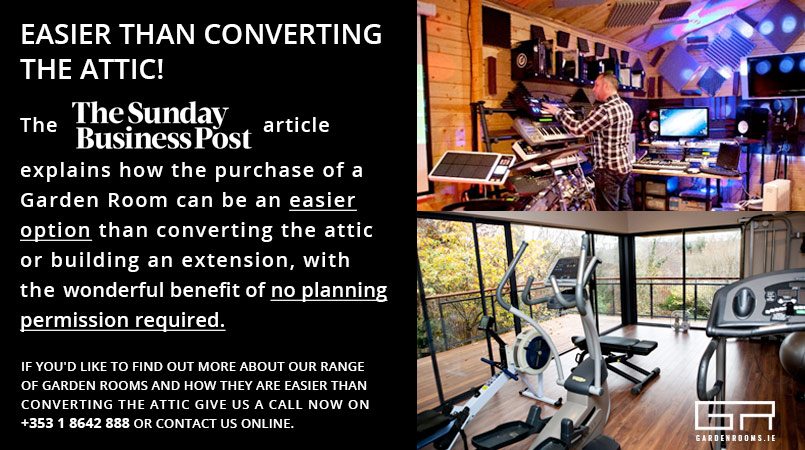 The article also mentions Garden Play, a separate company which John Sherry established during the recession to help sustain Garden Rooms during the downturn. Garden Play sells high end swings, slides and climbing frames, amongst other outdoor Garden Play equipment suitable for children of all ages and remains profitable today.
Thank you to the Sunday Business Post for this great article which you can view a version of here. If you'd like to find out more about our range of garden rooms give us a call now on +353 1 8642 888 or contact us online!