03 Oct

Cedar Cladding: The Ideal Choice For Your Garden Room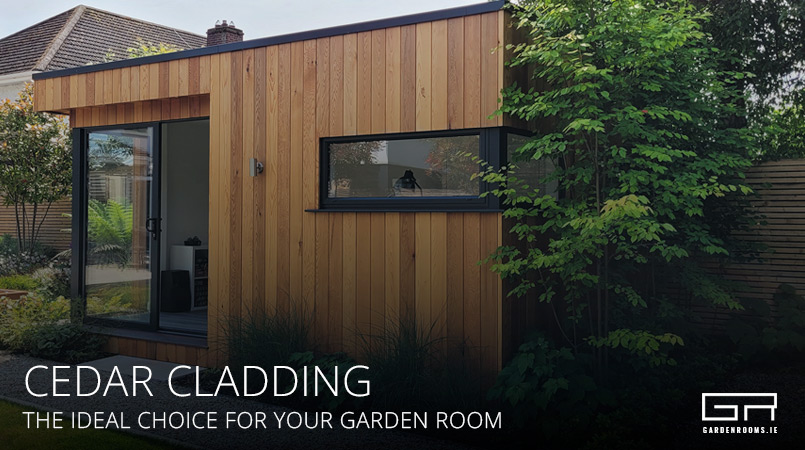 Here at Garden Rooms, we don't just create functional garden rooms. We design garden rooms that add style and architectural beauty to your outdoor space. As such, the exterior cladding that we choose for our luxury garden rooms must be both stunning and practical. And that is why we can't get enough of Canadian Red Wood Cedar.
Cedar Cladding with Canadian Red Wood
While many types of wood can look good at first, they can deteriorate rapidly, affecting both the aesthetic and the lifespan of the garden room. But not ours. Read on to find out more.
What do we use to clad our luxury garden rooms?
All our cedar is 250-300 year-old, Canadian Red Wood Cedar, sourced from Vancouver Island, Canada.
Is our Cedar Sustainable?
Yes, our cedar is 100% PEFC Certified. This means the cedar is grown and harvested responsibly, from a forest that is managed in line with the strictest environmental, social and economic requirements. A forest that will be around for generations to come. Timber is also biodegradable, meaning that it can be composted or recycled into new products when it reaches the end of its life.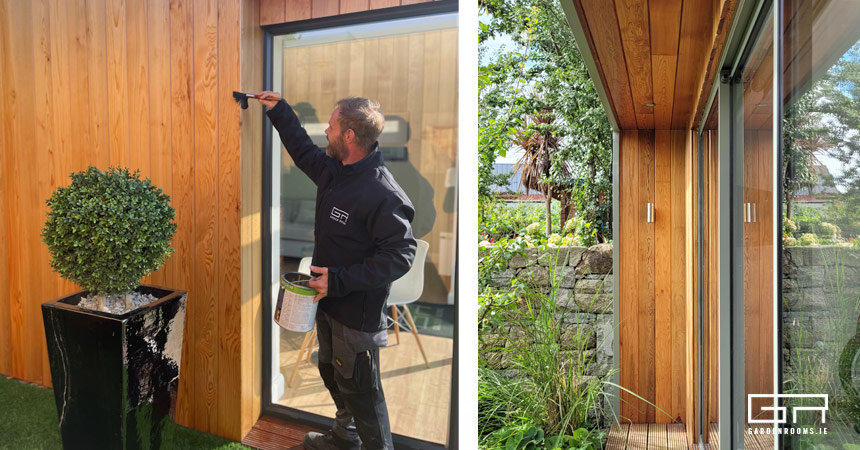 How Durable is Canadian Red Wood Cedar?
Canadian Red Wood Cedar is highly durable. Our cedar has a class 2 durability rating, the highest rating for durability of any softwood, giving it a lifespan in excess of 40 years. This is thanks to its natural moisture resistance and a range of naturally occurring compounds in the wood, that give it natural resistance to fungal decay and insect damage. (By comparison, UK-grown Red Cedar is rated class 3 – only moderately durable).
How Stable is Canadian Red Wood Cedar?
Canadian Red Wood Cedar is highly stable, meaning it shrinks and swells only minimally with changes in temperature and moisture. This superior resistance to warping, cupping and twisting makes it the perfect choice for exterior cladding.
Is Canadian Red Wood Cedar Thermally Efficient?
With its low density and high proportion of air spaces, our thermally efficient timber cladding keeps your garden room warm in the winter and cool in the summer. Canadian Red Wood Cedar is the best thermal insulator among commonly available softwood species and is far superior to brick, concrete or steel.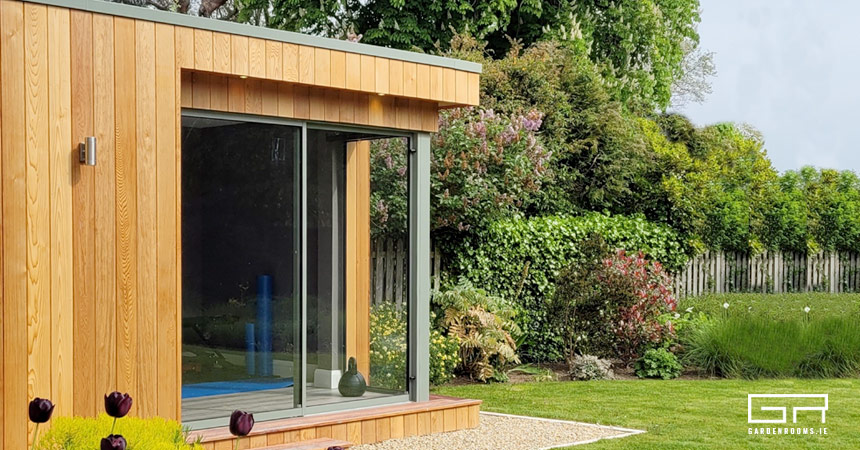 Does Canadian Red Wood Cedar have Sound-Proofing Qualities?
Cedar's open cell structure makes our cladding excellent at absorbing noise, providing a level of sound insulation that will quieten your garden room.
How does it look?
Cedar is renowned for its natural beauty. It's fine-grained texture and natural warm hues, ranging from smooth ambers to rich cinnamon browns, give it a distinctive and deluxe look, that sits perfectly in any style of garden.
Does cedar cladding need to be maintained?
Due to its inherent durability, stability and decay resistance, Canadian Cedar is low maintenance, compared to many other timbers on the market.  But of course, as with any natural product, it is not entirely maintenance-free. To keep your cedar cladding looking good and performing at its best, you should treat your cladding regularly. This can be with a stain, paint or oil. We, at Garden Rooms recommend a transparent oil, as the best way to maintain your cladding's beautiful natural colour, whilst still protecting it from the elements.
What happens if you don't treat cedar cladding?
Over time, untreated cedar cladding will fade to a silvery grey colour, through exposure to the elements, in particular UV from the sun. This is why south facing cedar-clad walls will become grey more quickly than north facing ones. To protect the wood and maintain the cedar's rich, original colour, it is important that you treat it every couple of years (it is trickier to bring back that glorious colour once it's already faded to grey).
What should I use to treat my garden room cedar cladding?
There are many different varnishes, stains and oils on the market, providing a range of colours and finishes,. At Garden Rooms, we recommend treating your cedar cladding with a clear oil such as Osmo UV-Protection-Oil Extra. It penetrates deep into the wood, not only enhancing the natural colour of your cedar, but also keeping it elastic and healthy, and reducing swelling and shrinking from moisture. For the deck port (step area), we recommend using the Anti-slip Decking Oil from Osmo.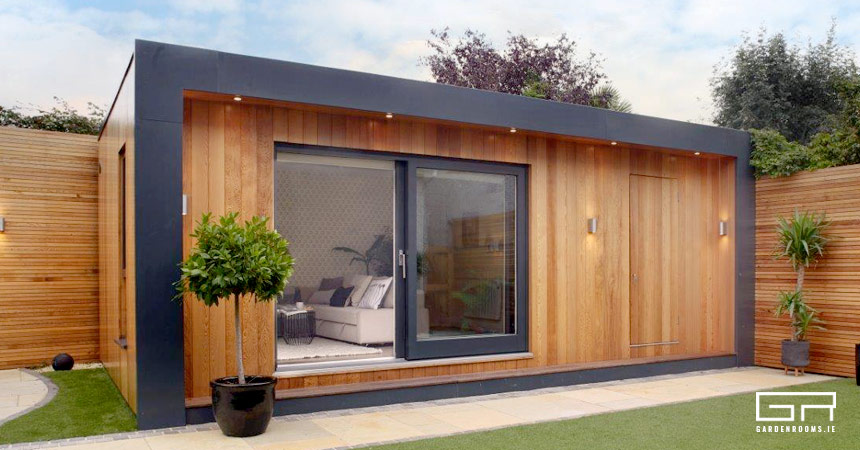 How do I apply the protective oil?
Firstly, make sure the timber is dry and frost-free, then prepare the wood for oiling. Depending on how weathered your timber is, this could be a simple case of removing cobwebs and wiping away some loose dirt, or it could mean a heavy-duty clean and sanding down. Once the surface is prepped, stir the oil treatment well and apply with a stiff brush or a microfibre roller thinly and evenly along wood grain, and allow to dry.  Of course, for any treatments, make sure to follow the manufacturer's individual guidelines. And if you are unsure about any stages of the process, or which product is most suitable for your project, the team at Osmo Ireland are always happy to offer their expert advice.
Where can I purchase Osmo UV-Protection-Oil Extra?
There are a number of ways to purchase Osmo products for your cladding treatment project. You can buy them online from Osmo Ireland at: www.osmoireland.ie. Alternatively, you can purchase them from Stillorgan Décor (south Dublin), or Timber Ireland/Panel Depot (north Dublin).
How often do I need to treat my cedar cladding?
The maintenance period will depend on a number of factors, including the type of treatment used, the orientation of the cladding, and how much wind, rain and sun it receives. At Garden Rooms, we recommend treating your garden room cedar cladding every year or two, with Osmo UV-Protection-Oil Extra.
What if I don't want to treat the cedar myself?
If you have bought a garden room from us, but DIY isn't your thing, the team at Garden Rooms offer cedar cladding treatments as an optional extra in our after-sales care package. Get in touch to find out more.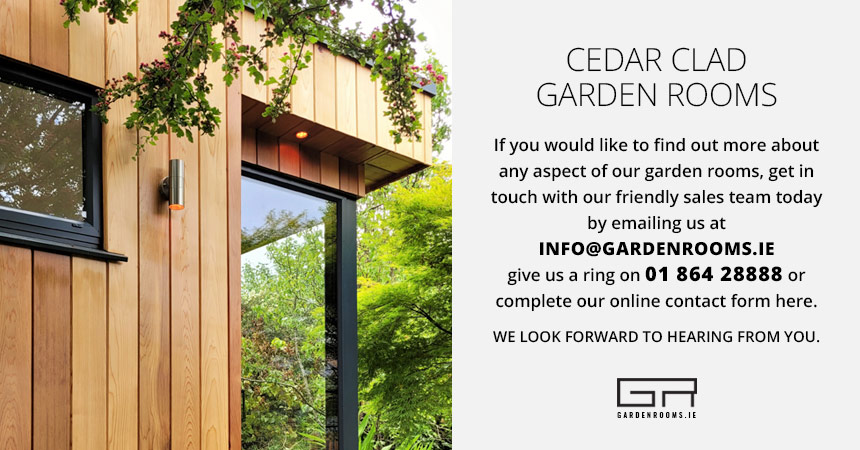 Cedar Clad Garden Rooms
If you would like to find out more about any aspect of our garden rooms, get in touch with our friendly sales team today by emailing us at info@gardenrooms.ie, give us a ring on 01 864 2888 or complete our online contact form here. We look forward to hearing from you.