12 May

Not Just a Shed with Notions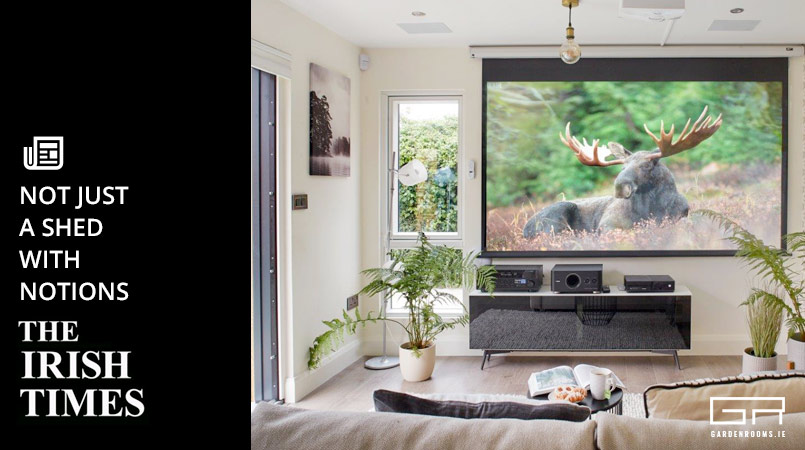 Many Garden Rooms boast all the creature comforts of the main house, writes Alanna Gallagher of the Irish Times.
Revisiting The Garden Rooms Concept
Alannah Gallagher of the Irish Times recently revisited the garden rooms concept. Having wrote many articles about these outdoor garden pods over the years she discussed how they have now become mainstream.
"Some are simply sheds with notions, wired for light and Wi-Fi but little else, but for many more the room description is taken very literally, and they boast all the creature comforts of the main house and are fitted out to a similar level of creature comfort."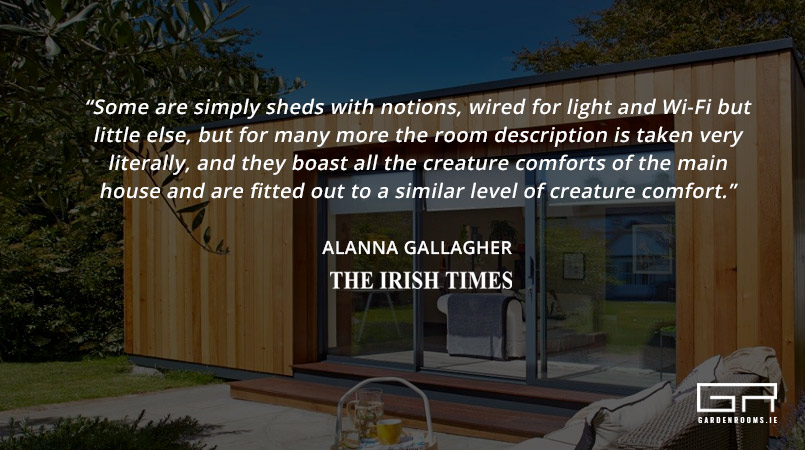 Garden Room Trends
Of course, none of this is news to us, the Garden Room trend has been on the rise year on year since 2013. The perception of gardens and what they have to offer has changed dramatically. For many, what was once a place for the washing line and the garden shed is now seen as an extension of the home. People expect a lot from even the smallest spaces. Gardens have grown into another room of the house with sections dedicated to entertaining, relaxing, dining. A Garden Room allows you to add floor space to your home in a quick and easy way.
But, Do They Add Value?
A question that comes up a lot when we meet our customers; does a Garden Room actually add any value to your home? Yes, says Andrew Foran of Quillsen estate agents. "A lot of buyers are looking for an ancillary space to work from home, even on a hybrid basis. They primarily want to use it as a home office or as room for teens that doesn't spill into the main house. Quantifying that value is more difficult, but this year the market is stronger even than last year. In homes worth more than €500,000 you should be getting your money back but it will depend on your location."
Variety of Uses
As John Sherry discussed with Alannah, over a quarter of our clients use their Garden Rooms as a home office. A further 30 per cent concede the space to their teens to use for music, gaming or as a den to hang out with friends without driving their parents completely nuts. Another 30 per cent use their outdoor rooms as a multi-purpose space that multi tasks as a yoga studio, home gym, a music room, home bar or art studio.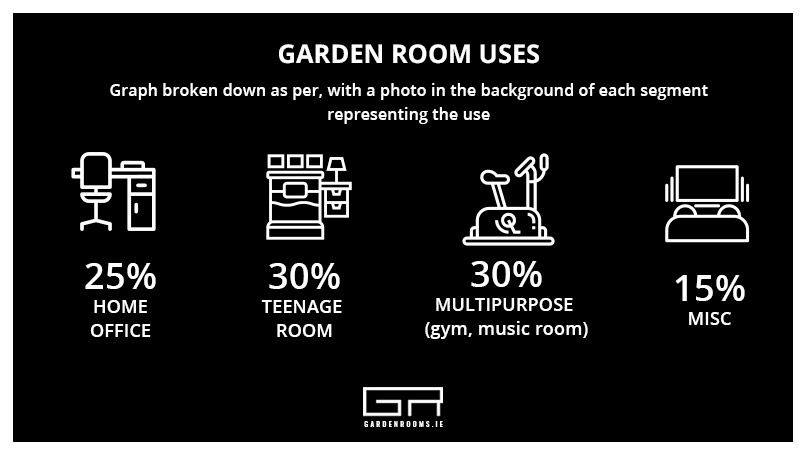 The Original Garden Room Company
As the original Garden Rooms company, we were delighted Alannah chose our architecturally designed Garden Rooms to discuss maximising outdoor space. All our Garden Rooms are insulated and finished to a standard you would expect to find inside your home. Our timber framed buildings are set on concrete pads and insulated using earth wool and foil-backed insulation. We achieve an internal ceiling height of 7 and a half foot (2.3metres), ensuring the space does not feel cramped or shed like. The walls are plastered and skimmed and the rooms are finished with commercial grade laminated flooring and brushed chrome electrical fittings inside and out. About 40% of our clients will add a W.C. or bathroom, other optional extras include adding soundproofing, Velux roof windows and storage areas.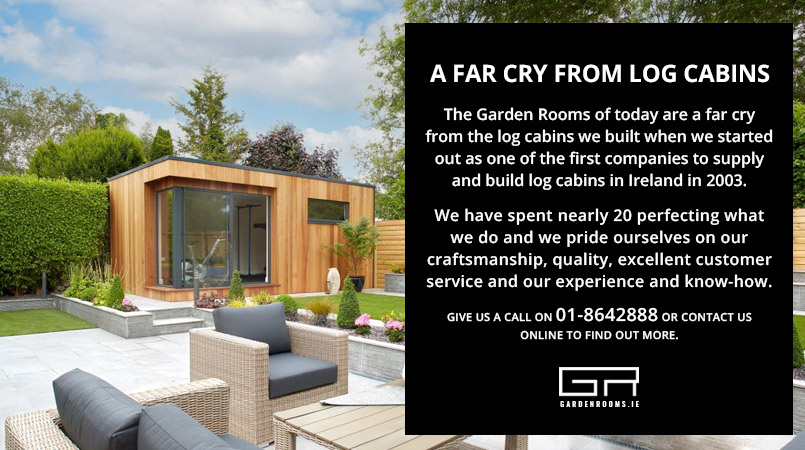 A Far Cry from Log Cabins
The Garden Rooms of today are a far cry from the log cabins we built when we started out as one of the first companies to supply and build log cabins in Ireland in 2003. We have spent nearly twenty years perfecting what we do and we pride ourselves on our craftsmanship, quality, excellent customer service and our experience and know-how. Take a further look at our Garden Room Designs and give us a call on 01-8642888 or use our online Contact Form to get in touch and find out if a Garden Room is the right solution for you.