12 Sep

Garden Rooms Make Great Art Studios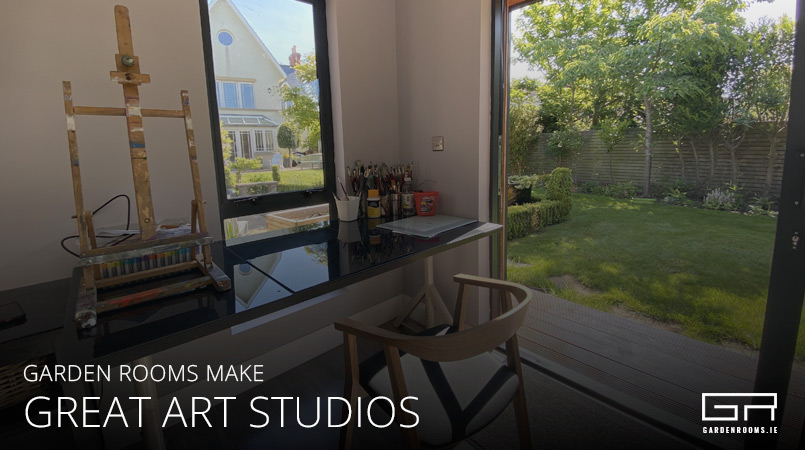 If you dream of having a spot in your home where you can paint, draw or sculpt, but you've run out of space, then you should consider an art studio in the garden. Whether art is your hobby or profession, our garden rooms make ideal art studios. And here are just a few reasons why.
1. Get Artistic Whatever the Weather
Our high-quality cedar cladding, roofing membranes, integrated heating and thermally efficient insulation means our garden rooms are suitable for use throughout the year. So, you can stay cosy whilst getting creative, even in the coldest of winters.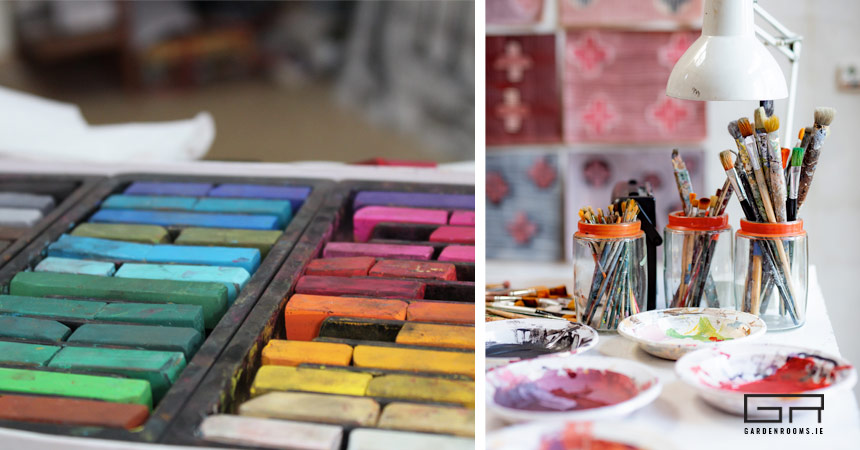 2. Optimise Natural Daylight
Natural daylight is wonderful for creating art, but it can change depending on the time of day. Warm light from sunset or sunrise, for example, can alter the appearance of paint colours, while too much light can create glare and reflections on your work. Artists generally prefer to work in northern light, as it eliminates shadows and provides a constant and consistent light and cool value. Our expert design team will take all this into consideration when they design your room's orientation, window position and window size, to help you create a garden room studio that makes the most of your available natural light.
3. Work into the Night
Our garden rooms come with 6-8 LED spotlights as standard, ideal for illuminating your art studio into the wee hours. For artists who work in the studio during the evening, it is important to ensure that the artificial lighting closely replicates natural daylight to maintain accurate colour perception. Irish lighting design and manufacturing company, Mullan Lighting, explain, "It is best to choose a bulb with a colour-rendering index (CRI) of 90 or above to replicate natural daylight. It is also important to also have focused task lighting such as Mullan Lighting's Telal table lamp with desk clamp near the easel or the worktable to ensure that they are properly lit." Make sure to read our guide to garden room lighting with Mullan Lighting for more info about lighting options for your Garden Room.
4. Storage is Your Friend
From tools and equipment, to protective clothing and cleaning products, the list of supplies that come with an art studio can be endless! Luckily, our garden rooms are the perfect place to store all these materials. Whether you go for custom cabinetry, flat-pack shelving or a totally separate storage room, your art studio can be kept well stocked, while remaining tidy and organised. For garden room storage ideas see our '7 Storage Ideas for your Garden Room' blog.
5. Sink For Washing Art Equipment
Our garden rooms can be fully plumbed, meaning you can have a bathroom or even just a sink installed. Creating art can be a very messy process, so having access to running water, rather than having to traipse to and from the main house, is a huge advantage for any artist. It also means you can make a cuppa whenever you like. Now that's a bonus!
6. Get Inspired by Nature
What could be a more inspiring location for an art studio, than surrounded by nature in your garden? Nature has provided endless inspiration for artists over the centuries. And today's scientists are finding that exposure to plants and nature improves our physical and mental wellbeing, as well as helping us be more productive and creative. So, get into the garden and cure that creative block!
So, garden rooms make great art studios. But don't just take our word for it. Here's what one of our customer's had to say about her garden art studio: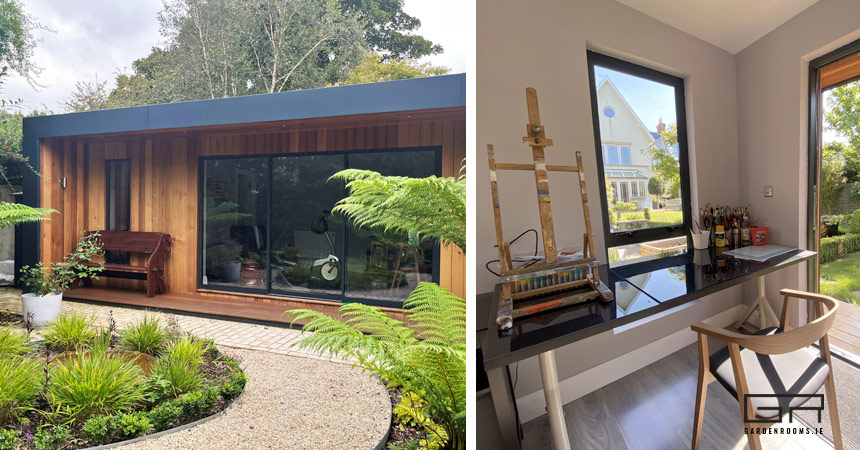 Garden Art Studio Testimonial
From Eileen Lee in Sutton, Co. Dublin
In 2020, we constructed an Ultimate 25 for Eileen, as a place where she could paint, draw and pursue her love of photography. Having taken art night classes since 1990, she later studied at the National College of Art and Design. Eileen has created pieces for interior designers and architects and is passionate about her craft.
"I absolutely love art, as it's very therapeutic and creative. I find I can lose time so quickly when doing art as I just focus on what I'm doing and don't think of anything else."
But before getting the garden room, Eileen worked in her kitchen, which was far from ideal,
"I had art equipment everywhere and had to do a major tidy up prior to meals. I also found I had limited space for my art materials, so I figured an art studio would give me the badly needed storage space I wanted, as well as a space I could work without being disturbed"
So how did Eileen find the design and build process?
"I was very happy with both the design and building process. John was great at listening to my needs and he designed the garden room accordingly. Light was important to me and there is plenty of light coming in, which John took into consideration when he designed the room. I also opted for a storage room, as that was important to me. The building work was not disruptive to our daily lives and the guys were extremely courteous and hard working."
So, has Eileen's art studio been a success?
"The garden room is a fabulous place to work as it's spacious, quiet, serene, bright and warm. Additionally, as art can be messy, the garden room is a brilliant place to work as you can just put down some clear mats and not worry too much about getting the place destroyed!"
In fact, the only 'problem' Eileen has had, is that it's proved a little too popular!
"The garden room was initially intended as my art studio. But my husband like it so much, he took it over as a garden office! Especially for conference calls as it's so quiet and peaceful."
And it's not just her husband, her kids have got in on the action too!
"It's become a bit of everything. An office, gym and art room and more. The family love it for watching TV, reading a book or just to escape, as it's very peaceful, quiet and warm."
Finally, would Eileen recommend a garden room to others?
"I would absolutely recommend a garden room. It's an absolutely fabulous addition to our home and so well built."
That's what we love to hear, another happy customer!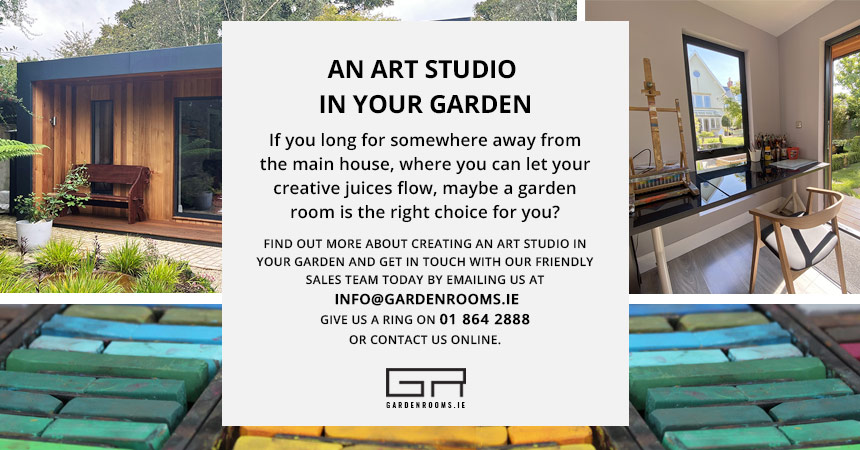 An Art Studio in your Garden
If, like Eileen, you long for somewhere away from the main house, where you can let your creative juices flow, maybe a garden room is the right choice for you? If you would like to find out more about creating an art studio in your garden, get in touch with our friendly sales team today by emailing us at info@gardenrooms.ie, give us a ring on 01 864 2888 or complete our online contact form here. We look forward to hearing from you.