22 Mar

7 Storage Ideas For Your Garden Room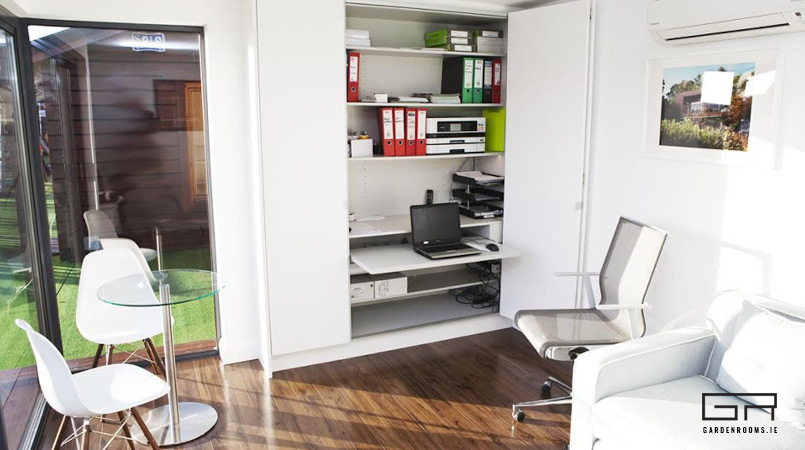 A Garden Room is a wonderful addition to any home, adding value and luxury, and of course extra space. Whatever you use your garden room for, be it a home gym, art studio, garden office or teen den, you're bound have a whole load of stuff that goes along with it. And that stuff needs a home. But after building your perfect Garden Room, the last thing you want, is for it to become a disorganised, dumping ground. So, check out these stylish storage ideas for your garden room to help you make the most of the available space.
1. Separate Storage Room
With our fully customisable Garden Rooms, our customers have the option of adding a partition wall and internal door, to create a completely separate space within one Garden Room. This is great for easy-access to your files in a home office or athletic equipment in a home gym. It is also a great solution for a multi-purpose space, where you don't want to look at your paperwork or laundry baskets when you're relaxing in your garden cinema.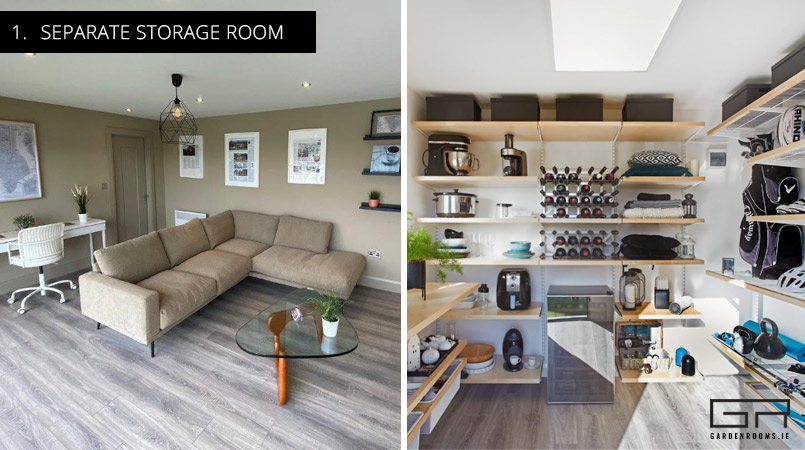 2. Create an Integrated Shed
If your storage needs are for bulky items like bikes and scooters, that don't need to be accessed from inside your Garden Room, or you want to store gardening supplies, tools, camping equipment, lawnmowers etc., adding a partition wall with an external door is another great option. Integrating your shed with your garden room is perfect for the design-conscious customer, who doesn't want the clean lines of their garden room ruined by an unsightly shed beside it. The door can even be cedar clad, making it blend in seamlessly with the exterior. At Garden Rooms, all our designs can be tailored to your needs, allowing you to choose the size and position of your integrated shed.
Top Tip: To keep your shed space organised, use the walls as much as possible to stop items filling up the floor. Install shelves, wall-hung drawers, and bike hooks for a clutter-free storage space.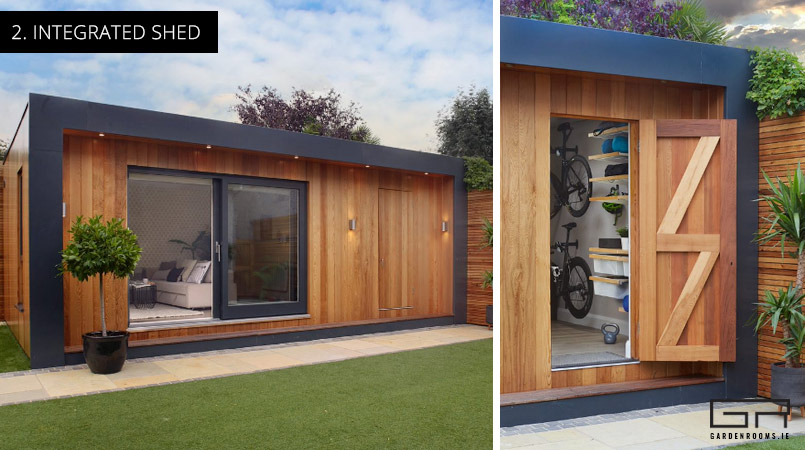 3. Create a 'Cloffice'
With nearly a quarter of the workforce in Ireland still working remotely, home offices are in high demand. But not everyone wants to devote their entire Garden Room to it. Multi-functional garden rooms are extremely popular, but hiding your office setup when you're using the room to do other things, can be a challenge. One clever solution is the 'cloffice'. This combination of a closet and office basically means you put a desk in a press! All you need is a standard depth cupboard, and a shallow desk to slide in and out. Consider making it more fun with some wallpaper or a splash of colour, and add some shelves for stationary and paperwork. Just make sure when you're designing your Garden Room to include a power socket in a suitable position for your computer. At the end of the day simply shut the doors and switch off.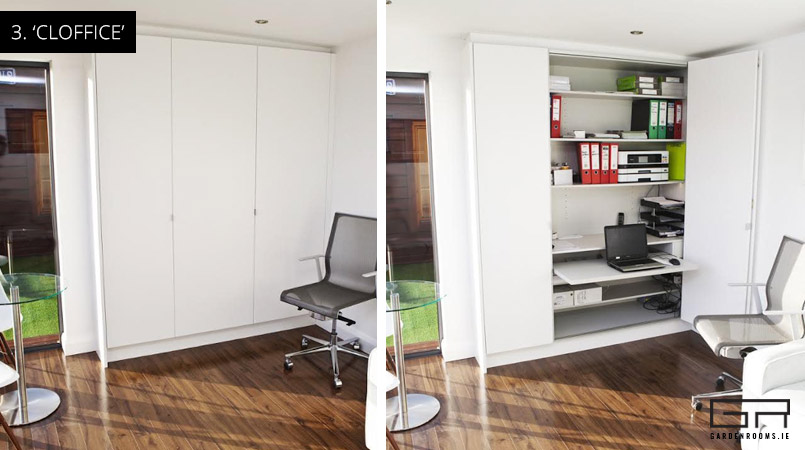 4. Built in Cupboards
If you have lots of items to store away, but they are not very pretty, you're best bet is behind closed doors! By creating a run of built-in wardrobes along the whole length of this wall, this customer has created tonnes of storage. By choosing simple, slab door fronts, in the same colour as the walls, the storage blends into the background and lets the artwork and soft furnishings be the stars of the show.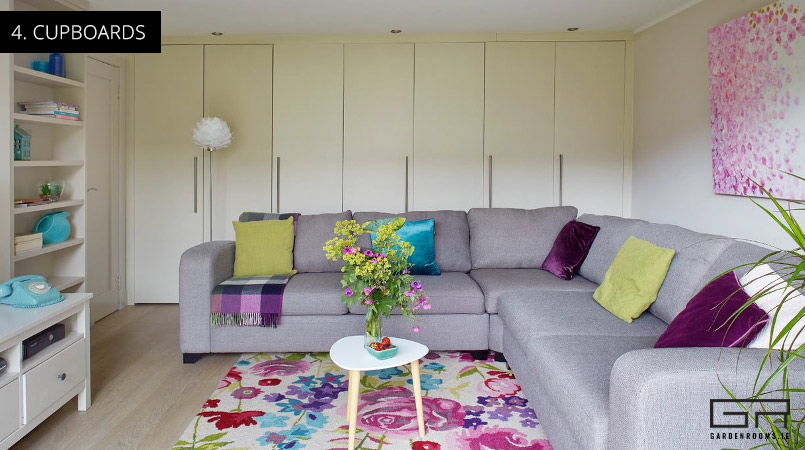 5. Open Shelving
If you intend to use your Garden Room as a place to kick back and read a book, or listen to music, you'll want somewhere to store all those books and vinyls. So why not install floor to ceiling shelves? By using the whole height of the wall, these customers have maximised the wall's storage potential. And instead of hiding items away behind doors, the open shelving allows you to display your precious collections. Or you can even have a mixture of open shelving at the top and closed presses at the bottom for the best of both worlds. If you're getting a carpenter to build it for you, you have the flexibility of choosing the style, colour and finish to perfectly suit you and your budget. Go for clean lines in white or light oak for a modern, minimalist feel. Or indulge in dark woods and panelling for touch of traditional elegance.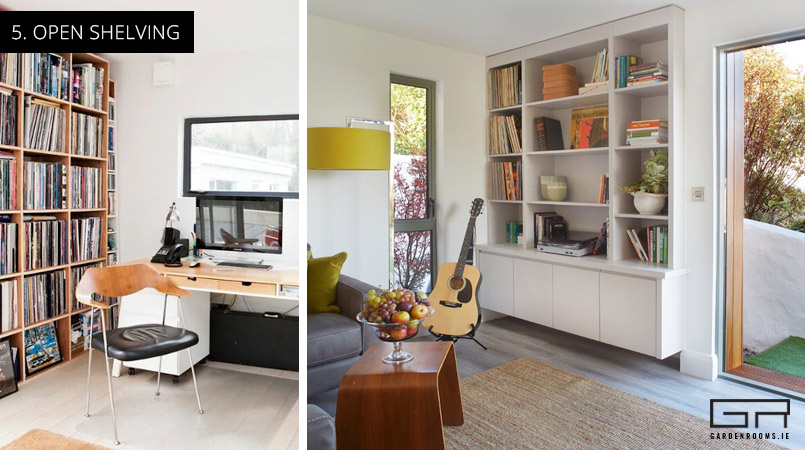 6. Flat-Pack Furniture
Stylish storage doesn't necessarily mean big bucks. While custom solutions obviously have their advantages, they are more costly and usually more time-consuming to implement than off-the shelf alternatives. However, it is definitely possible to find attractive storage options that won't break the bank. So, for a budget-conscious approach, Ikea is an obvious place to start, with its no-nonsense approach to furniture.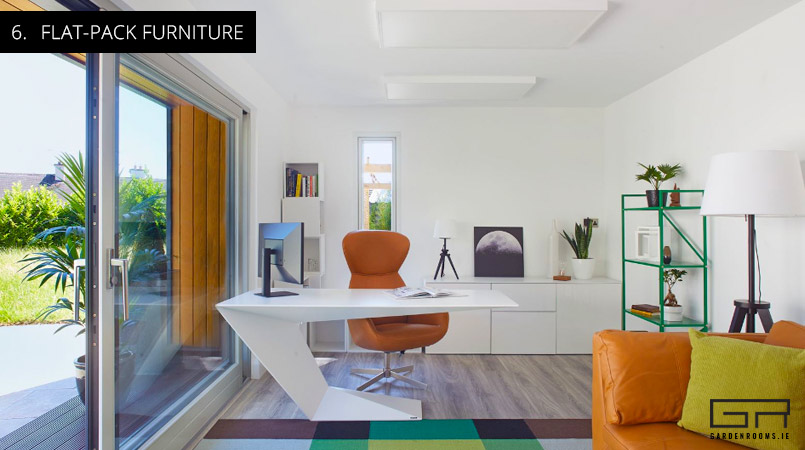 In this sophisticated office space, the simplicity of a white Ikea Besta unit and a stack of Eket storage cubes create a sleek and stylish space, where it's the tan leather chairs and a bold rug that do the talking.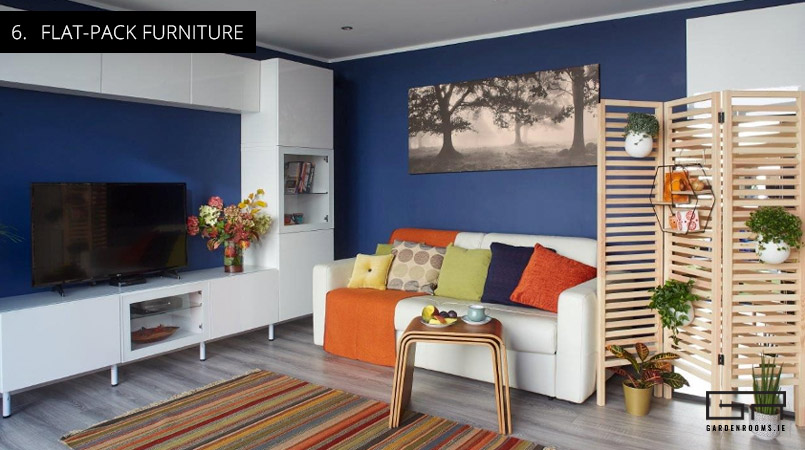 Here, another customer has used the Ikea Besta range, to create a media unit with plenty of storage, using the inky blue walls behind to make a design statement.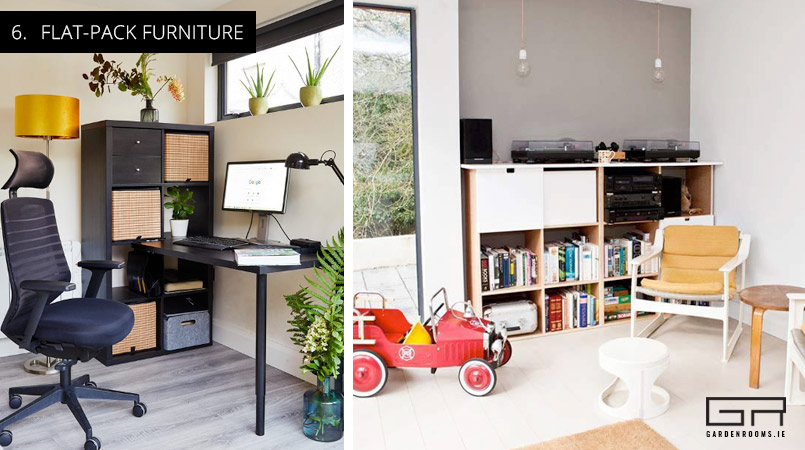 And here, our customers have used pieces from Ikea's versatile Kallax range, providing the option of both closed or open niches for storage and display. They are available in a range of colours to suit your personal style, and our customers have chosen finishes that tie in with their own colour schemes.
7. Dual-Purpose Pieces
Finally, when you're considering storage, especially in a small space, sometimes it helps to think outside the box. Why not use dual-purpose furniture to tidy away clutter? In this Garden Room, our customer has cleverly used a piece of furniture to not only divide this multi-purpose space, but also as a place to store books and instruments and display decor.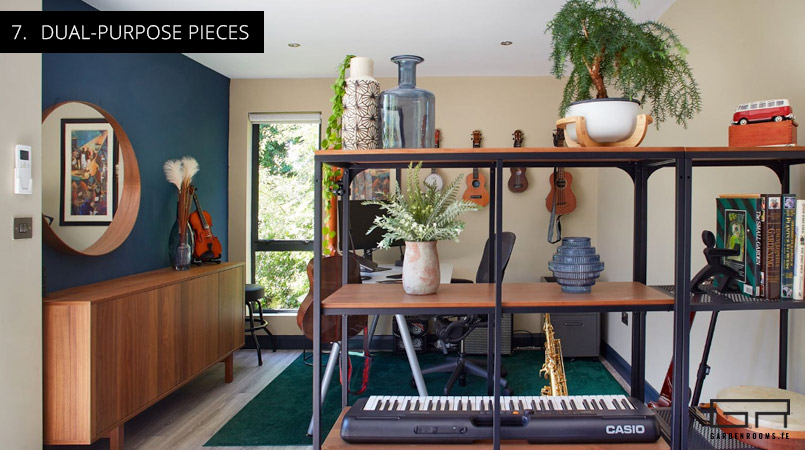 Other pieces of furniture that can double as storage solutions are benches, footstools and even sofas. Perfect for putting away those extra cushions and blankets.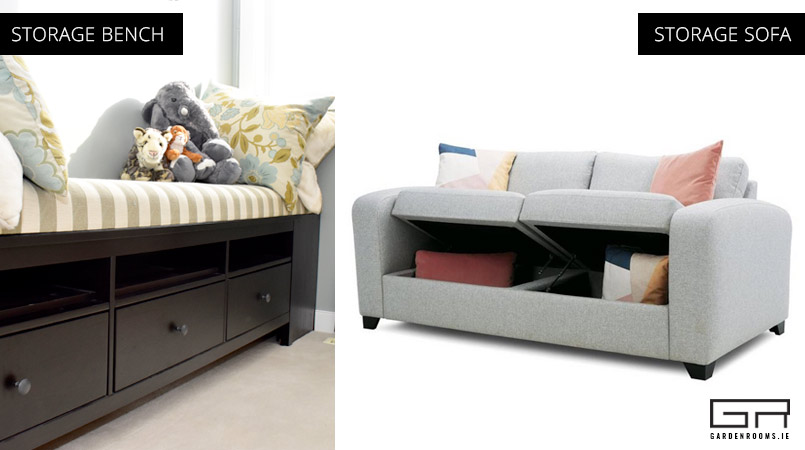 Getting Organised
Whether you're in the early stages of designing your garden room, or you've recently had one built, Hazel Burton, a Professional Home Organiser in Dublin, from The Home Reset, has a word of advice. Before implementing any storage solutions, she explains it's vital to have a clear plan for how you are going to use your Garden Room in order to create successful storage,
"An office space will need very different storage solutions to a gym, for example. And if you're considering a multi-purpose space then zoning will be paramount."
Hazel also suggests making sure you are only storing what you need.
"Decluttering is the first and most important step to organising any space. Clutter can cause stress, so the goal of de-cluttering is to ensure you:
LOVE everything in your home
NEED everything in your home
Have a PLACE for everything in your home"
Lastly, once you've implemented your storage solutions, don't just stuff your belongings away into your beautiful new drawers and presses hope for the best. Hazel suggests you:
"Keep things labelled, and in separate, smaller containers. If everything has a place a quick reset should take no more than 10 minutes. When you are leaving the garden room – do a quick whizz around to get everything back to its place. Once you stay on top of it daily it will be so much easier."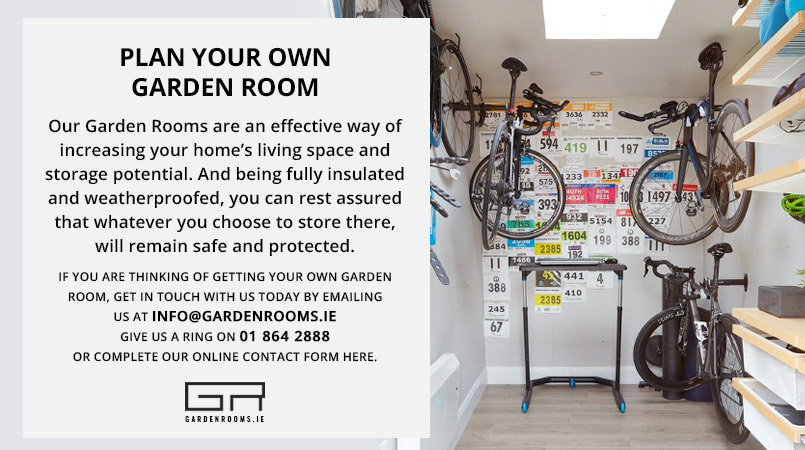 Plan Your Own Garden Room
Our Garden Rooms are an effective way of increasing your home's living space and storage potential. And being fully insulated and weatherproofed, you can rest assured that whatever you choose to store there, will remain safe and protected. If you are thinking of getting your own Garden Room, get in touch with us today by emailing us at info@gardenrooms.ie, give us a ring on 01 864 2888 or complete our online contact form here.