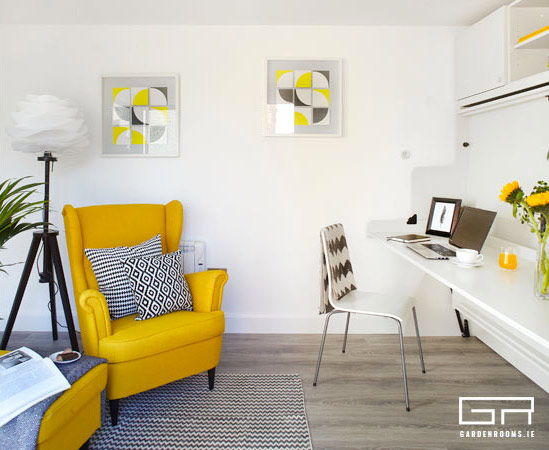 27 Jan

Growing Interest in Garden Rooms as a Solution to Working from Home

Home offices company GardenRooms.ie has seen a spike in enquiries from people looking for a separate space to work in, writes Tina-Marie O'Neill of the Sunday Business Post.
Working From Home in Ireland
Teleworking, working from home or WFH as it is now more commonly known, has driven an unprecedented demand for Garden Rooms this year. Having said that GardenRooms.ie, the original Garden Rooms company, have been designing and building home offices since 2003. In pre-Covid times there had been a steady year on year increase in people working from home. The trend towards remote working has been growing at a remarkable rate since 2017, at the beginning of this year more than 500,000 Irish workers said they worked "usually" or "sometimes" at home. According to the Central Statistics Office Ireland had the fourth-highest rate of people working from home in the EU last year, employers here had already warmed to the idea of offering flexible working conditions to their staff.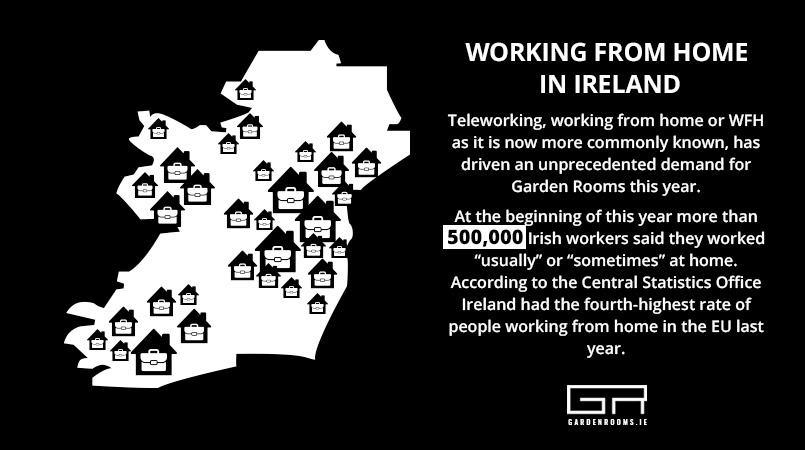 Bespoke Home Office Designs
Eamon Twomey, one of our Garden Rooms customers, was ahead of the curve when he decided working from home was the best solution for him back in 2016. A marketing consultant in the financial services industry, Eamon used to run his business from a high-street office in Howth. With rental costs per square metre rising year on year it was an easy decision. At first Eamon worked from the house, he soon found it hard to switch off at the end of the day and looked to GardenRooms.ie as the answer to his problems. Four years on Eamon has the work/life balance he was looking for. He praised the lack of disruption to his home life "The entire build took about two and a half weeks, as was promised upfront, and without a hitch. The builders got to work in the back garden and were no bother at all. It was a very easy process." Eamon was impressed with the personalised attention he received in creating a bespoke home office design to suit his needs. And four years later, the cost of the Garden Room is well covered as he has not had to pay office rent since.
Saving On The Daily Commute
Another interesting statistic, Eurostat 2019, shows that Ireland ranks fourth in the EU for the longest commute to and from work each day. For employees who are not paying rent on offices their gain can be made on the additional time they have to spend on hobbies, being with family and friends and doing the things they enjoy with their additional free time.
More Than Just Home Offices
More than half of the Garden Rooms we build are used as home offices, others are home gyms or hobby rooms often converting to safe spaces for teenagers to hang out at weekends with friends.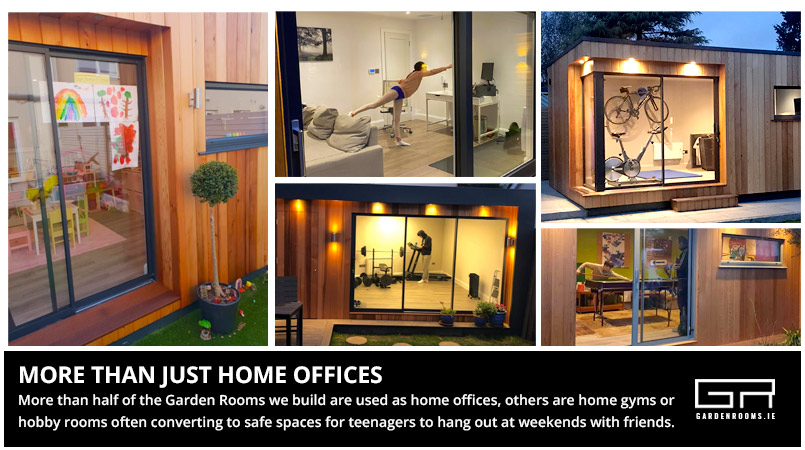 Fully Insulated Garden Rooms
As with all our customers we build a Garden Room to suit your needs. All our Garden Rooms are fully insulated to keep the building warm in the winter and cool in the summer. The layout of the windows and doors and overall dimensions of each Garden Room can be changed to suit your needs and garden at no extra cost. There are also optional extras such as adding a bathroom, a separate storage area or sound proofing depending on your planned use of the room.
Getting Your Own Garden Room – A Simple Process
As John Sherry says
"The process is simple and begins with a call to discuss your needs around how you plan to use the Garden Room, work out where it will best fit in your garden, what the best orientation will be, what size will work best for you and what internal fit-out you need. Everything will be costed before the job starts."
If you want further information on how our Garden Rooms could work for you please feel free to complete our enquiry form and we will contact you to discuss your needs and arrange an appointment for you to visit our showroom. We are situated just off the M50, at Exit 5, near Ikea. At our showroom you will experience the quality and master craftmanship of our Garden Rooms for yourself.