31 Aug

10 Reasons To Get A Garden Room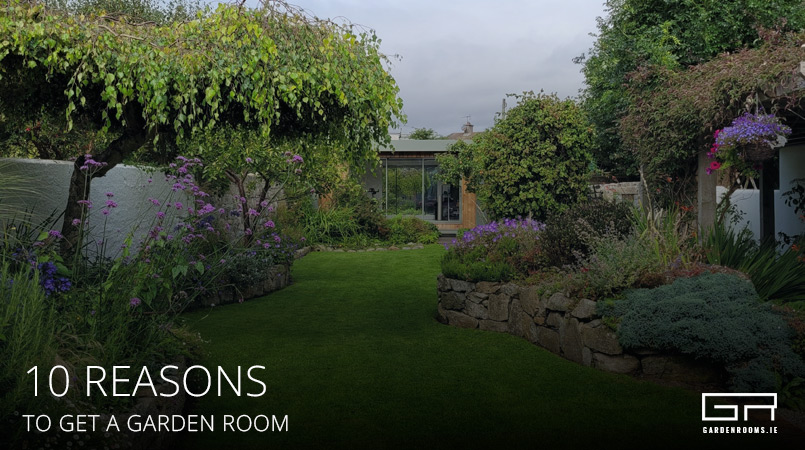 As the popularity of garden rooms continues to rise, these outdoor buildings are rapidly becoming the must-have improvement in any modern, family home. Here are 10 reasons why you should consider getting a garden room:
1. Gain Extra Living Space
The number one reason to get a garden room is to create more space in your home. Whether you need an extra room to work from home, chill out in the evenings or pursue a hobby, finding that space is a challenge most of us can identify with. While decluttering your existing home and moving your furniture around might be a good start, sometimes it's just not enough. And for most of us, moving into a bigger house, in the same area, just isn't feasible (setting you back around €150,000). With our garden rooms starting at €33,000 you can create the extra space your growing family needs at a fraction of the price.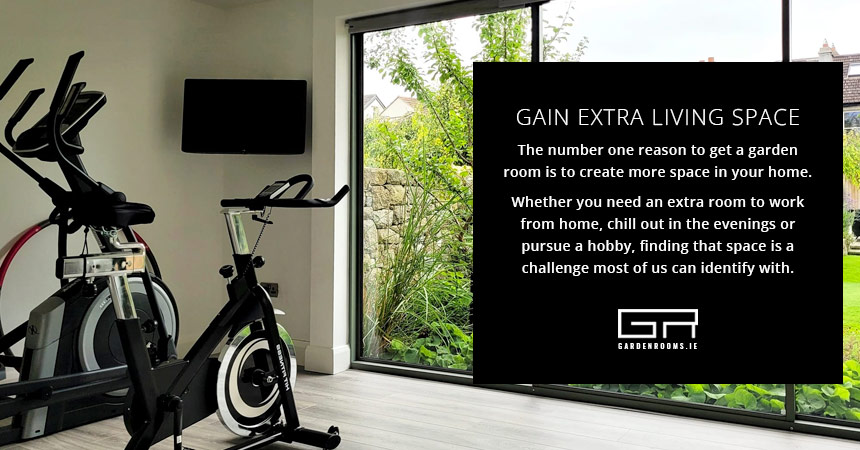 2. Gain A Distraction-free Sanctuary
Another benefit of building a garden room is that you create a retreat, away from the main house, where you can escape to for some peace and quiet. This distraction-free space is perfect for getting on with work without domestic interruptions; as a tranquil sanctuary in which to read, meditate and reflect; or for teenagers looking for a bit of privacy and independence.
3. Garden Rooms Are Good For You
Mounting scientific evidence shows that a visual connection to plants, actually improves our physical and mental wellbeing. Research shows that in an office setting, exposure to nature and sunlight through a window, improves performance and mood. And further studies reveal that exposure to nature is associated with improved cognitive function, brain activity, blood pressure, mental health, physical activity and sleep. A garden room, positioned in the heart of your garden, with its generous floor to ceiling glazing and sliding doors, provides you with an enviable connection to nature all year-round. Perfect for reaping all those lovely health benefits. For some more inspiration check this post about landscaping ideas for your garden room.
4. Endless Versatility
Garden rooms offer total flexibility of use. They can be used as home offices, home gyms, teen dens, music rooms, hobby rooms, art studios, yoga studios, chill out spaces, home cinemas, play rooms, home bars, multi-functional spaces and more. And they can also be easily repurposed as time goes on and your family's needs change. So, what starts as a teen den, can become a home office and later converted into an art studio or library. The options are endless.
5. Cheaper Than A Traditional Extension
While a garden room costs around €1,700 per square metre before VAT, an extension costs, on average, €2,500 per square metre. So, while the average customer will spend around €44,000 on a Garden Room, a basic extension will cost anything upwards of €100,000. See our 'Garden Rooms vs Building a House Extension' blog for further information and cost comparison details.
6. Quick & Simple Installation
Moving house, building an extension, or converting your attic takes many weeks or months of disruption and upheaval. Packing up boxes, putting things into storage, living with dust and noise, not mention the inevitable delays, can all be seriously stressful. In contrast, our garden rooms are built in just 10-14 working days. We are committed to producing buildings of the highest standard that are finished on time, and all without bringing any mess into your home. We have built our business on this reputation, so being punctual, respectful and conscientious are all qualities we pride ourselves on.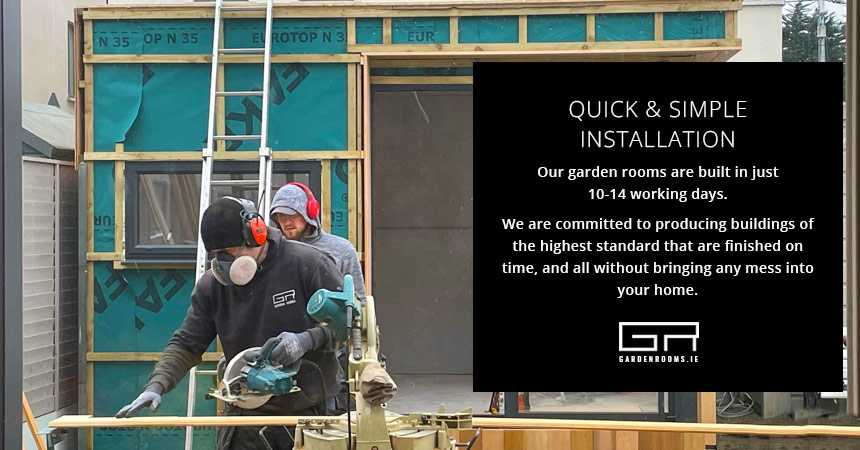 7. No Planning Permission Required
Ranging in size from 17 sq. metres upwards, garden rooms do not require planning permission, so long as the internal space does not exceed 25 square metres, and an area of 25 square metres remains in your garden. At Garden Rooms we are always happy to talk you through the full requirements for planning exempt garden rooms.
8. Fully Customisable & Tailored To You
Our garden room designs are fully flexible to optimise sunlight and make the most of the available space in your garden. With our CUBE and Ultimate Rooms, we can customise the length and depth of your garden room, as well as repositioning the windows and doors, at no extra cost. If it's a home gym you're after, we can reinforce the floor to hold heavy exercise equipment. And if you like the music cranked up loud, we can install extra sound proofing so you don't disturb the neighbours. And if it's something else you have in mind, we have a bespoke division that allows us to create a totally unique garden room, just for you. The only limit is your imagination!
9. It's An Investment In Your Future
If you choose the right provider, your garden room will be built using only the highest quality materials and by top craftsmen. This will provide you with a garden room that will serve you and your children, and even their children, for many years to come. At Garden Rooms our luxury rooms can last for 70-80 years, if properly maintained.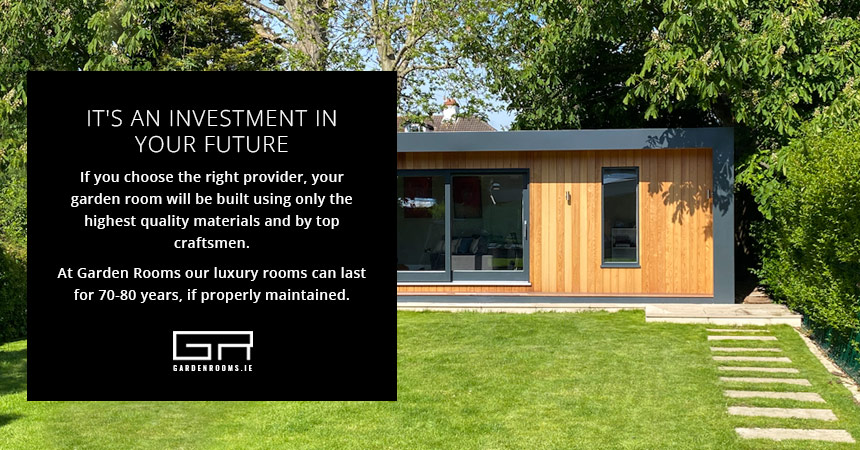 10. It Adds Value To Your Property
A good quality garden room can significantly increase the value of your property, by an estimated 5-7%. And although it may not add as much as a traditional home extension, the value for money vs increased value is often much better than a traditional extension. Not only can it raise the price of your house, but it can also increase the desirability of your property, by adding floor space, enhancing the look of your garden and setting your house apart from the crowd. Having said, that, a poorly constructed garden room can reduce your property's value, so choosing the right provider is essential. See our recent blog for advice on how to choose a reputable garden room company.
Begin Planning Your Garden Room Today
If you are considering getting a garden room of your own, and would like to talk to a member of our experienced sales team, simply call the Garden Rooms team on 01 864 2888, email us on info@gardenrooms.ie or complete our contact form, to discuss your garden room project today!