26 Nov

Garden Rooms vs Building a House Extension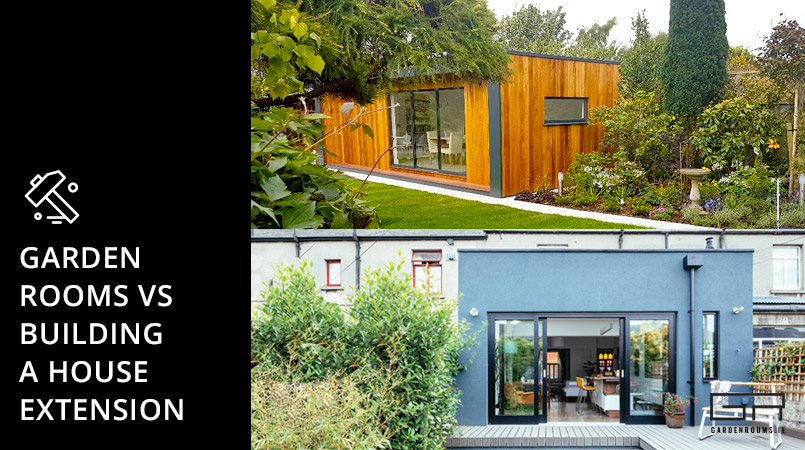 There comes a time in most growing families at some time or another – the need for more space. Kids are growing, kids are fighting, everyone is on top of each other. If only you had another room to fix your frustrations! So, you start to look at your options. You could always move to a bigger house with another room and that will probably cost you around €120,000 to €160,000. Add to that the inconvenience of actually moving, upheaving the entire family to start over.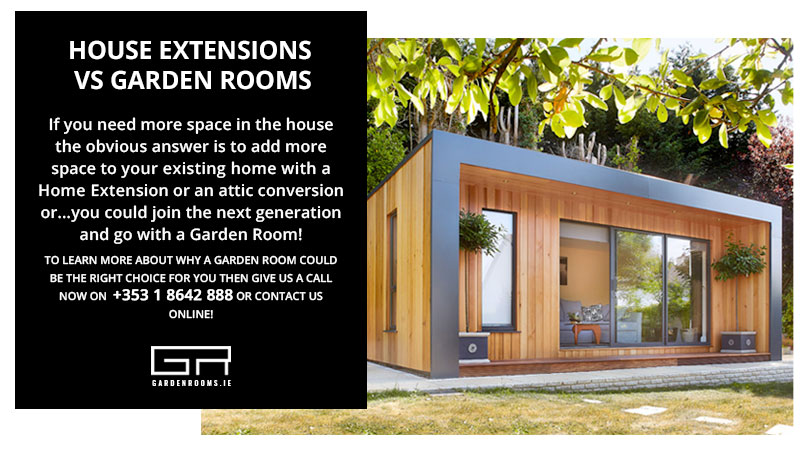 House Extensions vs Garden Rooms
If you need more space in the house the obvious answer is to add more space to your existing home. You could look at a Home Extension or an attic conversion. Or… you could join the next generation and go with a Garden Room! In this issue of our blog we take a look at 6 reasons why you might consider a Garden Room over building a home extension. We'll give you our thoughts on the matter as to why a Garden Room could work for you.
1. Cost of a Garden Room

A Garden Room will cost you around €1,700 per square meter before VAT. On average a customer will spend around €44,000 on a Garden Room. Our Garden Room prices range from €33,000 to over €75,000, depending on the size and fittings requested.
2. Cost of an Extension
An extension will cost you anything up to €3,400 per square meter. A basic extension will cost you from €100,000 upwards.
3. Do You Need the Hassle of Building an Extension?
Building an extension means disruption to your home. People in your space. Noise & Dust. Overall, any renovations to your own home are stressful. When we build our Garden Rooms, we build them away from your house, in your chosen section of your Garden. We don't need to be in your space, we will try not to bother you as much as possible. All our building crew are master craftsmen. Not only do we pride ourselves on the quality of our work but the finish of the Garden Rooms, the area around it and our respect for your property. We are clean, conscientious and don't bring any mess into your home.
4. Garden Rooms are Much Faster to Build
When you build on an extension to your home, it takes time. House renovations never seem to go according to a timeline or plan. What you thought would take a couple weeks turns into months. Our Garden Rooms are built in 10-14 working days. Our dedicated crew will always ensure that your Garden Room is finished within this time, and move out your way so you can move in straight away.
5. A Garden Room is a Completely Separate Space
House extensions generally give you a larger open plan kitchen come living or family room within your house, which may be just what you need. A Garden Room however, is a completely separate space which can afford you many different benefits. Here are some examples of why a separate room may be more suitable for you.
If you were working from home and needed the extra space for a Home Office, you can now successfully separate your home and work life
If your kids are always fighting over the TV in the house, you can now have a completely separate space with its own TV, giving them the space from each other that they need
Is there a musician in the house? Or a dancer? Or someone with a hobby that needs their own space? Send them to the Garden Room!
Perhaps you have a teenager or 2 in the house. They need space and privacy. Let them spend time in the Garden Room. They have privacy but you know exactly where they are, and that they are safe. They can even have their friends around, they can play music and make a noise and it won't bother you!
A Separate Room That Works for You
There are many more reasons a room separate from the house can work in your favour. A Home Gym, a sanctuary to complete your studies, or even just a place to find your headspace, away from it all.  Some of our customers even decide on a Garden Room, and then go on to build an extension afterwards. By doing this, the Garden Room can be used as a safe storage space for your belongings, whilst your extension is being built.
6. A Beautiful Feature in your Garden
A Garden Room can really enhance a garden. It is a beautiful feature in your garden. Have a look at our Gallery to see just how much of a statement a Garden Room can make in your garden. In addition to this, studies have shown that a Garden Room adds around 7% of the market value to your home.
Garden Rooms vs a House Extension – Example
We spoke with Christina from Skerries who has just decided to go ahead with a Garden Room, after first considering an extension. For Christina and her partner, they needed the extra space for their hobbies. They felt that an extension would really mean extending the kitchen area and it would prove difficult to keep the 'hobby space' separate. The hobby space would eventually start encroaching on the kitchen. One way to avoid this would be to build a partition wall between the hobby space and the kitchen, but this meant that the kitchen would then have no light coming in. Christina also added that she is excited to have this new cosy Garden Room as a feature in her garden. She feels they will be making far more use out of the Garden and the available space. For Christina, the Garden Room was the best solution to their need for extra space. We are looking forward to building Christina's Garden Room early next year!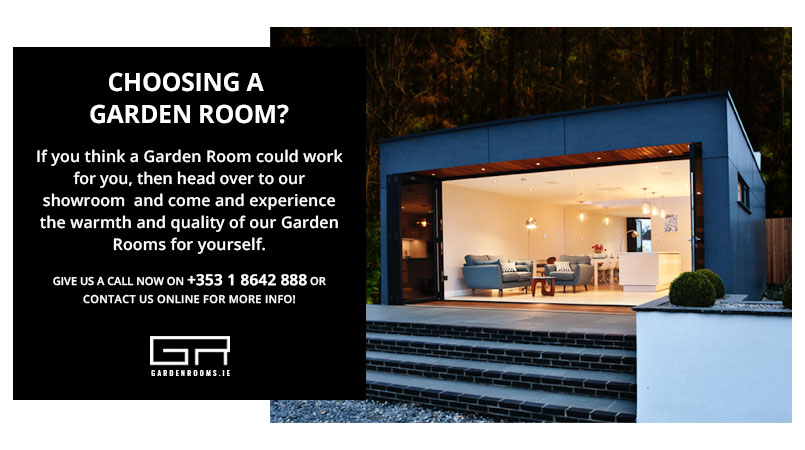 Choosing A Garden Room?
If you think a Garden Room could work for you, then head over to our showroom and come and experience the warmth and quality of our Garden Rooms for yourself. Give us a call now on +353 1 8642 888 or contact us online for more info!