05 Jun

Landscaping Ideas to Make Your Garden Room Sing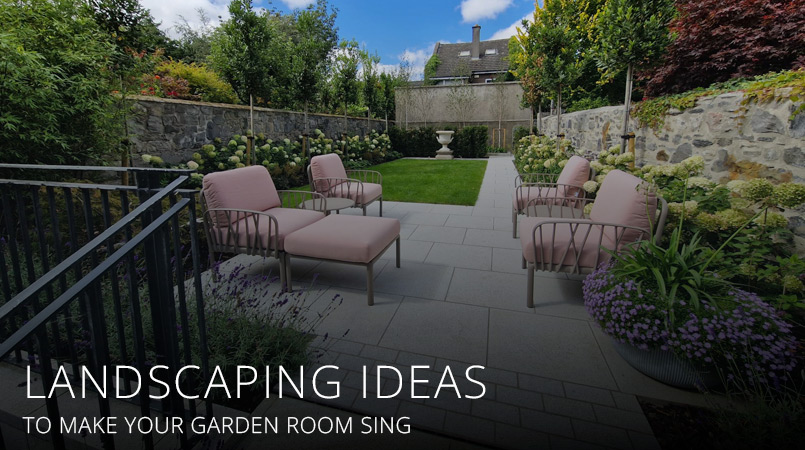 Our cedar clad Garden Rooms can totally transform the look of your garden, adding an attractive piece of architecture and a stunning contemporary feature to your outdoor space. And for the finishing touches, we recommend a combination of hard and soft landscaping around your garden room, to really make it sing. But when it comes to planning your patio, or picking your plants it can be hard to know where to begin. So, we caught up with award winning landscape designer and founder of LandArt Ltd, Dean Lacey, for some expert insight and top tips on how to enhance your garden room with landscaping.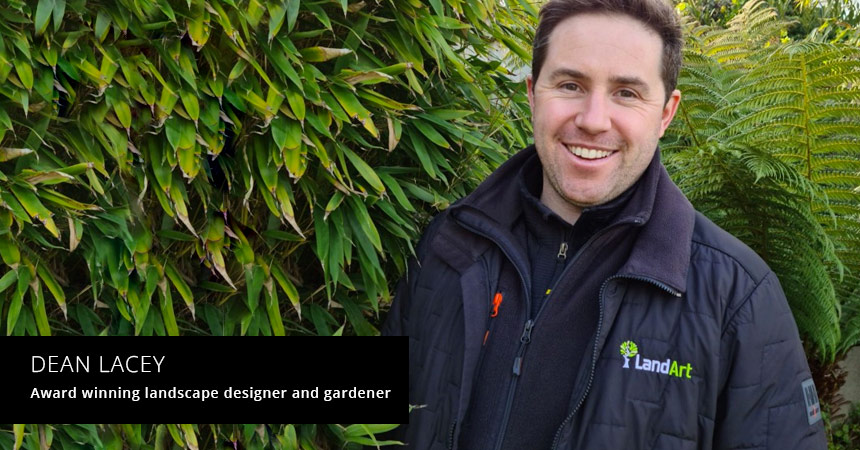 Dean Lacey, award winning landscape designer and gardener
What should you consider when landscaping around your garden room?
Garden rooms can be aesthetically beautiful structures, often clad in cedar wood. So, make sure that the garden room is visible from the house. They create a destination to go to within the garden space. It is important, though, to soften the building with surrounding planting. A patio close to the building should be considered too, especially if the garden room is positioned in a sunny spot. Another point to consider is that when you are in the garden room looking out, it is important to make sure there are areas of visual interest to look at, such as ornamental trees, a piece of sculpture or artwork, or a soothing water feature. In the garden design, pictured below, we placed a Corten steel water feature within the planting to add drama, and to create a beautiful focal point to view from within the garden room. When using the garden room with the doors open, you can hear the soothing sound of the nearby water feature and if you're lucky, you might catch the little birds bathing in the water.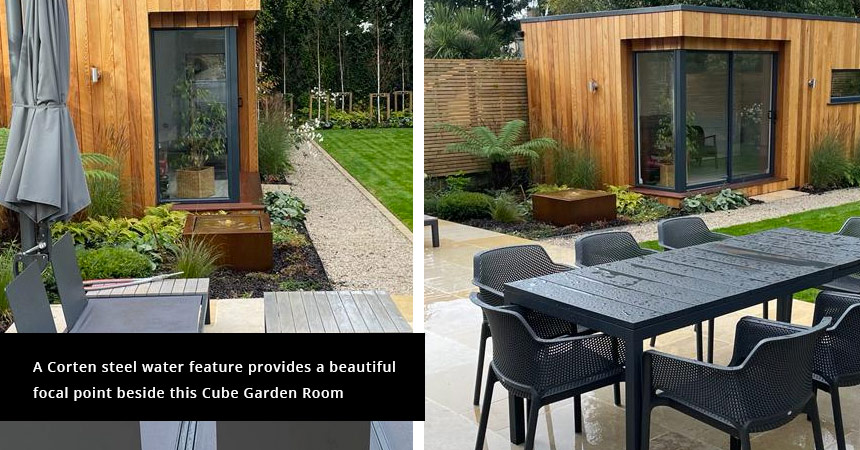 A Corten steel water feature provides a beautiful focal point beside this Cube Garden Room
Credit: LandArt Ltd
As you say, planting around the garden room is vital to soften it visually. So how do you go about creating a planting scheme?
We like to add a lot of planting around a garden room, making sure to add low plants in front of windows. Trees like specimen Japanese maples and flowering trees like Cornus Kousa, Amelanchier or Malus Evereste are great options to be planted close to the garden room in areas where there are no windows. To create a contemporary feel, we often use repeat plantings of a variety of plants, that are chosen to add drama and texture to the garden. Tall grasses repeated through mixed perennial planting, and carefully placed feature trees, look great planted close to a garden room. Big drifts of flowering hydrangeas, such as Hydrangea Limelight or Hydrangea Annabelle, will create amazing impact during the summer months, and look fantastic planted against the cedar wood of a contemporary garden room. We also love to add texture to the garden planting, by adding big leafy plants such as tree ferns or Fatsia Japonica 'Spiders Web'.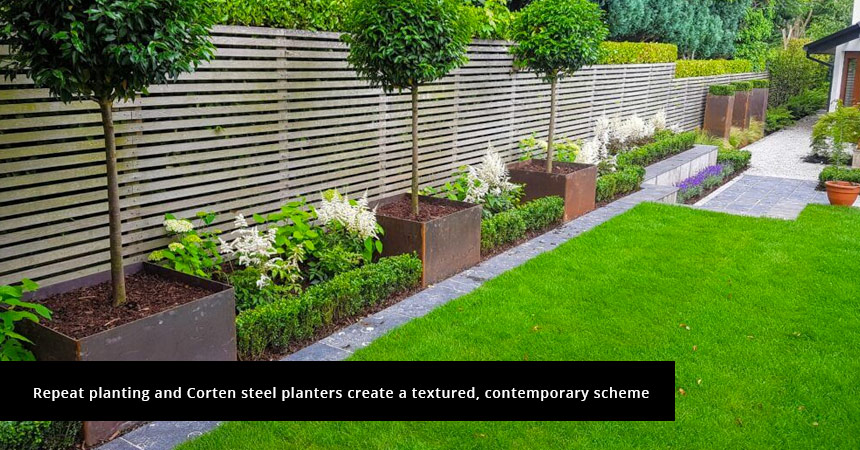 Repeat planting and Corten steel planters create a textured, contemporary scheme
Credit: LandArt Ltd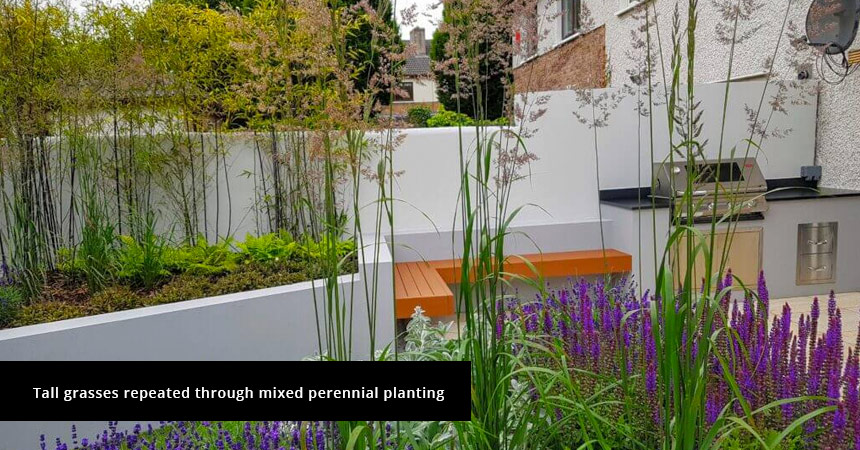 Tall grasses repeated through mixed perennial planting
Credit: LandArt Ltd
Can it work to go for a more traditional planting scheme beside a contemporary garden room?
Due to the inherent beauty of a garden room, all planting styles will work well to complement the building. For a more formal look, clipped low hedges of Buxus or Euonymus Greenspire look great along pathways leading to a garden room. Parterres can also look fantastic when designed close to a garden room building.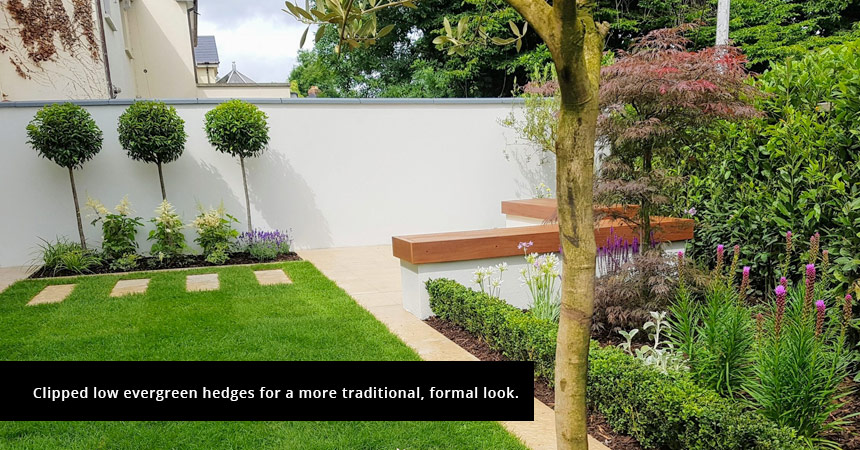 Clipped low evergreen hedges for a more traditional, formal look. Credit: LandArt Ltd
Credit: LandArt Ltd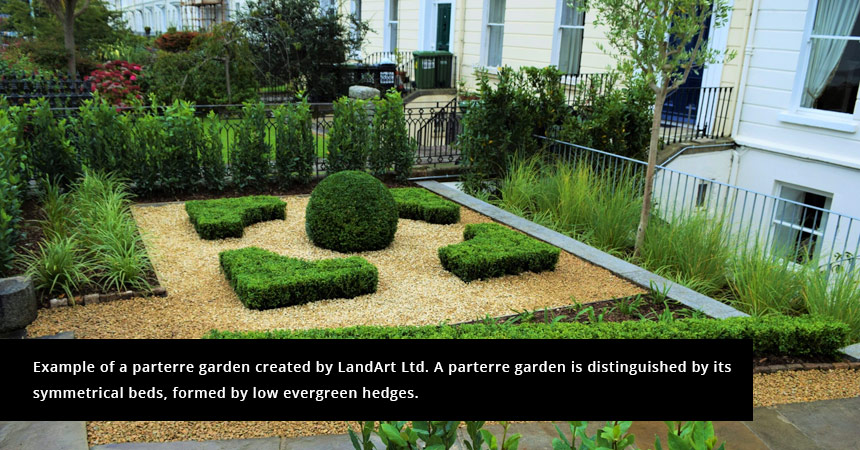 Example of a parterre garden created by LandArt Ltd. A parterre garden is distinguished by its symmetrical beds, formed by low evergreen hedges.
Credit: LandArt Ltd
Do you have any advice when it comes to planning a patio?
Important factors to consider are: aspect, material choice and size. In Ireland, we tend to use the patio in the afternoon and evening. Therefore, it is important to position the patio so that it will provide the optimum amount of sunlight throughout the day. A south or west facing patio will achieve this. Choosing the right material for your patio is very important. We tend to use natural stone or porcelain for our patios. Laid correctly, both natural stone and porcelain will be there for a long time. A patio needs to be big enough to be used and enjoyed, but no bigger. A patio needs to be in proportion to the rest of the garden and to fit comfortably into its surroundings. Always try to leave space to plant around your patio, as this will help soften the hard edges of the patio.
Garden designed with two Italian porcelain patios, one for dining and one for relaxing. Each patio benefits from the direction of the sun at various times of the day.
Credit: LandArt Ltd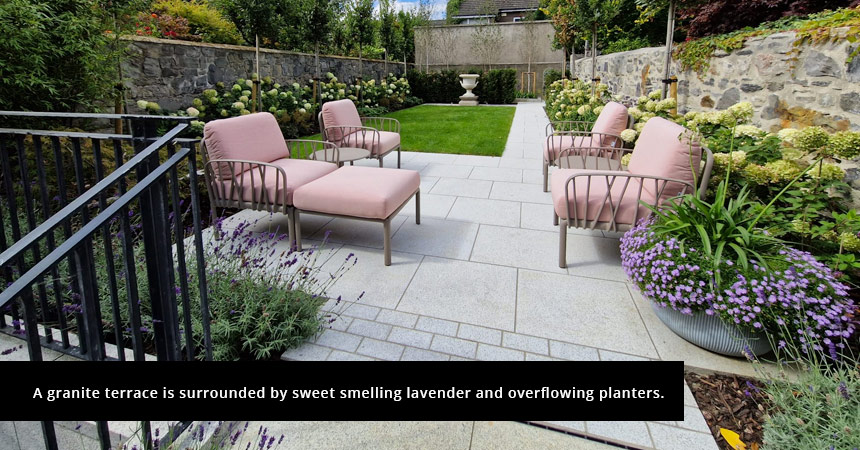 A granite terrace is surrounded by sweet smelling lavender and overflowing planters.
Credit: LandArt Ltd
Is a pergola adjacent to a garden room a good addition?
Wooden pergolas create height and drama to a garden but for the most part, don't create any significant shelter or shade. In general, we would recommend positioning a wooden pergola away from a garden room, if possible, as both structures are features in themselves. If you require shelter, the best place to put a covered pergola is where you need protection from the elements, over a patio and dining space is usually best. Aluminium pergolas are becoming more and more popular. They often come with louvered or retractable roofs. As these structures are often powder coated dark colours, they can complement a garden room well.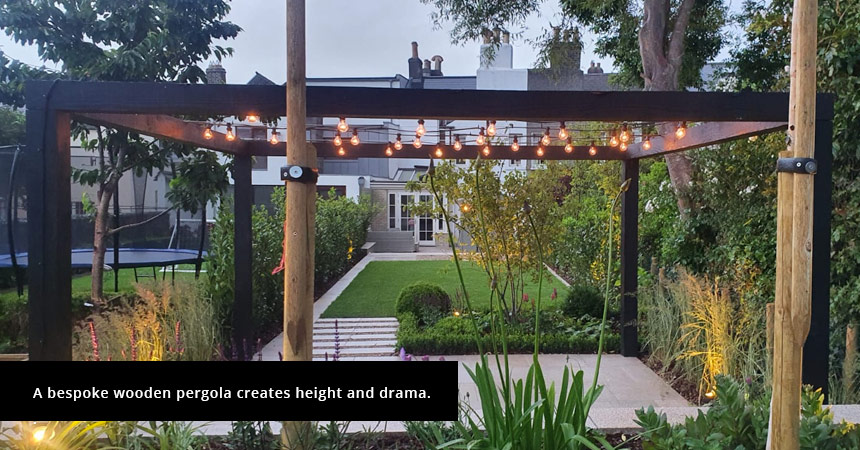 A bespoke wooden pergola creates height and drama
Credit: LandArt Ltd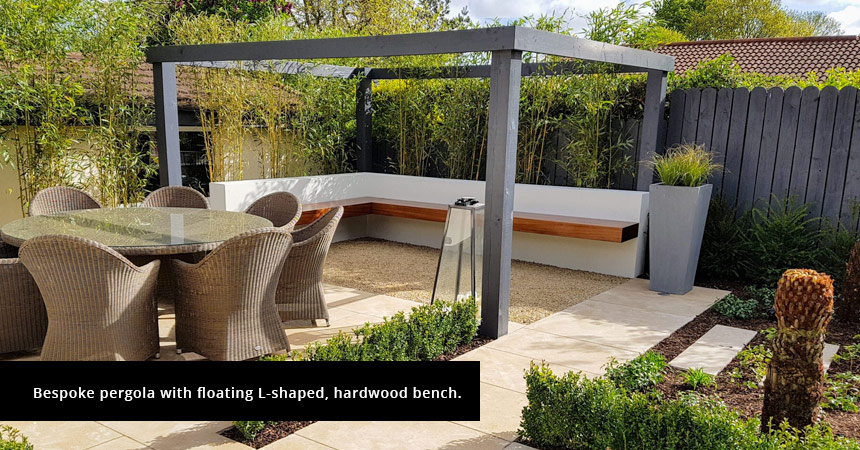 Bespoke pergola with floating L-shaped, hardwood bench
Credit: LandArt Ltd
Artificial vs real grass…what are your thoughts?
Where possible, a real lawn is preferable, but nowadays, gardens are getting smaller and smaller, and real lawns often struggle to grow successfully because of a lack of light. For large gardens we would always recommend a real lawn, but artificial lawns are great for small gardens, where there isn't much light. Artificial lawns are also ideal for small family gardens with young children, as they are very low maintenance and the kids can play outside all year round, without the fear of dragging the mud back into the house afterwards.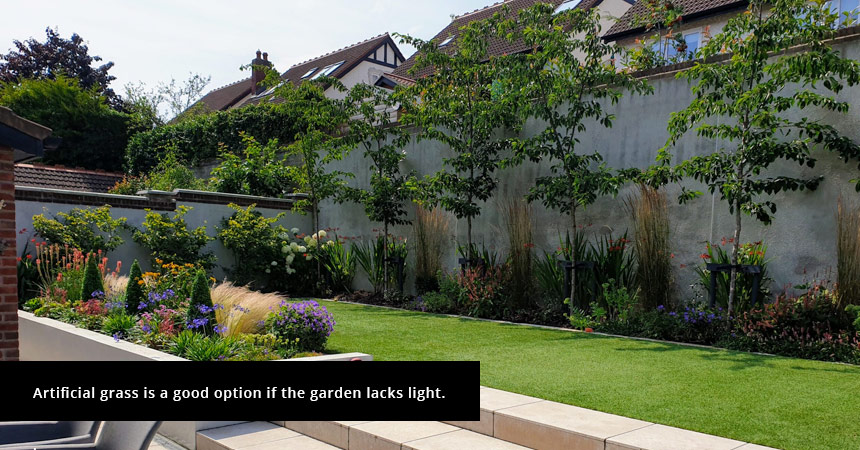 Artificial grass is a good option if the garden lacks light
Credit: LandArt Ltd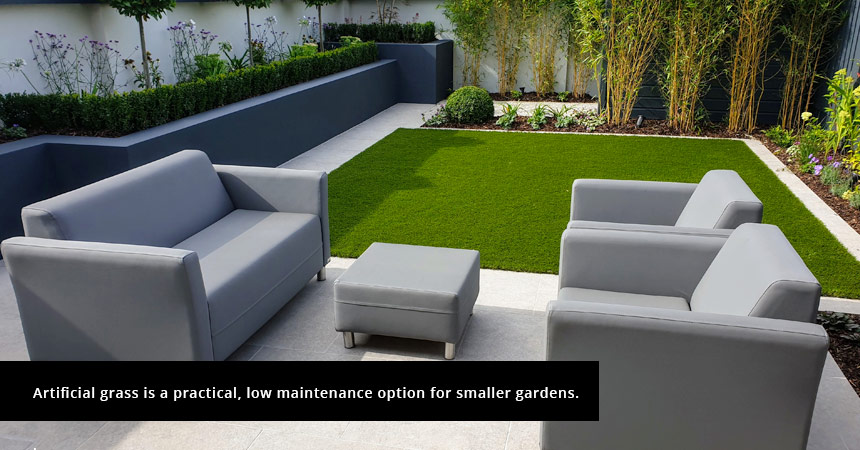 Artificial grass is a practical, low maintenance option for smaller gardens
Credit: LandArt Ltd
Lighting in the garden can sometimes be an afterthought, but why is it a good idea to plan this properly?
Lighting is a must nowadays. Some popular examples of garden lighting are spike uplighters to light up trees, inground lighting in areas that need to be walked or driven over and bollard lighting, to light up pathways or driveways. With proper planning, a good lighting design will transform the garden at night, creating a completely different ambience to the garden, encouraging the users to utilise the garden at night as much as they would during the day.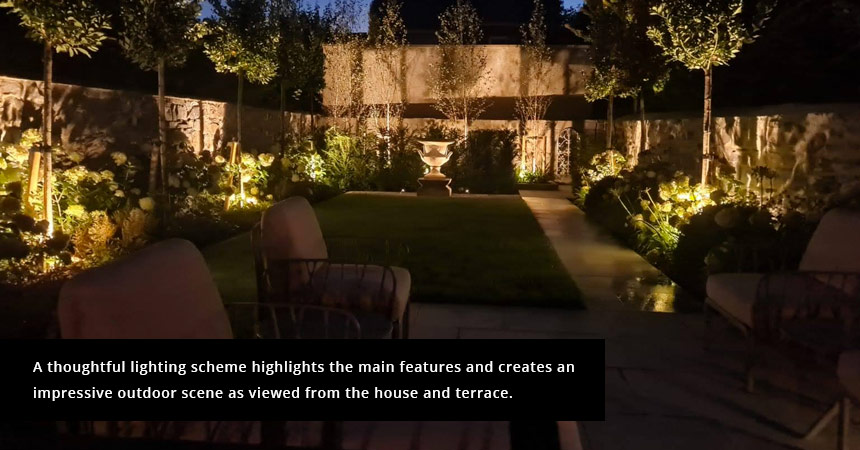 A thoughtful lighting scheme highlights the main features and creates an impressive outdoor scene as viewed from the house and terrace.
Credit: LandArt Ltd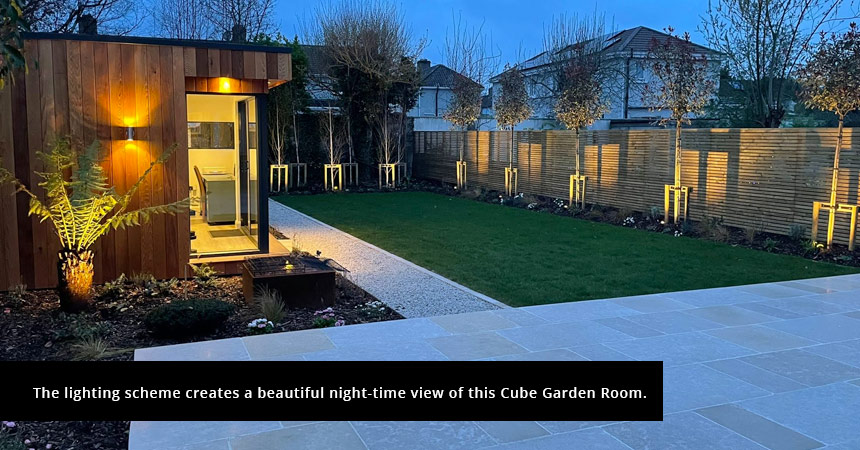 The lighting scheme creates a beautiful night-time view of this Cube Garden Room.
Credit: LandArt Ltd
Is it safe to have a fire pit near a garden room?
Fire pits are a great idea, especially when they are located close to the garden room, as the garden room can provide shelter for the fire. Just make sure that the fire pit is a few metres away from the building. A buffer of planting between the firepit location and the building, will ensure that the fire pit is a safe distance from the building.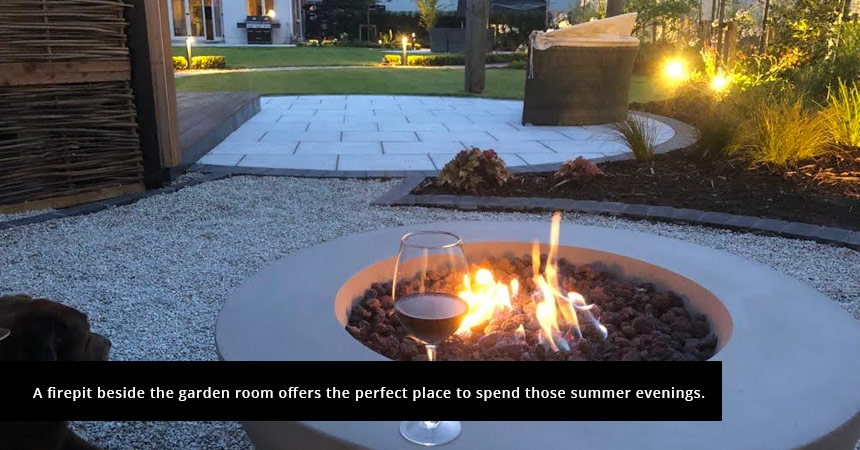 A firepit beside the garden room offers the perfect place to spend those summer evenings
Credit: LandArt Ltd
Why is using a landscape designer worth the investment?
Designing, building, and planting your perfect garden should be an exciting and enjoyable experience. LandArt have years of experience at helping homeowners add value to their home. Employing a landscape designer means that you get the basics of the garden correct with a well thought out plan. Before creating a plan for the garden, we meet with the client and listen to their requirements and get a feel of how they will use the garden. Each garden design is specific to the requirements of the client and what will suit their lifestyle. Employing a garden designer will help you make the most of the available space and sunlight in your garden. To add value, you should include a good size patio, planting and lawn, lighting and storage. Unlike any other space in the home, the garden is a living thing. It will change with the seasons and breathe life into any home. A well-designed garden will prolong the available living space by making a fully functional outdoor environment.
Garden Rooms & Landscaping – The Dream Combo
Thanks to Dean for being so generous with his time and sharing so many great tips and pearls of wisdom with us. We hope you feel as inspired as we do to get into the garden, and make the most your outdoor space.
If you are considering getting a garden room, and would like to find out more about it, we would love for you to visit us at our showroom just off the M50 at exit 5. Schedule your visit with us today by completing our Showroom Appointment form, giving us a call on 01 864 28888 or emailing us at info@gardenrooms.ie.