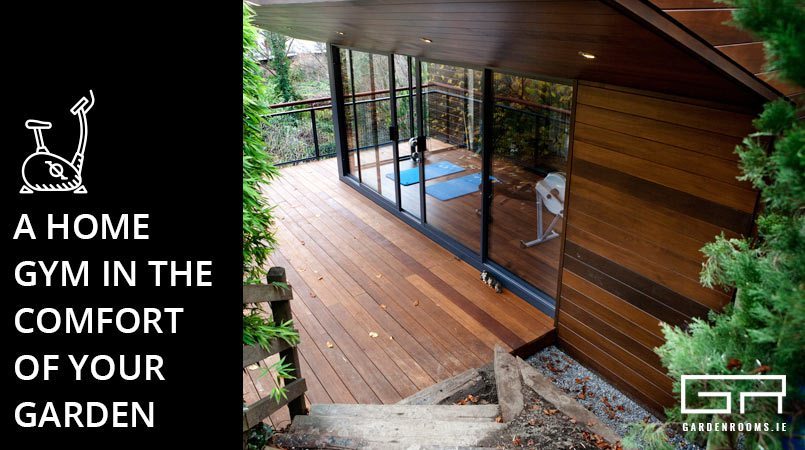 12 May

A Home Gym in The Comfort of Your Garden

Whether you are a competitive cyclist or a power lifting enthusiast, at some point you have probably considered installing a home gym. There are many advantages to building a home gym in your garden, such as avoiding the parking nightmare and cramped changing rooms. With a home gym in your garden, you can work out in peace and at your own pace. A garden gym offers you the perfect sanctuary to spin, run and sweat out the stresses of modern life.
Home Gyms Around The Capital!
To date, Garden Rooms has successfully constructed a number of home gyms in gardens around the capital. Anne Marie from Rathfarnham was in need of some extra space for her teen boys to conduct their strength and conditioning training.
"We needed some extra space for the kids to train, and also to bring their friends."
Anne Marie had initially considered investing in a Shomera, but decided that she loved the contemporary look that the Garden Rooms CUBE range offered. "Our Gym is spot on for our requirements. It's a designated space for all the equipment, which doesn't need to be packed up after."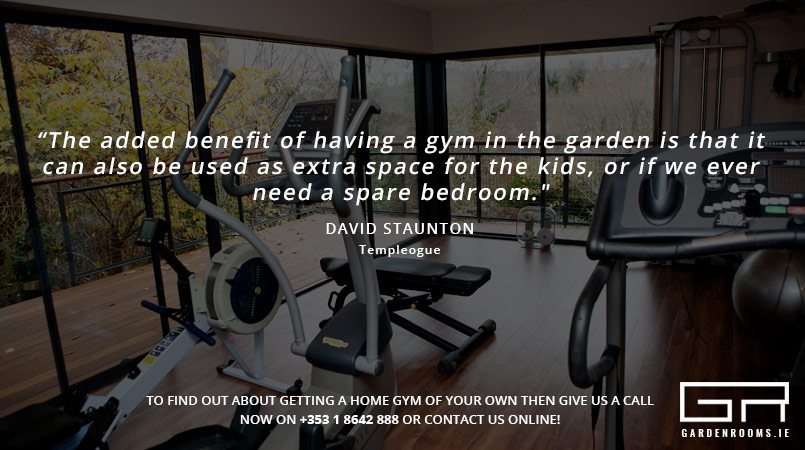 David Staunton, from Templeogue, loves his Garden Room gym because of the convenience it offers him. By installing a home gym in his garden, David was spared from having to go out and join a gym. David's gym gets plenty of use, with both he and his wife training in it several days a week.
"The added benefit of having a gym in the garden is that it can also be used as extra space for the kids, or if we ever need a spare bedroom."
David tells us. His home gym is working very well so far, and he expects this to be the case in the future.
Customisable Garden Room Home Gym
Like our home offices the Garden Rooms range of home gyms are fully customisable to your specifications. Our home gyms can be constructed with extra base supports, allowing you to install as much equipment as you want. Myles McDonald, from the Navan Road has always had a home gym of some shape or size. Myles was very impressed by the structural design and quality of our CUBE range and decided to invest in one as a home gym. Myles is a dedicated cyclist and gets great use of his garden gym, in which he has installed a stationary bike.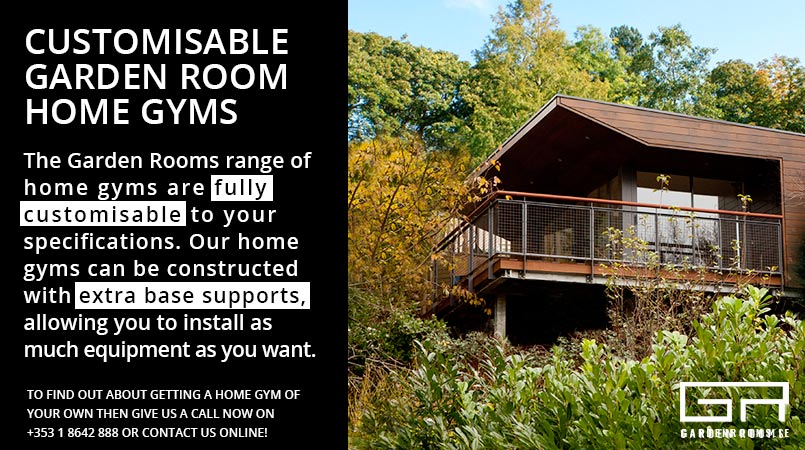 A Home Gym Garden Room Of Your Own!
Garden Rooms has a proven track record of installing work-out ready home gyms in back gardens across the country. For more information on your new home gym Garden Room get in touch with us today online, give us a call on +353 1 8642 888 or call into our showroom!