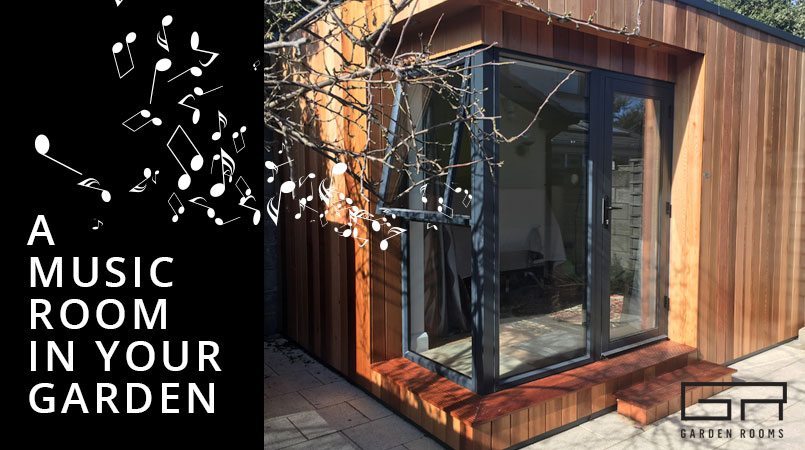 23 Mar

A Music Room In Your Garden

This weeks featured Garden Room was specifically designed as a soundproofed music room for Rachel in Ratharnham. Rachel's son Joe is a talented piano player, who practices diligently every day. Unfortunately, Rachel realised that Joe's practices were not ideal for the neighbours. Rachel then decided that it was time to invest in a music room. For Rachel, having a soundproofed music room in her garden has made life a lot easier. Not only has it significantly reduced the noise of piano practice, but it has given her son his own space to practice in.
Soundproofed Music Room

"Joe can now come home at any time and be able to practice his music. He can practice as late as he wants" says Rachel. "This used to be out of the question. Sometimes he couldn't even practice at 2.30 in the afternoon." This soundproofed music room was specially constructed with additional soundproof materials in the floor, walls and ceiling. As this garden room would be used exclusively as a music practice room Rachel chose to include the additional soundproof materials. Rachel also found that the Cedar cladding on her garden room to be effective as soundproofing.
Rachel's music garden room features our special 'acoustic package' of insulation. In addition to the acoustically sound insulation that comes as standard with all of our CUBE Designs, our floors are built with 30mm of rockwool and isolated 5mm of rubber. The walls are built with 50mm of rockwool and 15mm of blue sound block plasterboard. Our ceilings have an additional 50 mm rockwool acoustic fibre board. Finally, 24mm thick acoustic glass ensures that there is no noise leakage. So no matter how loud you are practicing, you can rest assured you won't be heard!
Music Room Feedback
As with all of our clients, Rachel found the garden rooms team to be an absolute pleasure to deal with. From her initial meeting with Kieran, right through construction on site with Brendan, then back to Kieran for any follow up or aftercare questions she had.
"Given the bad weather we had at the time, the staff handled the construction of my music room very well".
In fact, Rachel has already recommended the Garden Rooms team to her friends.
"I am very happy with the way my garden music room turned out. Joe can now practice in peace, with no disturbances. The soundproofing has been thoroughly tested and is very effective."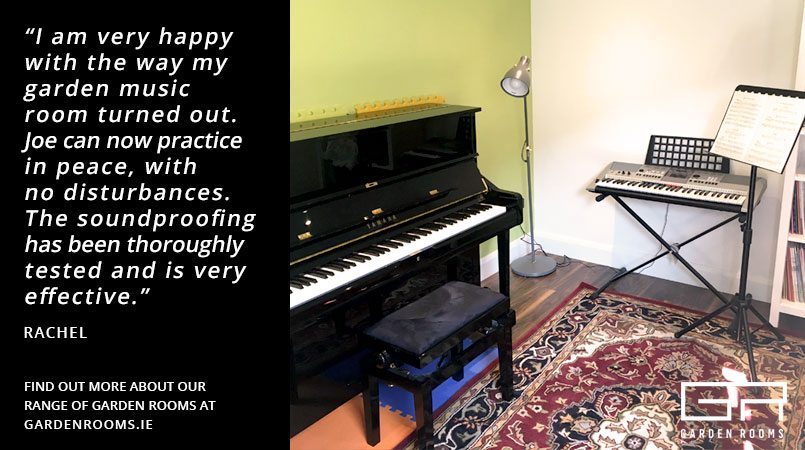 The purpose built music garden room is one of our specialities. To date, we have built music rooms similar to Rachel's for all aspects of the music spectrum be it for producers, DJ's or composers. We design our CUBES specifically to meet your needs.
Music Room Suppliers
We've been supplying music rooms across the country for years and for more information on our range or to get a music room of your own don't hesitate to give us a call on +353 1 8642 888 or contact us online!