16 May

Pod Life: What is a Garden Pod & What is it for?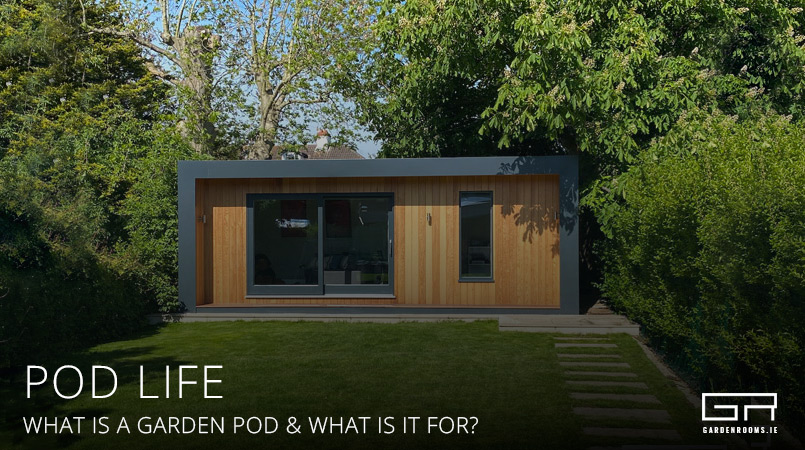 For anyone trawling the web looking for their perfect outdoor room, the terminology can sometimes be a little confusing. You may be wondering, "Am I looking for a garden room? A garden studio? Or perhaps a garden pod?" Well, let us make it simple: they all mean the same thing. Here at Garden Rooms, whether you're asking for a garden room, garden studio or a garden pod, what you'll get is a luxury, architecturally designed outdoor room, suitable for year-round use. Our rooms are fully insulated, double glazed and beautifully finished to the highest standard both inside and out.
So now we've cleared that up, let's move on to the next question. What's it for? Below are 10 ideas for how to use your garden pod:
1. Garden Office Pod
As hybrid working has become the norm over recent years, carving out a quiet spot in the house can be a struggle. A stand-alone garden building, or 'office pod', provides you with a completely separate space where you can get on with your work in peace, away from domestic distractions and the hubbub of family life. At the end of the day you can switch off, and after a 30 second commute you're home! Talk about the perfect work-life balance.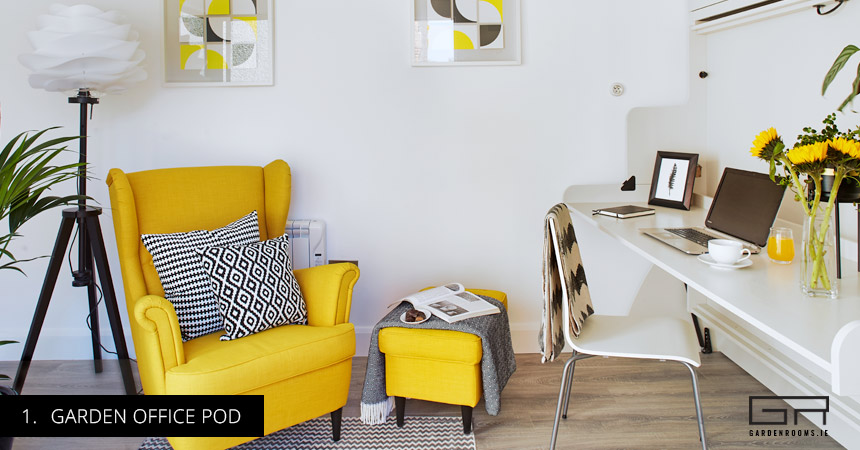 2. Teen Pod
As the kids reach their teens, all of a sudden our houses can start to feel rather small. In an ideal world, all family homes would have a designated teen den, where older kids can socialise, study and relax. But of course, not everyone's house is big enough for that. That's why a teen pod in the bottom of your garden can be a great solution. It provides your teenager with the space and independence they crave, and gives you some much needed breathing room too!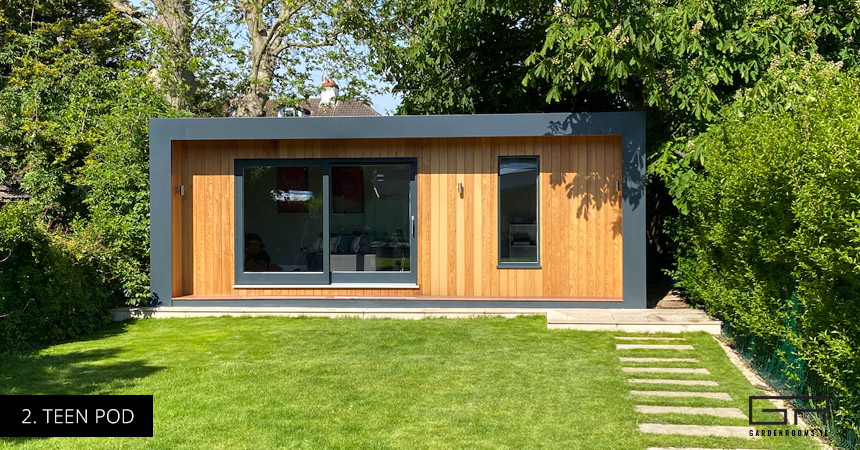 3. Home Gym
Home fitness has been around for decades (remember the Jane Fonda workout video?) But when gyms closed during the pandemic, the popularity of working out at home soared. And it's a trend that's stuck around, as more and more of our customers are creating gyms at home. A home gym pod allows you to work out in peace and at a time that suits you; there's no queues for equipment; no gym membership fees and no commute or parking stress to contend with. And at Garden Rooms we can tailor our garden pods for use as a home gym, by reinforcing the floor to hold heavy equipment such as treadmills or exercise bikes.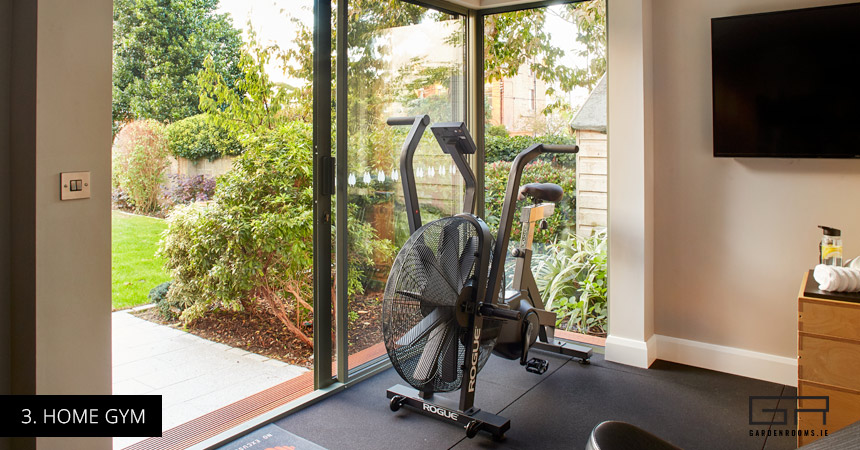 4. Garden Games Pod
Turn your garden pod into a games room, and create a place for the whole family to spend some quality time together. Whether it's for table tennis, pool, foosball, arcade games or even Scrabble, add some comfy sofas and maybe a drinks fridge, and turn your garden games room into an epic entertainment space that's the envy of all your neighbours!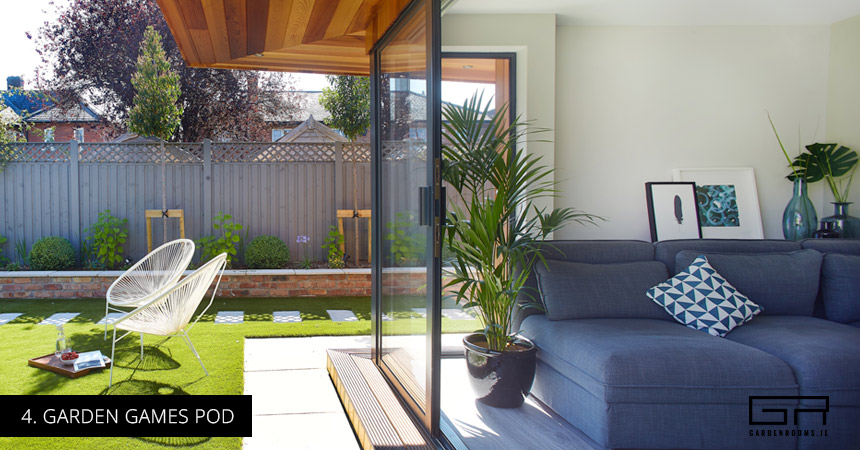 5. Music Pod
Whether your kids are musical maestros, or you are a professional performer, music teacher, aspiring artiste or keen amateur, a garden pod is an ideal place to make music. In addition to the highest quality insulation that comes as standard with all of our garden pods, we have a special insulation package for customers who want to create a totally soundproofed music room. So no matter how loudly you are practising, you can rest assured you won't be heard from outside.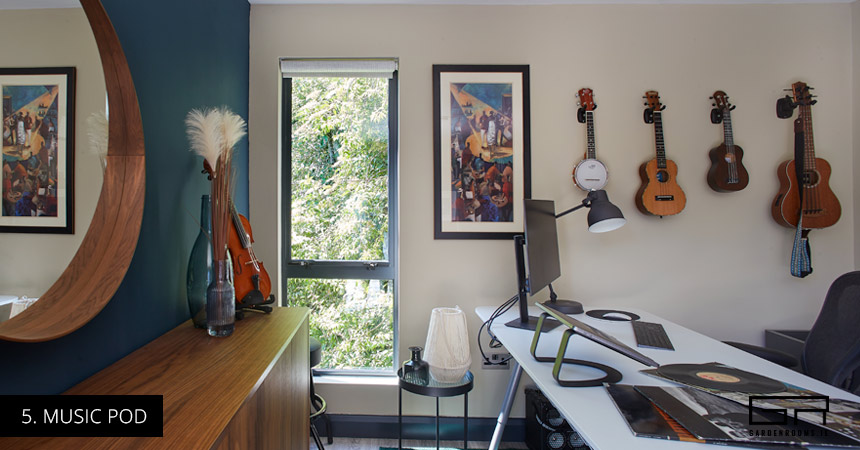 6. Artist Studio
Garden pods make brilliant art studios. Firstly, they're super convenient. Being so close to home means you can paint, draw or sculpt at any time of day or night, whenever inspiration strikes. Secondly, artists need lots of natural light, and with our floor to ceiling glazing and fully customisable windows as standard, you can capture just the right light to create your masterpieces. Thirdly, our garden pods can be fully plumbed, so you'll have a sink area for washing brushes and tools. And lastly, it is scientifically proven that being in nature enhances creativity, so what could be a better, than a studio right in the heart of your garden?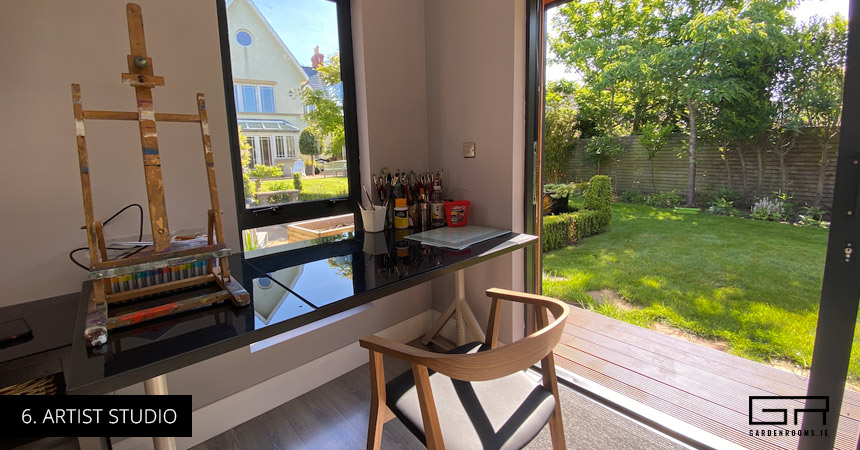 7. Garden Bar
How about a bit of grown-up fun, and turning your garden pod into a home bar? Ideal for entertaining guests, putting on parties, or just a space for the two of you to retreat to and share a drink after a long day. You could keep it simple, with a wine fridge and a couple of couches, or you could go all out, and create your very own themed sports bar, traditional Irish pub or gin palace! With no queues for the bar and no taxis home, it's the perfect night in.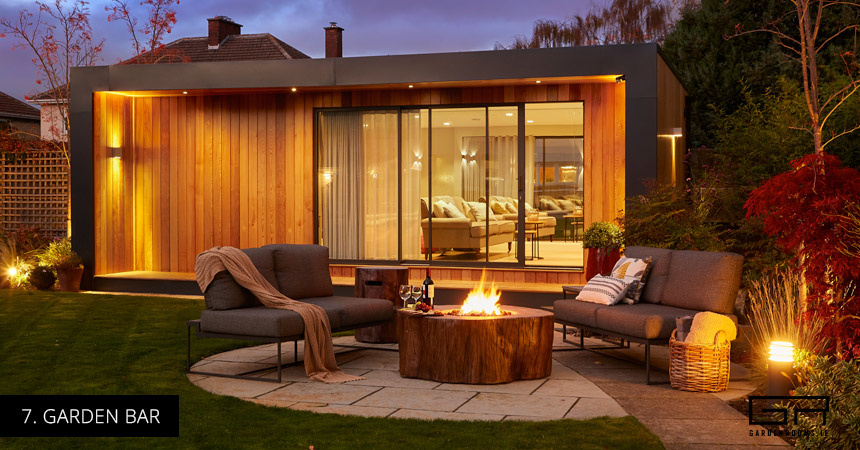 8. Home Cinema
Whether you are a film buff, or just want somewhere to kick back and watch your favourite flicks with the family, creating a home cinema in your garden pod is a great option. Our Home Cinema option includes a drop-down screen, surround sound and Wi-Fi access. And our generous insulation means you can blast out the sound, without fear of disturbing the neighbours!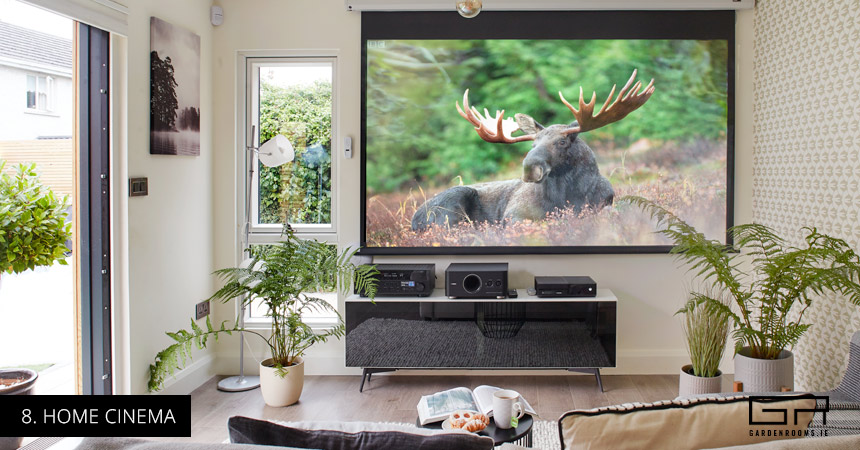 9. Playroom Pod
Anyone with kids knows just how much mess they make! But not all homes have space for a dedicated toy room. If you want somewhere the kids can play, just a few steps away from the house, where you can close the door on the mess at the end of the day, then a playroom pod could be the answer.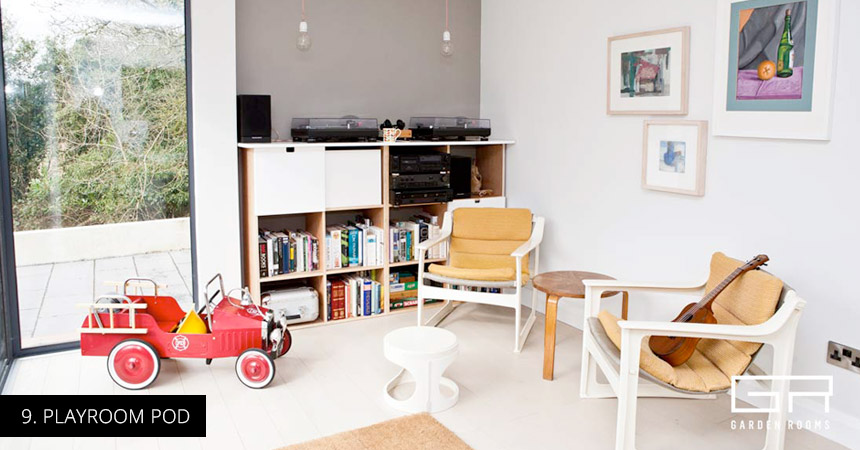 10. Multi-purpose Pod
And last, but not least, if you want extra space, but you need your garden room to do more than one thing, why not turn it into a multi-purpose pod? Your home office could double as a chillout zone, with the addition of a sofa and TV. Or your games room could also be a home gym, by adding a treadmill. By creating different zones within your pod, using furniture, dividers, rugs, paint or even a partition wall, the options of how you use (and style) your garden room are practically endless.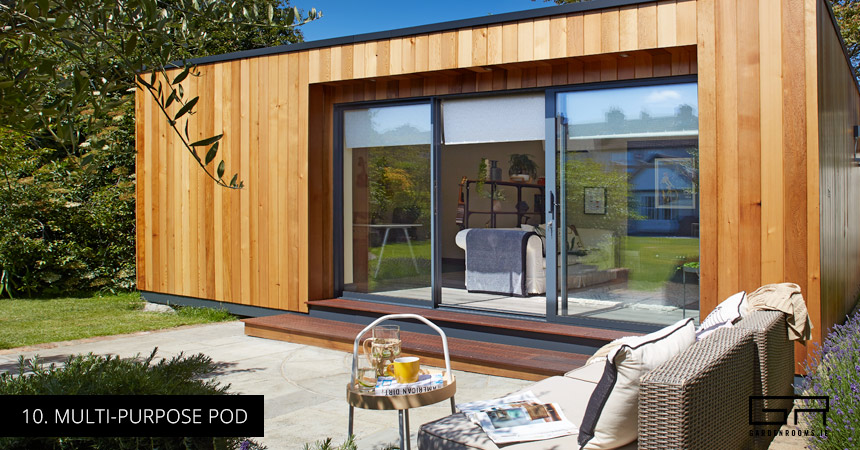 Garden Pods Ireland
We hope you have found our list of garden pod uses helpful. Our pods, or garden rooms, come in a wide range of sizes and configurations, and we work closely with each customer to ensure every aspect of the room is designed to suit their needs. If you are interested in finding out more about our garden rooms, we would love for you to visit us at our showroom just off the M50 at exit 5. Schedule your visit with us today by either completing our Showroom Appointment form, giving us a call on 01 864 28888 or emailing us at info@gardenrooms.ie. We look forward to meeting you!