18 Jan

A Garden Bar: No Taxis, No Childcare, A No Brainer!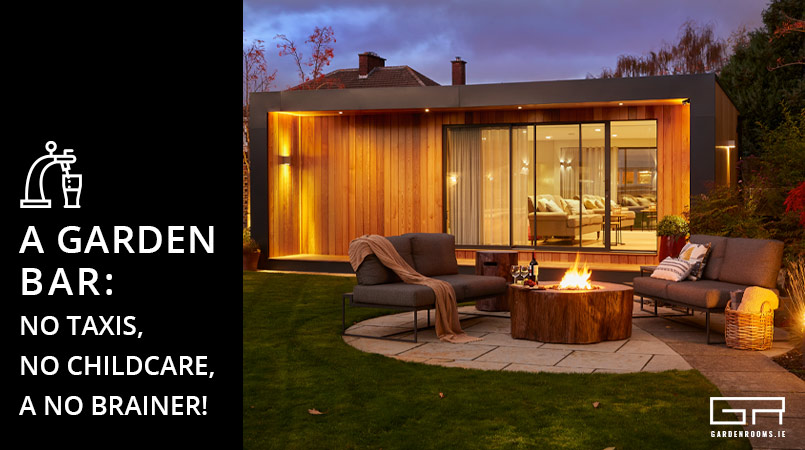 Garden Bars – A Growing Trend in 2022
Entertaining at home has never been more popular and garden bars have proven to be one of the biggest garden trends of 2021 and will probably continue in 2022. With the repeated pattern of being in and out of lockdowns over the past two years we've found new ways to socialise safely, and let's be honest, more comfortably. With time limits and restraints on our pub visits the creatives among us have come up with perfect solution where you can feel the ambiance of a night out whilst still at home. A Garden Bar, housed in one of our Garden Rooms, is the perfect way to entertain in style within the comfort and intimate setting of your own surroundings.
A Designated Entertainment Space
In the past we may have had the odd gathering; a birthday party perhaps, friends over for dinner or maybe hosting that festive soiree for your nearest and dearest at Christmas. Most of which involve taking over the house for a minimum of two days between the set up and the dreaded clear up. These days people are taking their home entertaining very seriously and have stepped it up a level. GardenRooms.ie customers have been looking for a designated space for that home bar/entertainment area where they can relax and unwind alone or invite friends and family over on a more regular basis. Spending time outdoors is a proven stressbuster so maximising your garden to create an additional entertainment space makes perfect sense.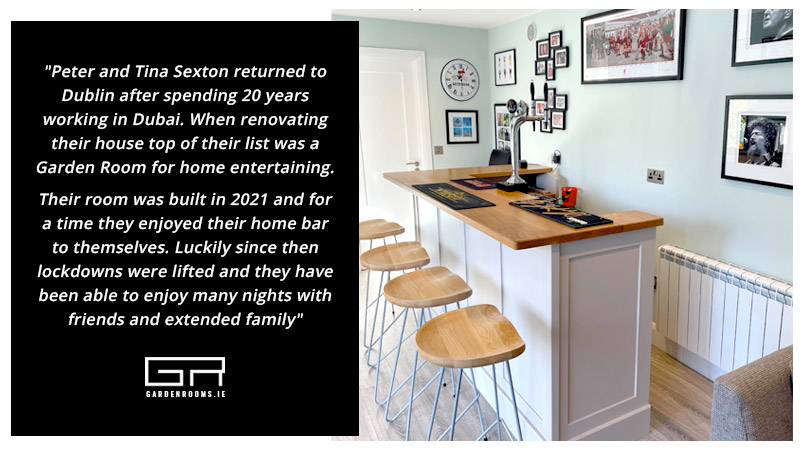 No Queuing In Your Garden Bar
One couple spring to mind when talking about home bars. Peter and Tina Sexton returned to Dublin after spending 20 years working in Dubai. When renovating their house top of their list was a Garden Room for home entertaining. Their room was built in 2021 and for a time they enjoyed their home bar to themselves. Luckily since then lockdowns were lifted and they have been able to enjoy many nights with friends and extended family, including "some birthdays and of course NYE celebrations" no queuing at the bar before the bells ring, they may have started a new family tradition. They have also enjoyed some traditional Irish music nights, recreating the feel of an old Irish shebeen, closing time comes "when the beer has run out." They added a dart board and flat screen TV ensuring there's entertainment on tap when vocal fatigue kicks in.
The nature of our Garden Rooms is that they are separate from your home, creating a versatile space that can be used for any purpose. They are built to last a lifetime, and this gives our customers the peace of mind knowing down the line as family situations change the Garden Room can be repurposed as a home gym, teen room or home office.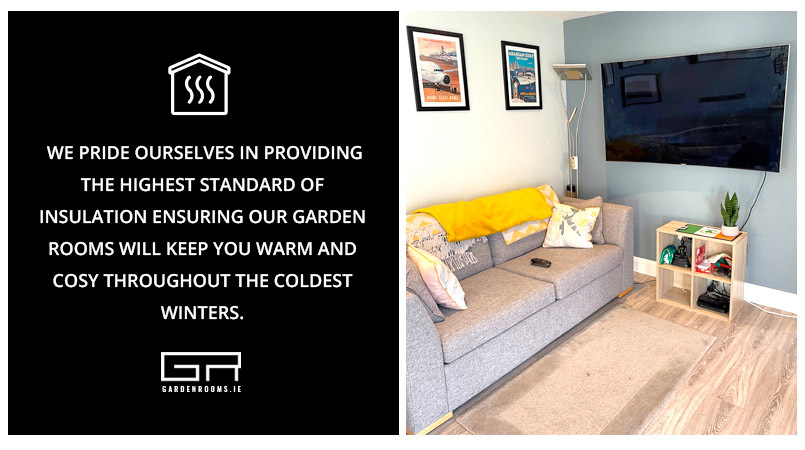 Advantages Of Using A Garden Room
Garden bars can be created for all budget types, we've all seen those humble garden sheds reimagined into backyard boozers or man caves and while they may do the job in the summertime nobody is going to fancy braving the wet and cold winter nights for their favourite tipple. One of the biggest advantages of using our Garden Room for your entertainment space is that it can be used all year round. All our Garden Rooms are double wall insulated as standard with 100mm earth wool and 25mm Kingspan insulation. As well as being thermally efficient they are also acoustically sound (nobody wants to upset the neighbours). We pride ourselves in providing the highest standard of insulation ensuring our Garden Rooms will keep you warm and cosy throughout the coldest winters.
Garden Bar Ideas
When it comes to the interior of the bar some customers go all out choosing rich textures, elaborate patterns, and deep colours to create a sophisticated spot for their nightcap or party. A mirrored wall, like that pictured above, is the perfect design hack to reflect light and create the optical illusion of a larger space. Choosing the right seating is also key, source a seating solution that is both stylish and suitable to accommodate all your guests comfortably. Others keep their Garden Room bar cosy and casual, perhaps adding a dart board, foosball table and their favourite sports memorabilia to make a great space for a night of fun with friends. One of the best things about having a home bar in your garden is you can design it exactly the way you want to. Our finish includes a platinum grey oak laminated floor, and the ceilings and walls are plastered and skimmed and ready for you to add your own personal stamp.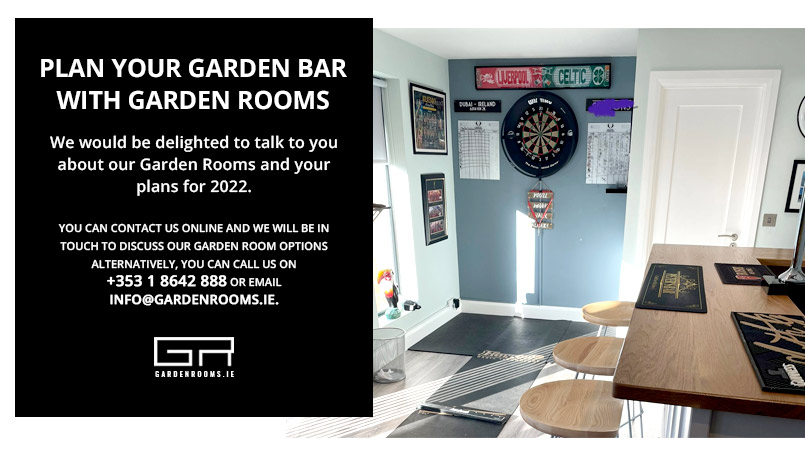 Plan Your Garden Bar With Garden Rooms
We're not saying a pub crawl or visit to your favourite cocktail lounge is a thing of the past but if entertaining in style at home is your thing, we would be delighted to talk to you about our Garden Rooms and your plans for 2022. You can complete our enquiry form and we will be in touch to discuss our Garden Room options. Alternatively, you can call us on 01-8642888 or email info@gardenrooms.ie.
GardenRooms.ie are the market leaders since 2003 and have become the go-to provider for turnkey solutions. Our prices start at €26,000 + VAT and include the essentials such as foundations, windows, doors, flooring, full installation etc.