30 Mar

10 Styling Ideas for Your Garden Room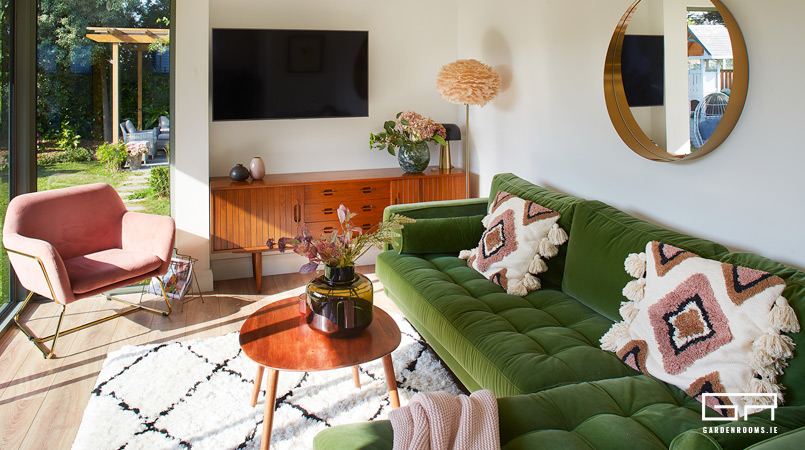 When it comes to the interior design of your Garden Room, the world is your oyster. You can opt for anything from light, bright minimalism, to dark and moody maximalism – and anything in between. A Garden Room is an extension of your home, so it's about reflecting your own personality and preferences. So feel free to experiment and have some fun creating your own unique space!
A Garden Room is a fantastic way of creating extra living space in your home, without the eye-watering cost and disruption of a traditional extension. You might be in need of space for a playroom or home cinema, or perhaps an area to entertain guests. Whatever your requirements, we hope this round-up of Garden Room decor ideas will inspire you to get styling.
1. Decorating With Plants
Indoor plants are a great way of adding natural colour and organic texture into a room scheme. Bringing the outdoors in with lush greenery can soften the space and make it feel more alive. But plants in our homes don't just look great. They can actually improve our health and productivity. Even pictures of plants are known to reduce stress levels and improve mental wellbeing. So, if houseplants aren't your thing, consider including plant-themed artworks or even wallpaper in your Garden Room. With most of us spending 90% of our time indoors, this is a brilliant way to make our rooms look good while benefiting our health too. Win-win!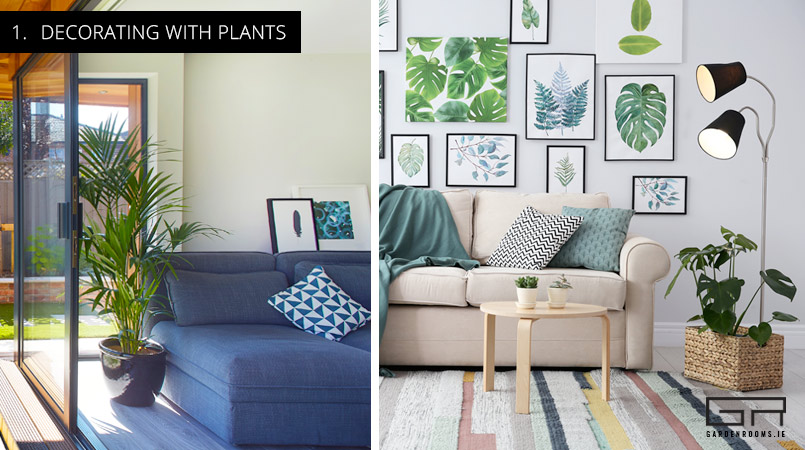 2. Natural Materials
Another way of bringing the outdoors in is by choosing natural materials, such as bamboo, rattan and wood for your furniture and accessories. This helps to create an earthy, calm and soothing environment. Perfect if you intend to use your Garden Room as a yoga studio or a meditation space. And it's equally suitable for general living spaces, as we become increasingly focused on sustainability and reconnecting with the natural world.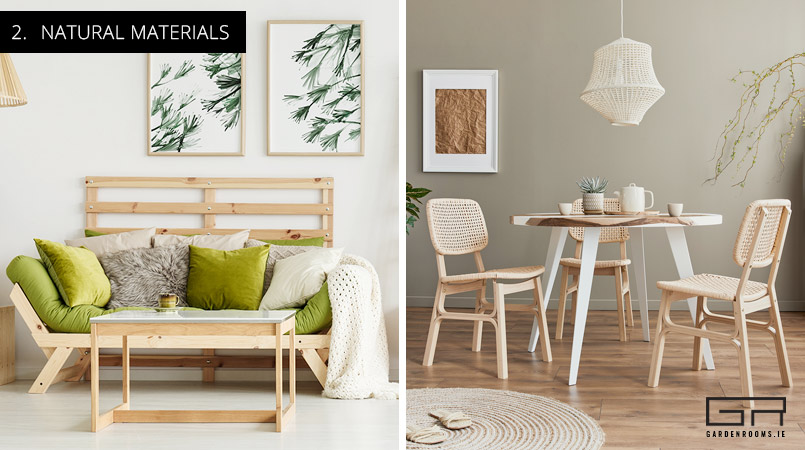 3. Warm Neutrals
For decades, grey has held a monopoly as the go-to neutral. But while grey will always have its place in the design world, in recent years there has been a shift away from cooler shades, towards warmer tones that are considered more comforting and inviting. Softer greys and beige colour schemes are elegant and timeless, and are the perfect backdrop for natural elements such as plants, rattan, bamboo, wood and lots of natural light.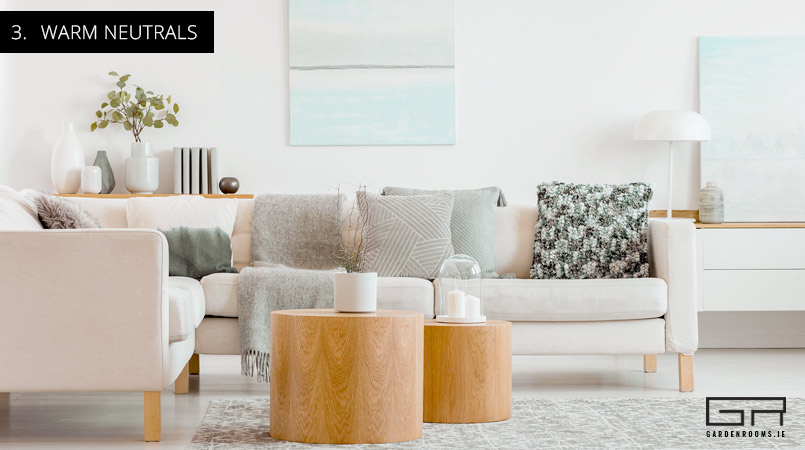 4. Wallpaper
Wallpaper is a great way to transform a room and flex your creative muscles. Whatever your style may be, there's a wallpaper out there to suit it. Wallcoverings can range from bold and impactful, with daring colours and striking patterns, to much more restrained, with delicate designs and textures. Here, the homeowner has introduced subtle pattern into their garden room, with an understated, geometric wallcovering that ties in with the overall colour scheme.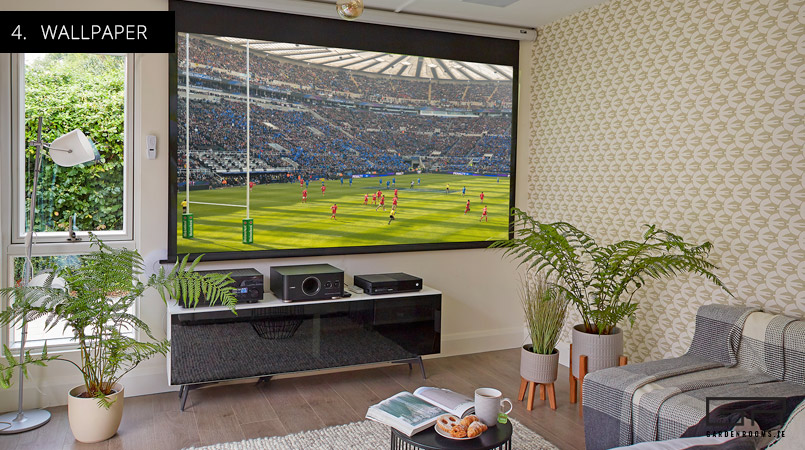 5. Pops of Zesty Yellow
Yellow is the colour of sunshine. For some of us it triggers feelings of warmth and joy. But for others, it can be overwhelming, even causing frustration and anger. So when incorporating yellow into your room, it's probably best to stick to the adage that 'less is more'. Here, a variety of homeowners have successfully curated cheerful garden rooms by keeping the overall colour schemes muted, and then adding zingy pops yellow through elements such as cushions, lampshades, flowers, artworks and accent chairs.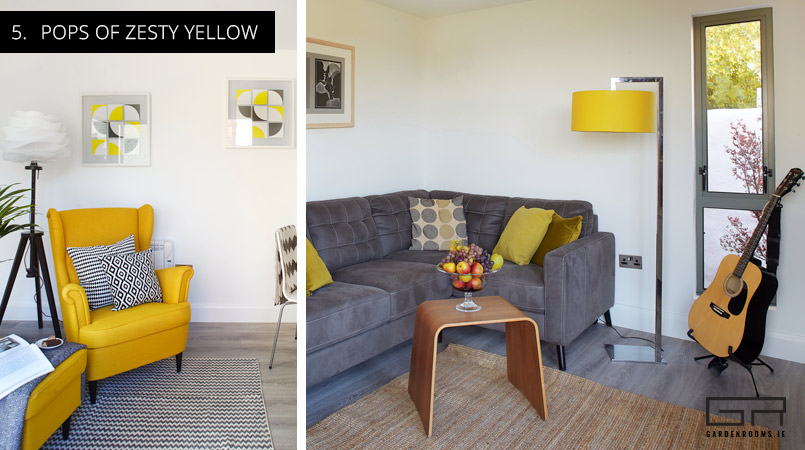 6. Fun Florals
While our architecturally-designed Garden Rooms have a sleek, contemporary aesthetic on the exterior, this doesn't mean you are restricted to a modern or minimalist vibe on the inside. Here the homeowner has been daring with colour and introduced a bold floral rug for a playful, classic look. If floral is your thing, you can bring it in through accessories such as cushions, lampshades, vases or artworks.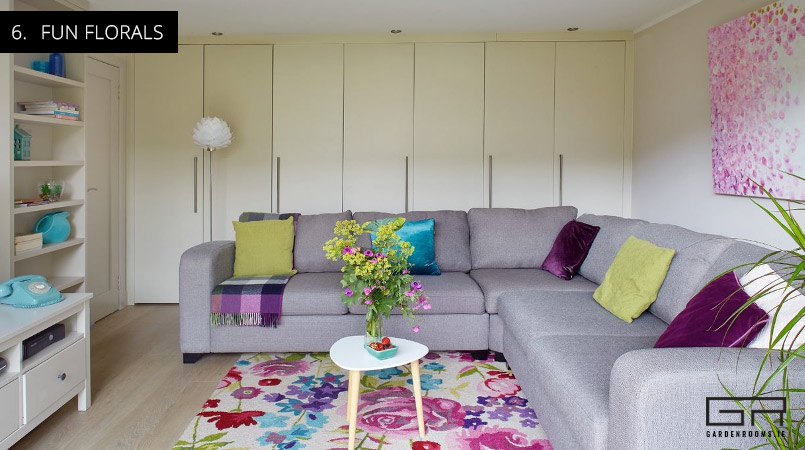 7. Embrace Your Dark Side
If you're feeling adventurous, nothing transforms a space quite like going over to the dark side. Choosing a dark colour palette for your garden room is a fantastic way of creating a space that feels rich, cocooning and full of drama. You might worry that a dark room will feel claustrophobic. But the beauty of a garden room is that its full height floor to ceiling glazing floods the space with natural light, keeping it bright and airy, even with the moodiest hues on the walls.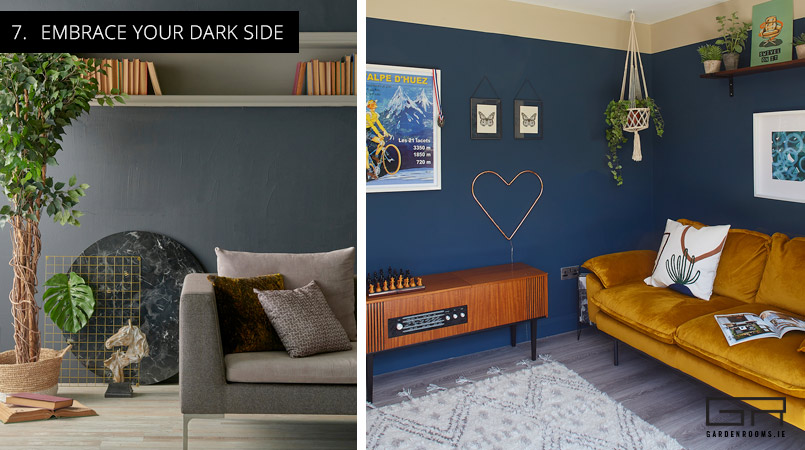 8. Black & White
Black and white colour schemes are classic and sophisticated. This versatile pairing can be used to achieve countless looks, from a subdued Scandi sanctuary to an ultra-glam party pad. But while black and white schemes may be timeless, they can sometimes end up looking quite sterile. So, try warming up your monochrome palette by layering another colour into it, such as a warm wood tone, as this Garden Rooms customer has done. Adding in textures like fluffy rugs and soft blankets can also stop it feeling too stark.
9. Build Layers of Texture
Add depth to your Garden Room by introducing layers of texture. By ensuring you have a mix of different finishes throughout the space, you'll end up with a room that feels rich and luxurious. In this Garden Room, the homeowner has started with a backdrop of matt walls, and then added elements with a light sheen to the space, such as wooden furniture, laminate flooring and velvet upholstery. The deep pile rug and tasselled cushions create a further layer of deep texture. And the reflective surface of the mirror adds a final touch of contrast. Other materials you might consider introducing into your garden room to build up layers of texture are brushed brass, polished chrome, soft linens, chunky knits, rustic wood, fluted glass or glazed tiles.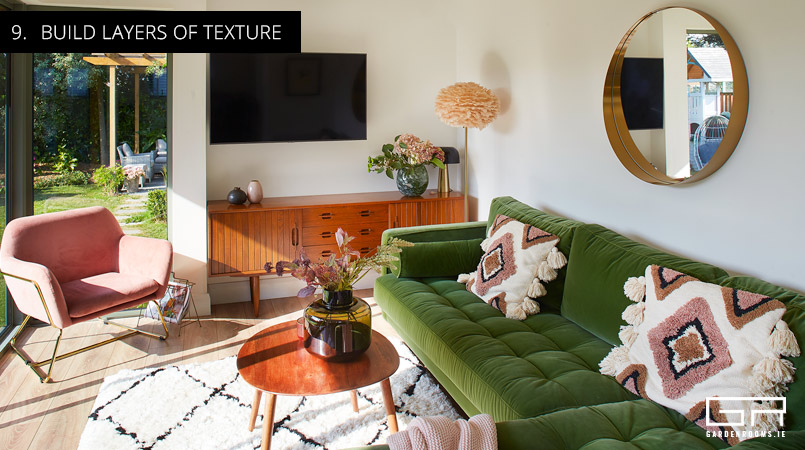 10. Statement Sofa
A sofa is often the biggest and most expensive piece of furniture you will buy for a living space. So, it's important to get it right. When it comes to picking one, there are a myriad of options to consider: modern, traditional, firm, squishy, L-shaped, U-shaped, modular, recliner, day bed and on and on the list goes. But once you've navigated the practical stuff, and decided on your ideal sofa shape and size, you can move on to the fun bit – colour! If in doubt, you can always play it safe with a neutral sofa, allowing you to add or take away pattern and colour with cushions and blankets. But if you're feeling brave, why not make the sofa the star of the show? Colourful sofas have been gaining popularity over recent years and it's easy to see why, as they bring fun and a wow-factor to any room. Some of the most popular sofa colours we are seeing right now are green, pink, orange, teal and yellow.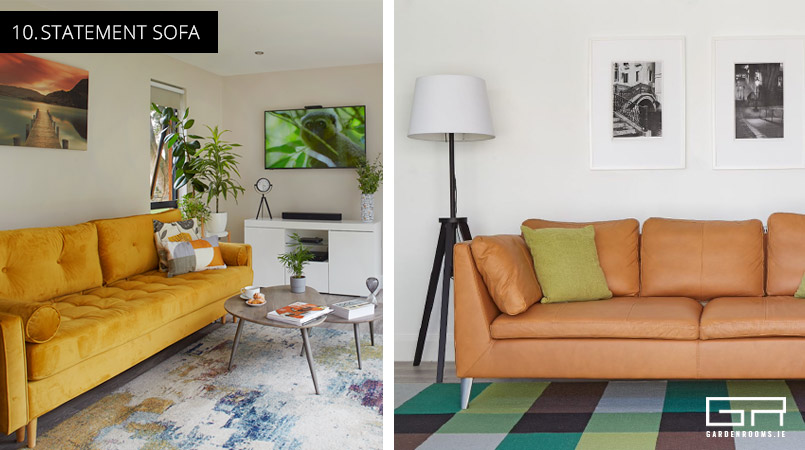 Styling Ideas for Your Garden Rooms
If you are feeling inspired and are thinking about getting your own Garden Room to style then we are here to help. Get in touch with us today by emailing us at info@gardenrooms.ie, give us a ring on 01 864 2888 or complete our online contact form here. And, if you enjoyed this post, make sure to check out our post on storage ideas for your Garden Room.