21 Jun

Home Office in the Garden – Your Questions Answered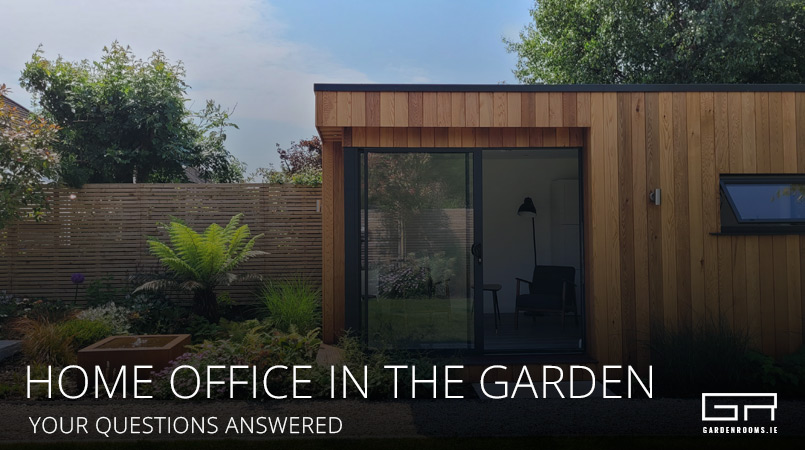 In this blog post we take a look at some of the most commonly asked questions when it comes to setting up a home office in your garden: from the practicalities of planning permission, to the design deliberations of layout and lighting. So, if you are thinking of getting a Garden Room Home Office then read on…
Is a Garden Room suitable as a home office?
Absolutely! All our Garden Rooms are fully insulated for year-round use, so your productivity won't be dictated by the weather. As well as being thermally efficient, they are also acoustically sound. The layout of the windows and doors and overall dimensions of each Garden Room can also be tailored to suit your needs at no extra cost. And there are optional extras such as adding a bathroom, a separate storage area or additional sound proofing depending on your planned use of the room. Our Garden Rooms allow you to create your ideal home office space, where you can control the environment – heating, air con, music, decor – and provide you with a distraction free, professional remote setup, away from the main house. At the end of day, just shut down your computer and after a 30 second commute, you're home.
Will my internet connection be good enough to work remotely?
A home office is nothing without decent broadband which is why we, at Garden Rooms, hard wire rather than rely on Wi-Fi. A CAT6 broadband cable is run back to the main house, allowing internet signal to travel at the highest possible speed, giving you the same internet performance you have in your house. Even at the bottom of the garden, our customers do not experience a reduction in download and upload speeds.
Do I need planning permission to put a home office in my garden?
Ranging in size from 17 sq. metres upwards, our Garden Rooms do not require planning, so long as the internal space does not exceed 25 square metres, and an area of 25 square metres remains in your garden. At Garden Rooms we are always happy to talk you through the full requirements for planning exempt Garden Rooms.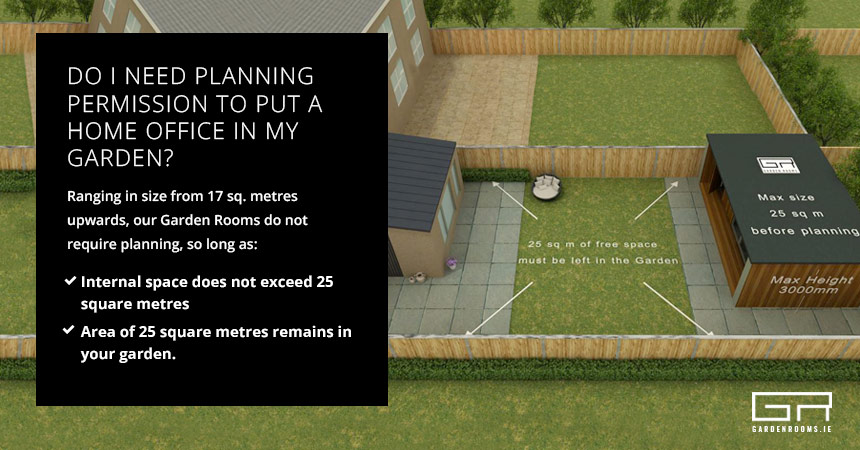 How much does an office in the garden cost?
Our Garden Rooms cost approximately €1,700 per square metre before VAT. So, if you are going for a 17 square metre Garden Room CUBE 17 or a 25 square metre Garden Room CUBE 25 you are going to see the cost of the room increase accordingly. If we compare this to a standard house extension, you could pay anywhere up to €3,400 per square metre before VAT. You can read more here about how much does a garden room cost.
Can a Garden Room be considered a business expense?
Talk to your accountant about putting a Garden Room through your business. If you are a sole trader or an owner of a limited company this could be a way for your business to work for you. You can claim back the 13.5% VAT when purchasing your Garden Room. And because your home office is a depreciating asset, you can depreciate it over 8 years at 12.5% pa.
What is the process for designing a Garden Room Office and how long does it take to build?
We start by inviting our customers out to our showroom, to experience the exceptional quality and craftsmanship of our Garden Rooms. After this, we arrange to meet at the customer's home. We ensure plenty of time is spent discussing the layout of the room, its location and the functionality of the space. Once we decide on all of this and agree on the best design with the customer, we provide a floor plan and detailed quotation. When the customer is on board, it takes 7-8 weeks before we start, and our projects are built over a 3-week period.
How do I plan my Garden Room Office?
When it comes to planning your workspace, you first need to decide exactly how you intend to use the space. Will you need a desk? What are your storage needs? Does it need to be sound proofed? Will it be a multi-functional space? Do you want to include a WC? Is there a specific view you'd like to look at while you work? Etc. With all these considerations in mind, you can begin to think about the most functional and visually appealing layout for elements such as your windows and doors, furniture, electrical sockets, internet point, radiator, air con unit, storage solutions, lighting and partition walls. For example: you will want to ensure there are sockets and an internet connection next to your desk; You'll want to position less attractive elements such as air con units and fuseboards so they are not a focal point; Positioning a desk in front of a window, is more stimulating than staring at a blank wall; Incorporating blinds to reduce glare on your computer screen may be necessary. Etc. At Garden Rooms, our experienced team will talk you through all these important considerations when it comes to planning your Garden Room.
What lighting do I need in a home office?
A real benefit of a Garden Room, is that the floor to ceiling glazing allows natural light to flood the space. Perfect for improving your productivity and even your mood! But in the depths of winter, or in the evening, good lighting is essential, or you risk eyestrain and headaches. All our garden rooms come with 6-8 LED spotlights as standard, perfect for illuminating the space effectively. In addition to this, we recommend you include supplementary task lighting, to aid reading, writing and computer work. An adjustable wall light or desk lamp is perfect, as the angle of light can be changed depending on the task at hand. You may even want to add decorative lights, such as pendants or wall sconces, to create a cosy ambience. Just make sure, if you do want to install decorative lights, that you plan these in advance, so they can be wired for during the construction phase, to save costs down the line! For a stylish selection of Irish-made lamps, check out Lighting Manufacturer Mullan Lighting.
How do I make a home office in a small space?
Perhaps you only have space for a small Garden Room. Or maybe you're planning to fit a small office space into a larger, multi-functional Garden Room. Either way, with some clever planning, you can get the maximum functionality out of the smallest of spaces. Avoid dominating the room with bulky furniture, instead opt for a slimline or floating desk to give the illusion of space. Or, you could include a fold down desk to save on space further still. You might even create a 'cloffice' with these storage ideas for Garden Rooms, where you make an office space within a closet! In confined spaces, focus on vertical storage, to maximise the storage potential of the walls e.g. floor to ceiling shelving, cabinetry or stackable storage cubes. And make sure you keep organised, to stop it feeling small and cluttered. Use drawer dividers, hanging hooks and pin boards to stay on top of the mess, and cable organisers to tuck computer cables and wires neatly behind the desk.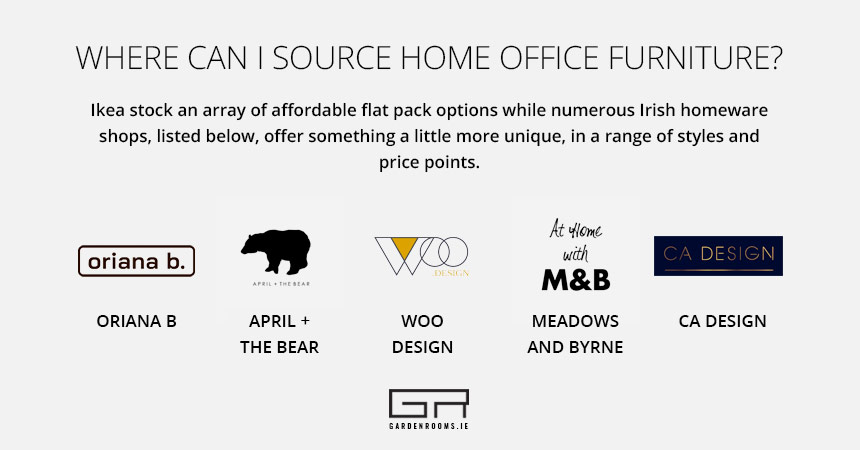 Where can I source home office furniture?
There is a plethora of options when it comes to sourcing home office furniture for your Garden Room. Ikea stock an array of affordable flat pack options, such as the Alex series of desk and storage units or the Trotten system, featuring desks, ergonomic chairs, storage units and accessories. While numerous Irish homeware shops offer something a little more unique, in a range of styles and price points. Oriana B., April & the Bear, Woo Design, Meadows and Byrne and CA Design are just a few, and well worth a browse if you're after a stylish home office chair or a sophisticated home office desk for your Garden Room.
How do I get a Garden Room Home Office quote?
Just give us a call on 01 864 28888 or complete our Showroom Appointment form to book your appointment to visit our showroom, just off the M50 at exit 5. Following that, you will receive a free survey at your home, where we will discuss where a Garden Room will best fit in your garden, what the best orientation will be, what size will work best for you and what internal fit-out you need. You will then receive an exact costing specific to your needs.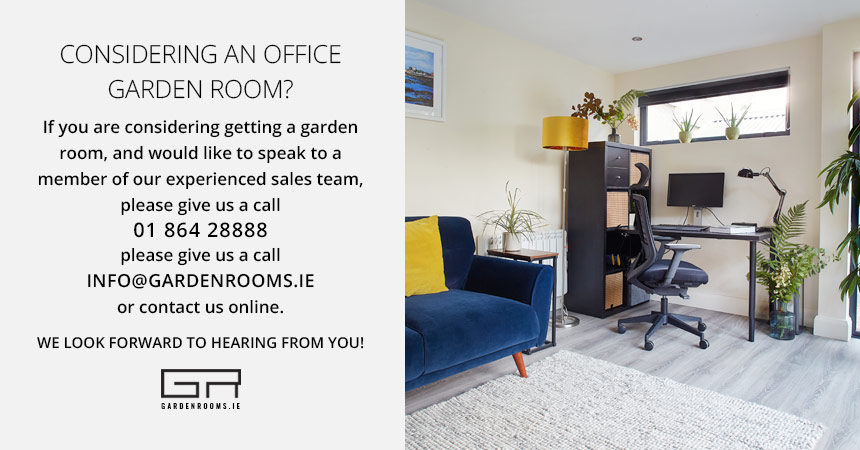 Considering an Office Garden Room?
We hope we have answered all your questions about creating a home office in your garden. If you have any further queries, or are considering getting a garden room, and would like to speak to a member of our experienced sales team, please give us a call on 01 864 28888, email us at info@gardenrooms.ie or contact us online. We look forward to hearing from you!