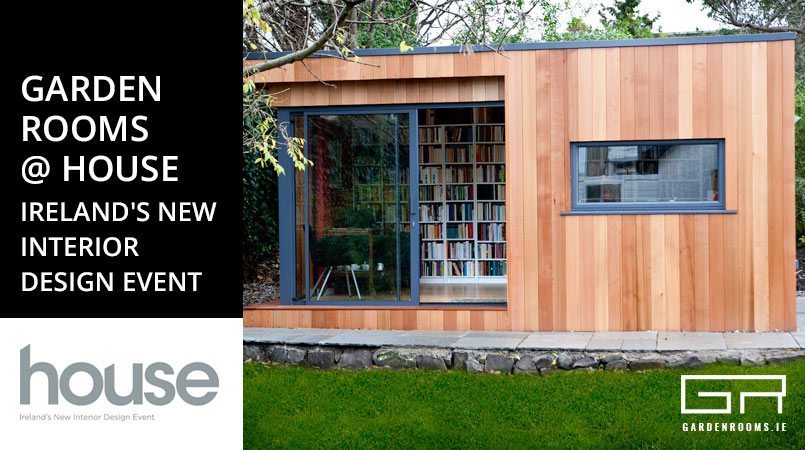 15 Jun

Garden Rooms @ House – Ireland's New Interior Design Event

We really enjoyed being part of HOUSE, Ireland's new interior design event, at the RDS from 20-22nd May 2016. This event was organised by INM – the people behind the Irish Independent, the Sunday Independent, the Herald and the Sunday World. HOUSE certainly delivered on all it promised, with a one-stop showcase for all that's best within the world of homes and interiors – hot trends and stylish products, brought to life with demos, masterclasses and advice clinics.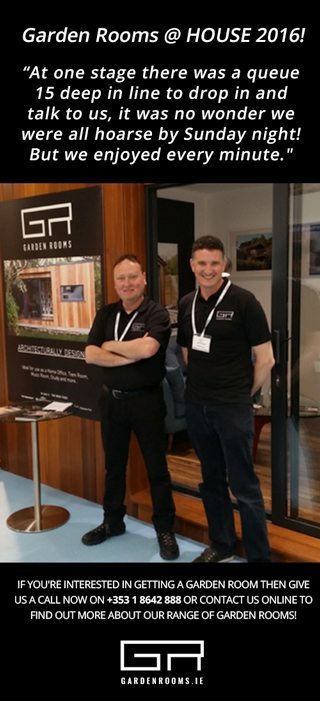 Proud Of Our Product @ HOUSE
The interest in our Garden Rooms was phenomenal. We were delighted by the response from so many architects, interior designers and other visitors who were all smitten with our Garden Rooms. Comments on the level of craftsmanship, the stunning cedar wood finish and the superb insulation made us even prouder of our product!
As people had travelled from around the country to HOUSE they were happy to hear that Garden Rooms operate nationwide. Many were amazed at the sheer range of uses people find for their Garden Rooms, from art studios and therapy rooms, to offices, gyms, studies and teenage dens and more often a crossover of everything.
Free Site Surveys For Garden Rooms!
At one stage there was a queue 15 deep in line to drop in and talk to us, it was no wonder we were all hoarse by Sunday night! But we enjoyed every minute.
The Inspiration Stage with its series of talks was really interesting with experts like Dermot Bannon and Roisin Lafferty offering smart design advice and savvy makeover tips so if you didn't make it along this year; put it in the diary for 2017.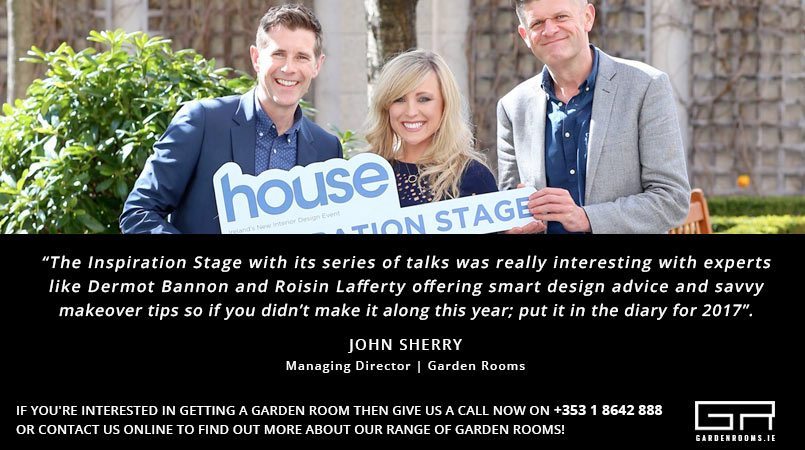 Our phones haven't stopped ringing since and we are out the door with our free site surveys! If you'd like to organise a site survey for a Garden Room of your own then give us a call now on +353 1 8642 888 or contact us online!