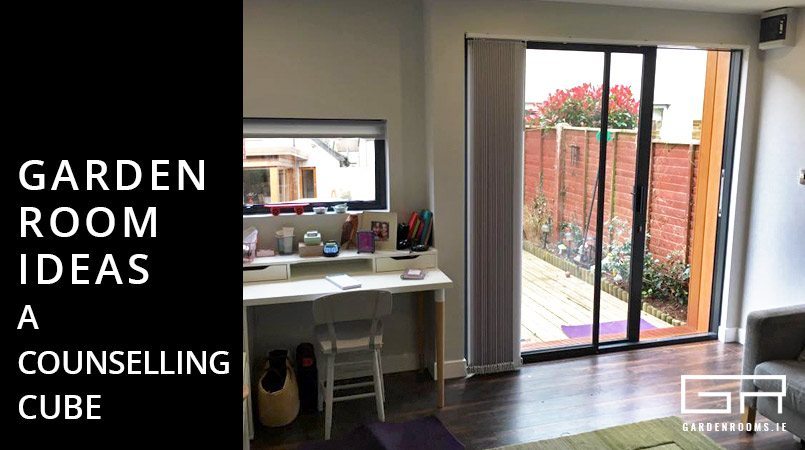 05 May

Garden Room Ideas – A Counselling Cube

Garden Rooms can be used for almost every purpose and are ideal for a home office, teen room or even just for some extra space. For Siobhán, a counselor based in Dundrum her garden room comes with a number of benefits, both in her business life and in her home life. "For me, investing in a Garden Room was about space. I needed more of it." Siobhán discusses. "Because I wasn't in a position to sell my house, I needed to make use of what space I had, and utilise it." She continues. Siobhán decided to move forward with her Garden Room with the vision of having a home office and counselling room in her back garden. While she continues to see clients in her rented office in Dundrum, she plans to eventually integrate her appointments into her home counselling room. "I'm looking forward to combining my office work and client visits into one space" says Siobhán.
"Having clients visit me in my home will enable me to save a fortune on renting an office."
Benefits of Garden Rooms for a Counselling Space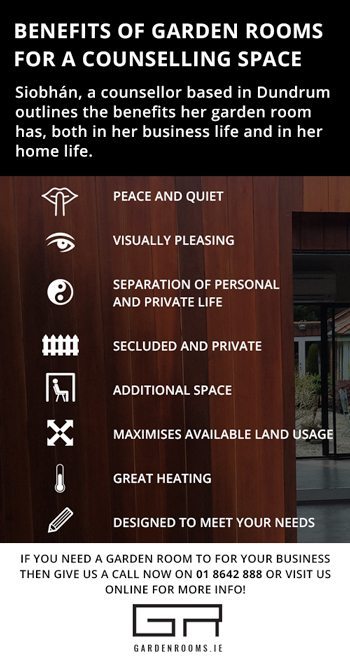 "Having the extra space separate from the house is brilliant." Siobhán tells us. "There is no noise coming from it, and it's visually pleasing. Visually I like looking at it." Siobhán's garden room offers many benefits as a home counselling room. It is situated away from the house, providing a separation of space between home and office. It is secluded and private, offering a private sanctuary for her clients.
"In terms of having a small office where I can see clients, my garden room is perfect."
"My Garden Room Fully Lived Up To My Expectations"
"My Garden Room fully lived up to my expectations" Siobhán informed us. As with all of our clients, Siobhán gave special mention to our construction crew: "During the construction the guys were absolutely fantastic. Brendan was here at 7.30 every morning. He worked all day and there was no mess." We pride ourselves on ease of construction for all our clients, and Siobhán's experience was no different.
"The suitability of my Garden Room for my business is perfect. Garden Rooms were an absolute pleasure to deal with." Siobhán was also delighted with the heat in her Garden Room. "The heat is phenomenal. Sometimes my Garden Room heats better than my house does."
Garden Room Range
Our range of garden room Cubes are fully functional and can be designed to meet any need. Siobhán's counselling garden room was designed with those exact specifications in mind, and the outcome was highly successful.
If you are in a similar profession to Siobhán and would like to look into working full time from home then get in touch with us today by calling us on +353 1 8642 888 or contacting us online!