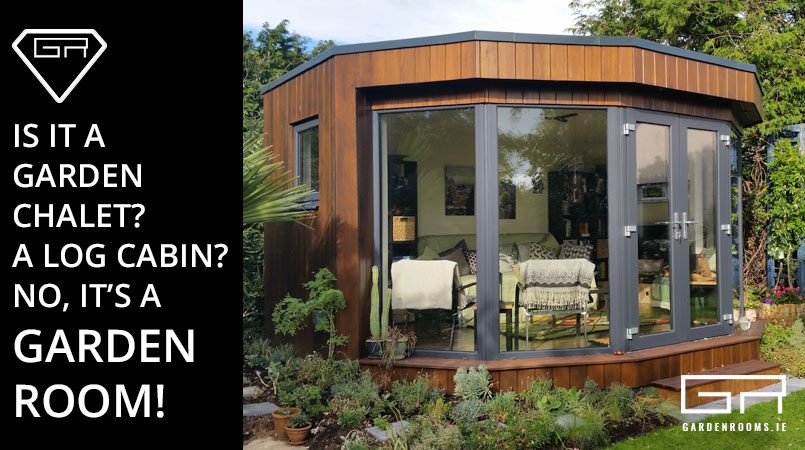 21 Oct

Is It A Garden Chalet? A Log Cabin? No, it's a Garden Room!

Our Garden Rooms are an evolutionary creation.

According to the Cambridge Advanced Learners Dictionary and Thesaurus, a Garden Chalet is
'a small wooden house found in mountain areas, especially in Switzerland, or a house built in a similar style, especially one used by people on holiday'.
The definition of a log cabin is
'a small house made from tree trunks'.
Our garden rooms are something different from the above and the evolution of the species as it were.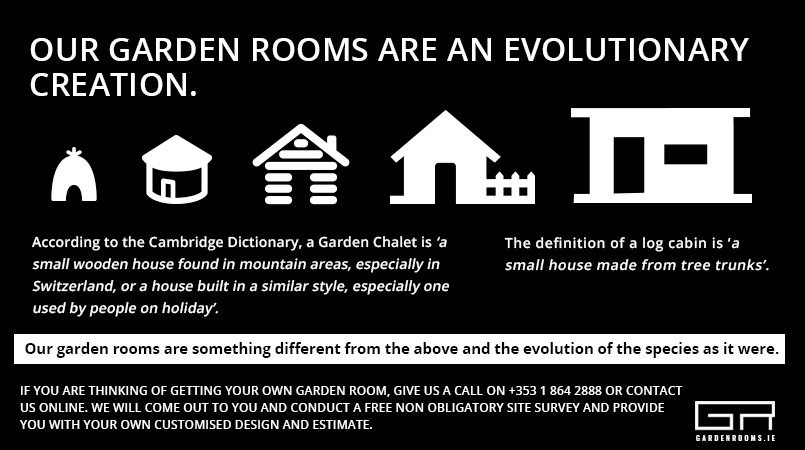 Garden Chalet & Garden Room Differences
So how does a Garden Room differ from a garden chalet or log cabin? For a start our Garden Rooms are a unique contemporary upgrade from either a log cabin or garden chalet.  They are architecturally designed, using our customers' requirements and our team's knowledge to create a stylish and practical lifestyle solution.  Whether you require a home office, music room, therapy room, home gym or just extra space, our Garden Rooms are built of high quality materials by a dedicated and experienced team, ensuring that your Garden Rooms lasts for at least 3 generations!
Insulated Garden Rooms For Irish Winters
Irish winters can be harsh, which is why our Garden Rooms are heavy insulated.  Our floors come standard with 80mm Kingspan Foilback Insulation.  Our walls are doubled up – 25mm Kingspan Foilback Insulation, together with 100mm Earthwool Omnifit.  Last but not least our ceilings come standard with 150mm Earthwool Omnifit and our Windows and Doors are double glazed aluminium.  You can view the complete build up of our Garden Rooms here.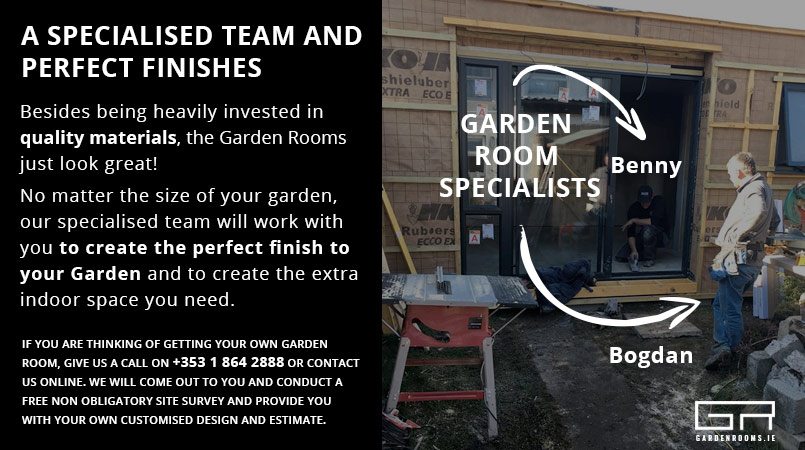 A Specialised Team And Perfect Finishes
Besides being heavily invested in quality materials, the Garden Rooms just look great! No matter the size of your garden, our specialised team will work with you to create the perfect finish to your Garden and to create the extra indoor space you need.
Free Site Survey!
If you are thinking of getting your own Garden Room, give us a call on +353 1 864 2888, email us on info@gardenrooms.ie or contact us online.  We will come out to you and conduct a free non obligatory site survey and provide you with your own customised design and estimate. We are waiting to hear from you!