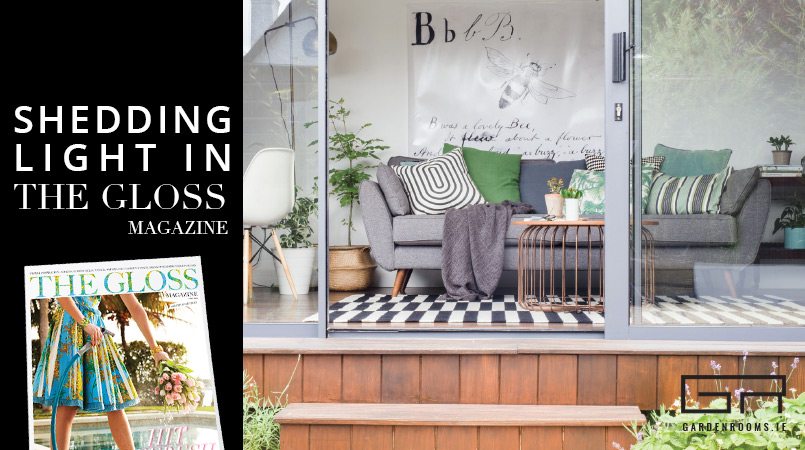 03 Aug

Shedding Light in the Gloss Magazine

At Garden Rooms, we are all about improving lifestyle, so when we are featured in one of Ireland's high-profile lifestyle magazines we like to shout about it!
Garden Rooms in Gloss Magazine!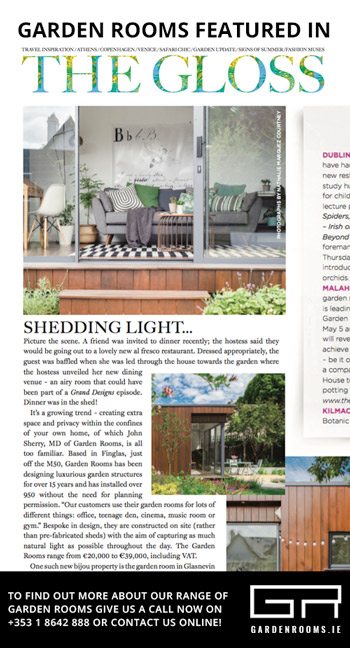 We loved the piece written by Penny Mc Cormack in the May 2017 issue of The Gloss Magazine. Penny featured Niamh O'Carroll's gorgeous Garden Room in Glasnevin, Dublin 9. Niamh's Garden room is a perfect example of maximising the extra space that our Garden Rooms create. The Garden Room is used as a home office by day by Niamh, who runs her own PR company, O'Carroll Consulting. By night it transforms into a teenager den / cinema room for the family, complete with pull down screen and surround sound.
Besides being able to separate work and home life during the day, the Garden Room has also become an entertainment hub for family and friends.  With insulation in the floor and ceiling, and doubled up in the walls, the thermally efficient Garden Room is used all year round.
Uses For Garden Rooms
Garden Rooms customers have a wide variety of uses for their Garden Rooms. From multi-purpose rooms such as Niamh's Garden Room, to art studios, music rooms, gyms, and even the odd man-cave! We invest heavily in the structure of our Garden Rooms, giving our customers a product with a life-span of 60-70 years. Garden Rooms are built onsite within 10-14 working days, with little disruption to your home, making them an ever increasingly popular choice when it comes to the need for extra space in your home.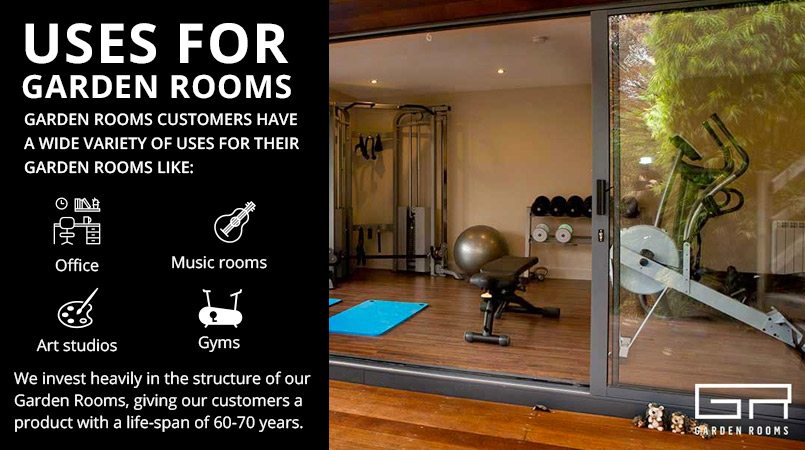 VAT Back on Garden Rooms
When bought privately, you also have the option to claim the VAT back on your Garden Room through the Home Renovation Incentive scheme.  This scheme, offered by Revenue.ie, allows you to claim the VAT back as a tax credit over the 2 years following the completion of the project.
The Perfect Garden Room For Your Garden!
If you are considering a Garden Room in your garden, do give us a call on +353 1 864 2888 or contact us online. We would be delighted to discuss and design a Garden Room to suit your garden and needs.