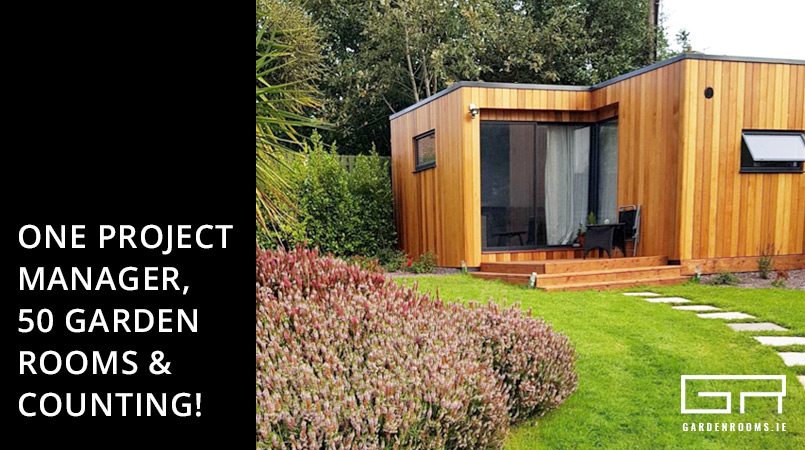 15 Dec

One Project Manager, 50 Garden Rooms – And Counting!

This is a post to celebrate the fact that our project manager Kieran has now sold 50 Garden Rooms! Every one of Kieran's 50 Garden Rooms have their own individual signature and are 100% custom made.
Bespoke Garden Room Expert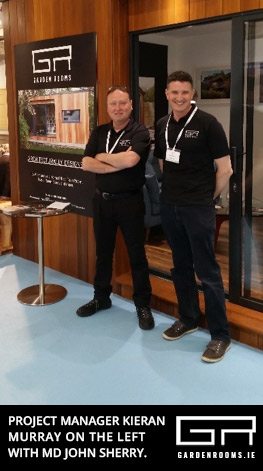 Since joining GardenRooms.ie in 2015 Kieran has become a real expert in bespoke Garden Rooms. About his position in Garden Rooms Kieran has the following to say:
"I love being Project Manager for GardenRooms.ie. My job takes me all over the country meeting some very interesting customers.  When you have a great product and a team of professionals behind you, build crews who are not just tradesmen but craftsmen with fantastic attention to detail, it all goes towards delivering a level of customer service you would expect from Ireland's premium Garden Rooms provider. I'm looking forward to the next 50 projects!"
Tips If You Are Considering a Garden Room
Over the course of selling and managing 50 Garden Room builds Kieran has picked up a thing or two when it comes to Garden Rooms. Here are some of his top tips if you're considering buying a Garden Room.
Sunlight: Track your sunlight, we can set the glass to suit the best light
Orientation: Getting the position and the layout of the room is so important.
Use Cases: Think about the different uses that need to be incorporated into your Garden Room, and we can zone it to suit. For example, if it is to be used as a home office and a teenager room, we can put together a design that can function as a multipurpose room for the whole family.

Customer Testimonials

From working with Kieran day-in and day-out we know that he is at the top of his game, but it's not just us who think so. Our customers relate to Kieran because of his can-do attitude. He isn't fazed by any challenge and he is passionate about every project he takes on. Here are some comments from his customers.

"Thanks for everything …. you are the best Ambassador Garden Rooms could have!"

– Patricia, Co Wexford

Kieran's Top 3 Favourite Garden Rooms

Over the years and the 50 Garden Room projects that Kieran has worked on there are some that particularly stand out. Here are Kieran's top 3 favourite Garden Rooms!

No. 1: Bespoke Garden Room – This stunning bespoke Garden Room is in Kilcoole, Co Wicklow.
The customer had the vision to capture as much natural light as possible and Kieran worked on achieving this amazing result. This totally bespoke Garden Room is unlike anything we have ever built before with the customer saying:
"I am enjoying every minute of my new office and still overjoyed at the quality of workmanship and pleasant service when dealing with Kieran at GardenRooms.ie"

No. 2: Ticket Office –A ticket office for the Lafcadio Hearn Japanese Gardens, Tramore, Co Waterford.
Kieran's brief was to create a room that nested in with the Japanese theme for the Gardens and was also functional for visiting members of the public, the client asked if the cedar would go that beautiful silvery grey with time. We were able to achieve this by applying a special oil that not only accelerates the silver on the cedar but also protects the wood from UV light for up to 15 years.

"The cedar looks quite Japanese so is very much in keeping with the Japanese theme of our Garden.  Kieran reconfigured the Garden Room to complement the Japanese theme and we were so impressed with how professional and lovely he was to deal with."
– Agnes Aylward from Lafcadio Hearn Japanese Gardens in Co Waterford

No. 3: Home Office –A Home Office Kieran did in Co Wexford.
It is a multi-purpose room that is used as a Home Office primarily and also used as a place to relax and unwind in. It's the perfect place to sneak away and read the Sunday papers.
"I cannot thank you enough for your lovely visit yesterday and for all your kindness and gifts… the buns, the wonderful mop (and so good of you to get it) and my lovely magnolia tree. I was so touched and as ever, grateful for your attention to all detail It was a good day when you came to visit me in Wexford. I can assure you that after that visit there could be no shopping around as the promise of quality and delivery had been sealed. All much appreciated"
– Patricia, Co Wexford

3D Design Service from GardenRooms.ie

Kieran was responsible for introducing the 3D design service to our customers. This has really helped customers visualise how their new Garden Room can nest into their garden.

Our 3D Design service can give you an accurate vision of what your completed build will look like and importantly, all small changes can be made well before the actual build starts. If you are looking at a home gym, teenager room, music room or home study check out this service by contacting GardenRooms.ie and asking for Kieran. Here you can see the 3D drawing of the home office we built in Wexford.

Now For The Next 50!

All of the team here at GardenRooms.ie would like say thanks and congrats to Kieran for hitting this incredible milestone and we look forward to celebrating the 100th Garden Room in the not too distant future! If you'd like to get in touch with Kieran, or any of the GardenRooms.ie team, then give us a call now on +353 1 8642 888 or contact us online for more info!