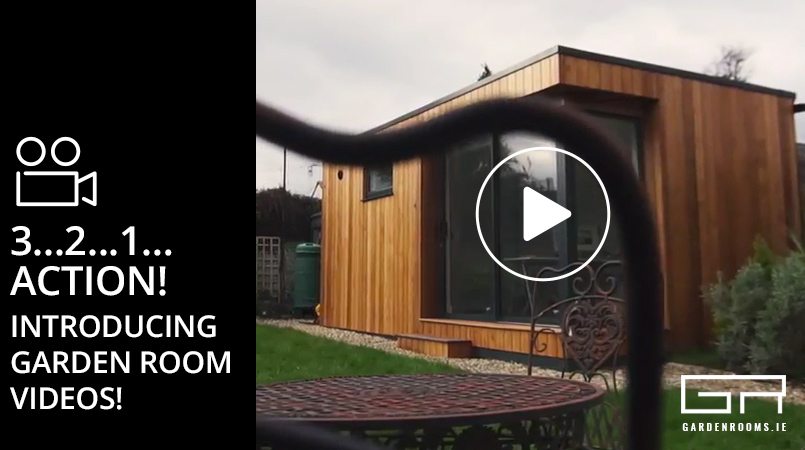 21 Mar

3…2…1… Action! Introducing Garden Room Videos!

Garden Rooms has rather been busy of late, putting together a couple of videos which will soon be launched. Owner and director, John Sherry, has been filming for the last 6 weeks at 5 different Garden Room locations.
Garden Room Video Premiere
Featuring on our video premiere will be a home office in Howth, a home office / teenager room in Glasnevin, a home gym in Rathmines, and an art studio in Sandymount. The 5th and final video will feature the recent build of a home office from start to finish in Clonskeagh.
These videos will give potential customers direct client feedback from current Garden Rooms' customers on their entire experience of a Garden Room design. From the initial site survey to the build itself and their current use and benefit of having their own Garden Room. You can check out the very first teaser video above!
Words From Garden Rooms Owner & Director, John Sherry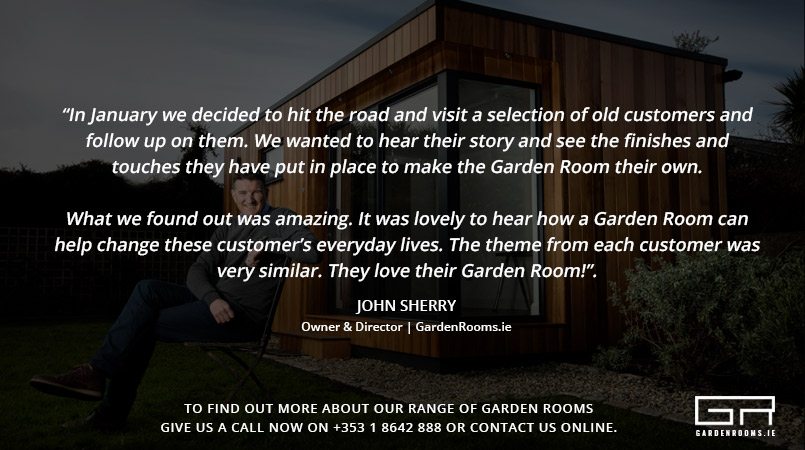 John Sherry has the following to say about the whole experience:
"Given the nature of what we do we always seem to move on before our customers get to move into their Garden Room.

We often talk about our customer and wonder how they are getting on with their Garden Room. So in January we decided to hit the road and visit a selection of old customers and follow up on them. We wanted to hear their story and see the finishes and touches they have put in place to make the Garden Room their own.

What we found out was amazing. It was lovely to hear how a Garden Room can help change these customer's everyday lives. The theme from each customer was very similar. They love their Garden Room! They love being in them, they love the idea of not wasting so much of their week in traffic. They love that they have a place separate to their home where they can get their work done in peace and still be close to their family during the day."
Watch this space for our videos which will launch soon on our website and various social media platforms!
Garden Room Showroom Visits!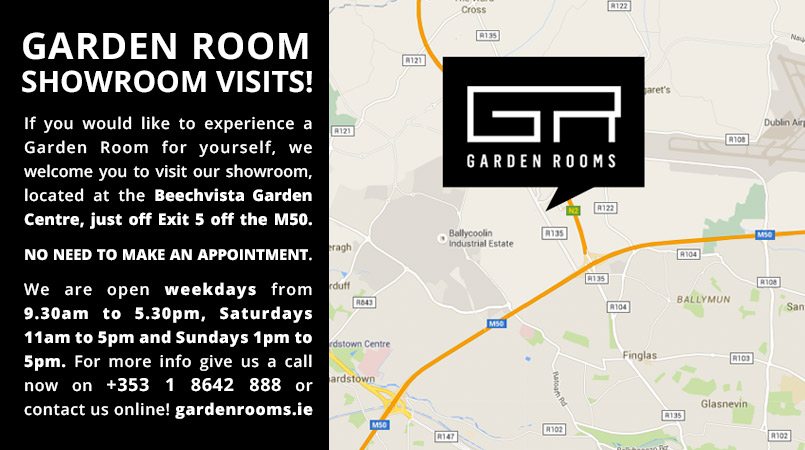 If you would like to experience a Garden Room for yourself, we welcome you to visit our showroom, located at the Beechvista Garden Centre, just off Exit 5 off the M50. No need to make an appointment. We are open weekdays from 9.30am to 5.30pm, Saturdays 11am to 5pm and Sundays 1pm to 5pm. For more info give us a call now on +353 1 8642 888 or contact us online.