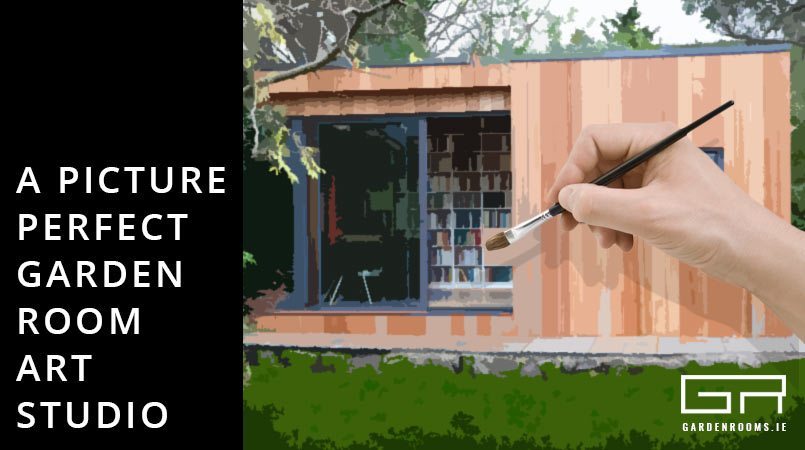 25 May

A Picture Perfect Garden Room Art Studio

Do you have a creative side longing to be set free? Perhaps you are an aspiring painter, with a passion for watercolours? Maybe it's time to feed your passion for art and build an art studio in your back garden!
An Art Studio In Your Garden!

Garden Rooms are quickly becoming experts in the construction of back garden art studios. Our diverse range of CUBES can be fully customised and adapted to become your own personal art studio. To make the perfect garden art studio, everything from the lighting to the interior finish must be just right. Garden Rooms will design your art studio to your exact specifications, ensuring that you can paint, draw or sculpt in the comfort of your own garden.
One of our most recent garden art studio rooms was built for Gillian in Sandymount. Gillian needed a room where she could have the freedom to be creative without having to worry about cleaning up. The extra space that a garden room provides is what attracted her to idea of utilising a CUBE as an art studio in her garden.
"My art studio was very specifically designed. It has storage, as well as a bathroom and a sink. It has everything you need."
Gillian reported. Gillian was particularly happy with the lighting of her garden art studio.
"There is no direct sunlight coming in, which is very important for an art studio. I got some great advice from John on where best to place the windows for the light I needed."
An Art Room To Retire Away To
Prior to the success that Garden Rooms had in building an art studio for Gillian, we constructed a 25 square metre home art studio for Maureen in County Kilkenny. Maureen was a secondary school art teacher for 36 years, and when she retired she decided to make art her full time occupation. Maureen's artistic output is mostly printmaking, and upon her retirement she needed somewhere where she could store all her art equipment and supplies. Construction of Maureen's garden art studio was a seamless process from start to finish. She was absolutely delighted with the finished product. "My garden room is perfect as an art studio. It is a pleasant room, with a feel good atmosphere which is important for an art studio".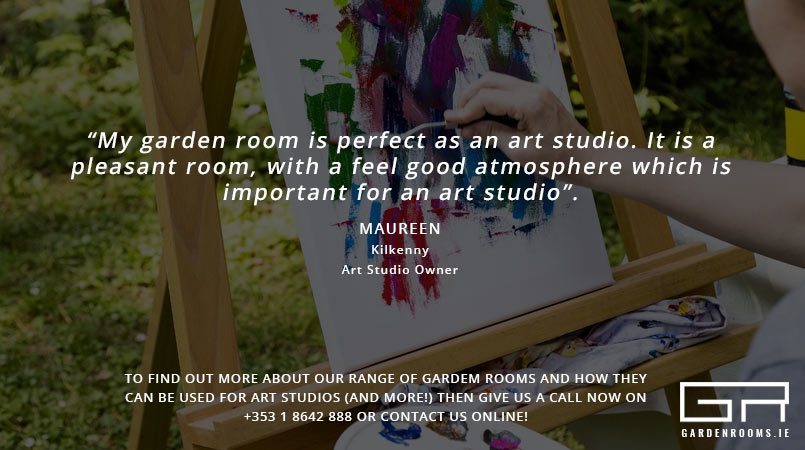 Garden Room Free Site Survey
At Garden Rooms we take great pride in our customer satisfaction. We want to provide you with the best quality of garden living spaces, for the best value. We even offer a free, no obligation site survey to help you choose the perfect garden room for you. Visit our conveniently located showroom, call us on +353 1 8642 888 or contact us online today to start your garden room adventure!