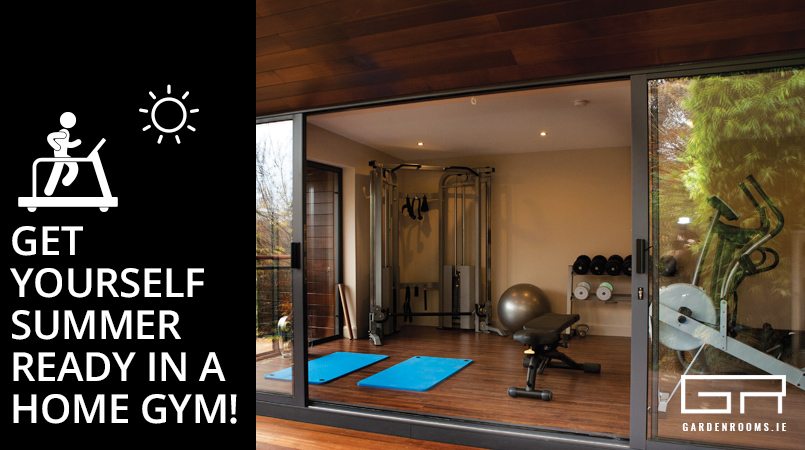 02 Feb

Get Yourself Summer Ready In A Home Gym!

As we press forward into summer, New Year's resolutions of hitting the gym are at an all-time high. Gym memberships increase dramatically at the start of the year. However, the dropout rate of people who join gyms in January is estimated to be in the region of 60 percent. A large percentage of the dropout rate is attributed to those members just not having the time to visit the gym. In particular, parents with young children will prioritise work and time with their children over their workout, which could be to the detriment of their mental and physical health.
Benefits of Working Out
The benefits of working out are plentiful. Working out reduces stress by combating the stress hormone Cortisol, and producing feel good endorphins. In addition, working out increases your strength, flexibility and self-confidence. It helps you sleep better, reduces memory loss and reduces the risk of heart disease. According to the World Health Organisation-
'Adults aged 18–64 should do at least 150 minutes of moderate-intensity aerobic physical activity throughout the week or do at least 75 minutes of vigorous-intensity aerobic physical activity throughout the week or an equivalent combination of moderate- and vigorous-intensity activity.'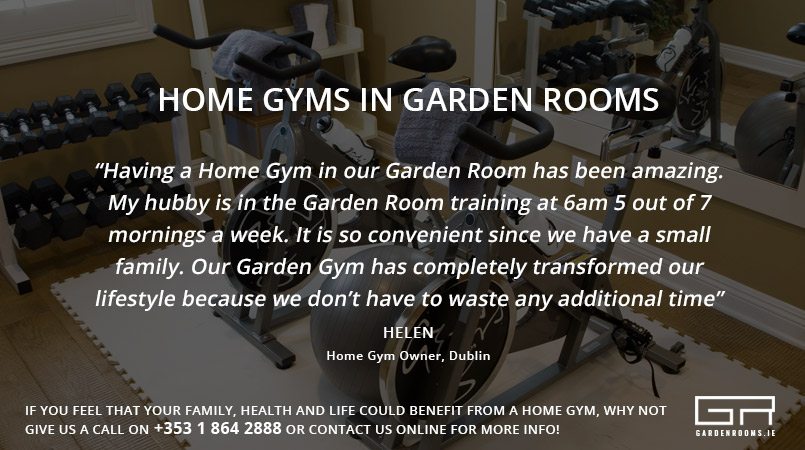 Home Gyms in Garden Rooms!
So how do we fit it all in to our busy schedules? Our Clients Helen and Eoghan in Dublin, worked around this by purchasing a Garden Room for use as a Home Gym.  Helen had the following to say:
'Having a Home Gym in our Garden Room has been amazing. My hubby is in the Garden Room training at 6am 5 out of 7 mornings a week. It is so convenient since we have a small family. Our Garden Gym has completely transformed our lifestyle because we don't have to waste any additional time.'
Home Gyms To Save Time!
It's a given that having a home gym at home will save you time.  No commute to and from the gym, no waiting in queues for machines or weights. You can work out at your own pace, with your own equipment. No more excuses for not getting to the gym!
We can tailor our Garden Rooms for use as a home gym, by reinforcing the floor to hold heavy equipment such as treadmills or stationery bicycles. If you like the music cranked up while you work out we can even install extra sound proofing in your Garden Room so that you don't disturb the neighbours.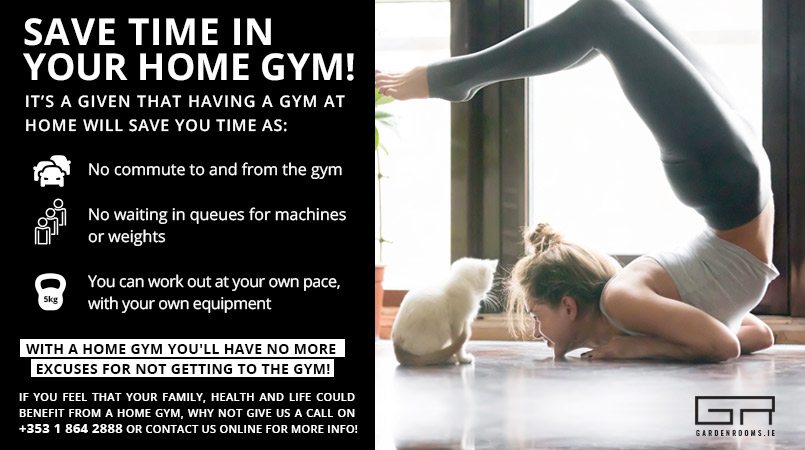 A Home Gym For Your Garden!
If you feel that your family, health and life could benefit from a home gym, why not give us a call on +353 1 864 2888, email us on info@gardenrooms.ie or contact us online.  We would be delighted to come out to you to conduct a free, non-obligatory site survey to discuss a Garden Room for your own home gym.