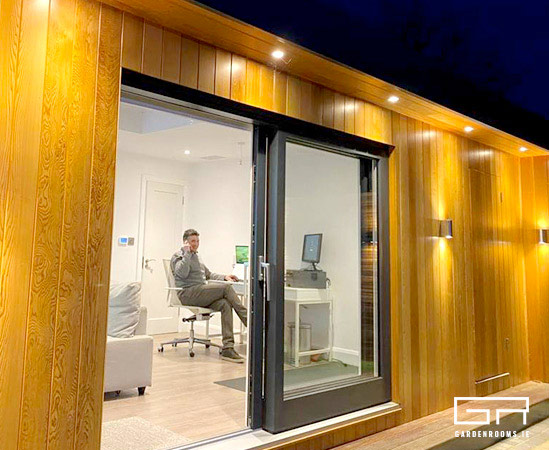 09 Apr

5 Ways Garden Rooms Are Used During The Lockdown

Now that our whole country seems to be either working, studying or exercising from home during the COVID-19 lockdown it has become apparent for some families that a Garden Room is needed now more than ever. Due to the lockdown we have received an uptick in enquiries and so we have put together 5 benefits of owning a Garden Room now more than ever.
Working From Home During the Lockdown
With all of us working from home, wouldn't it be great if you had a quiet space to escape from the family for a while and simply do your work without taking over the kitchen table? Taking phone calls or conference calls can be difficult in the family environment. If you had a room separate to the house to do your days work, you might find you can get more work done and separate work and family life from being under one roof. Using a garden room as a home office allows you to do just that and help maintain the work / life balance when working from home.
Home Cinema
If you can't go to the cinema, bring the cinema home! Family movie nights in the Garden Room can be turned into a weekly event. Complete your setup with a drop down screen and surround sound and you'll be the envy of the neighborhood with your own home cinema!
Home Schooling, Grinds & ZOOM Classes
This lockdown is a time in history like no other. We've had to improvise our kids' schooling and create our own classrooms and become the teacher. Thankfully, due to technology, a lot of our lessons are now being held via Zoom meetings. A garden room makes the perfect space to attend a Zoom meeting in peace and quiet. Our daughter Ciara is still doing her ballet classes on ZOOM out in the Garden Room.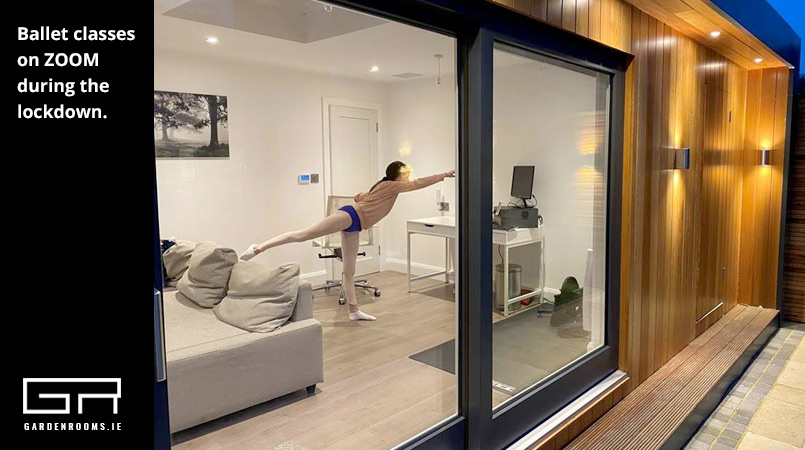 Teenager Room
Garden Rooms also make great teenager rooms for all the teenagers in your family. Teenagers now more then ever need to be in contact with their friends, be it on the XBOX, talking on SnapChat, TikTok or House Party (I just cant keep up on what our kids are on at the moment!). However I know it is important for them to have a place to go and hang out with their friends even if it is virtually during the lockdown. When all this calms down and they are back in contact with their friends the garden room is a great place for them to simply just hang out with their friends. They have privacy and a place to get away from their un-cool parents, yet they are safe in your garden, still under your watchful eye!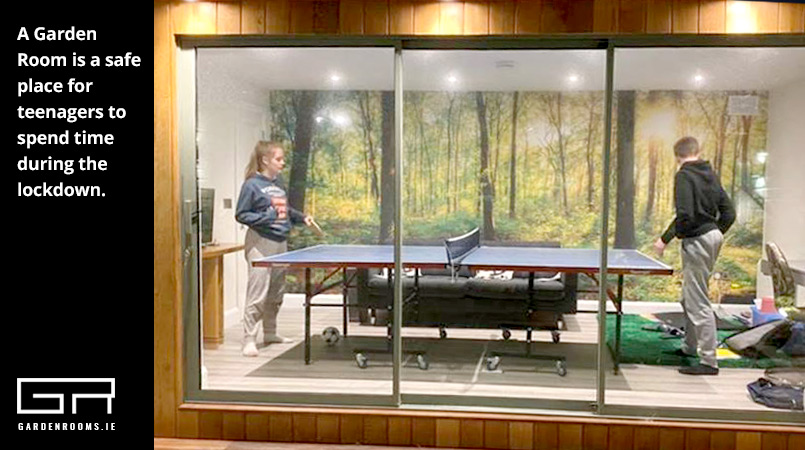 Home Gym
Any family member could also use a garden room for a home gym, even if it's to put down the yoga mat to do a bit of strength and conditioning or pilates. A home gym is a great place to get a little bit of exercise when we are all stuck indoors.
Life And Garden Rooms After The Lockdown
Once all of this ends, and it will, a garden room will still play an important role in your families lives. Colm Dawson, one of our oldest customers going back to 2008, has proven this. His room has been used for their au pair, home office, home study, teenager room and now a music room where they keep there harp, drum kit, a clarinet and a saxaphone. Colm has had his Garden Room for over 12 years since 2008 and it has been there for the family for every step of the way. Colm, based in Glasnevin, explained to us how he first purchased the room as a playroom for his young children at the time, a space for them and their au pair to be use to keep them entertained.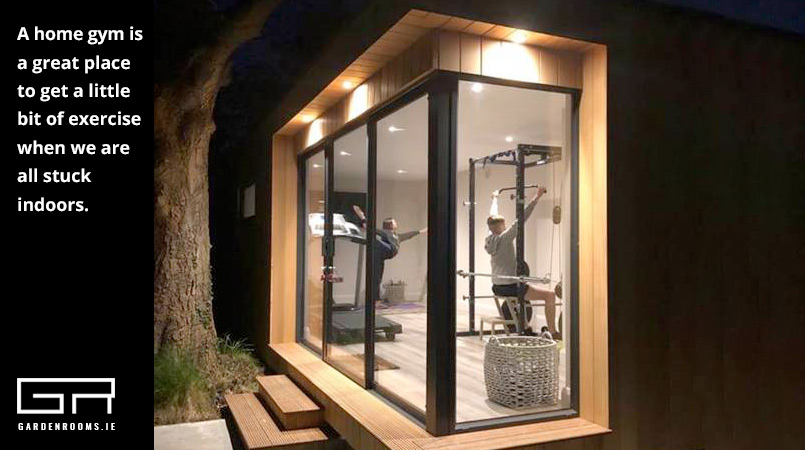 As the kids grew up and spent more time in their own rooms without needing the supervision of an au pair, Colm then used the room himself for his own home office. At this time Colm started his own business as a Financial Adviser and was able to use the space away from the home to run his business. When Colm later became employed by a company, the garden room then turned into a multi purpose Room.
Colm now uses the room for his hobbies – as his magic and music room. It's also used as a refuge to relax and get some peace and quiet, or to make a quiet phone call. As his children are now teenagers, the garden room is now also a very popular local teen hangout! Between the family there are also 4 different instruments which get practiced in the room. Between Colm and his children the room is home to a harp, a drum kit, a clarinet and a saxaphone. The chameleon like nature of Colm's garden room highlights the flexibility of the garden rooms space and how it can transition as the your needs change.
Garden Rooms – Beyond The Lockdown
A Garden Room will add an enormous amount of enjoyment to your family and long term value to your home, for many years and for long after the lockdown ends. If you are needing some extra space for your growing family, please do get in touch with us to discuss how a Garden Room can work for you. During the lockdown we are offering you a virtual site survey and doing estimates by email. Give us a call now on 01 8642 888 or contact us online to find out more. Take care everybody.