13 Jul

10 Ways to Zone Your Multi-Purpose Garden Room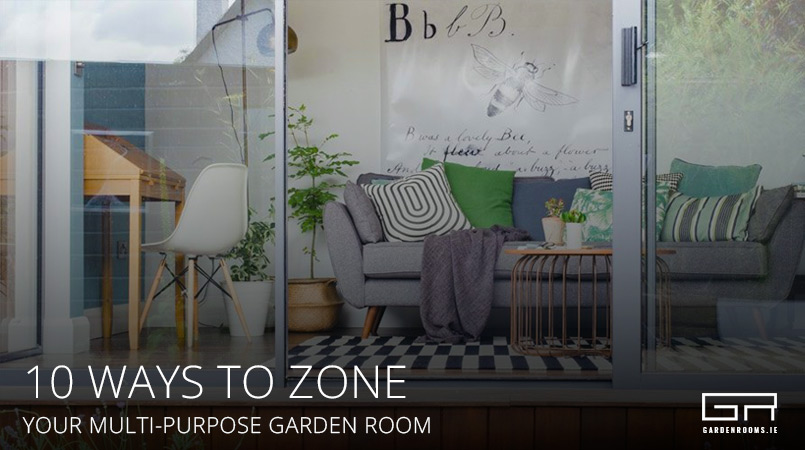 With a bit of planning and some thoughtful design, it's simple to turn your Garden Room into a practical, multi-functional space. A Garden Room can be used as a home office, teen den, home cinema, yoga studio, hobby room, games hub, home bar and more. But the possibilities don't stop there. We find that many of our customers want to use their Garden Room for two or even three different purposes. And the versatility of our Garden Rooms means they can do just this. Create a Garden Room Office with a Lounge; a Home Gym with a Music Room; or a Yoga Studio with a Home Cinema.
Multi-purpose Garden Rooms
A multi-purpose Garden Room, where the family can study, work, relax and play is a fantastic addition to any home, and can be achieved with just a bit of planning and creativity. Firstly, you must ensure that you choose a Garden Room that is big enough to accommodate all the functions you want to pack in there. Our Garden Rooms range in size, from 17 sq. metres upwards, and do not require planning permission, so long as the internal space does not exceed 25 square metres, and an area of 25 square metres remains in your garden.
Next you will need to define the different areas within your Garden Room by creating zones. 'Zoning' can either physically or visually divide one area from the next, which keeps the room organised and creates the illusion of space.
Here are 10 ways to create separate zones in your Garden Room, to maximise its multi-purpose potential:
1. Partition Wall with Internal Door
With our fully customisable Garden Rooms, you have the option of adding a partition wall, with an internal door, to create two completely separate spaces within one Garden Room. A wall provides a permanent physical separation, perfect, if for example, you want to create two distinct, distraction-free spaces. Perhaps you don't want to be disturbed by your teenagers in their TV den, while you are on a work call.  Or maybe you want to include a bathroom or separate storage area as part of your Garden Room.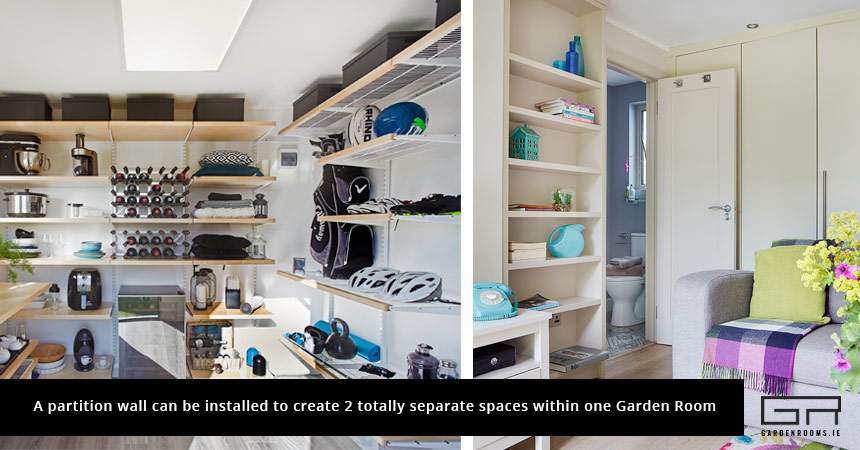 A partition wall can be installed to create 2 totally separate spaces within one Garden Room
2. Partition Wall with External Door
We also provide the option of adding a partition wall, with an external door, perfect for integrating the functionality of a separate storage area or shed into your Garden Room. The external door can be clad in cedar, making it blend in seamlessly with the exterior.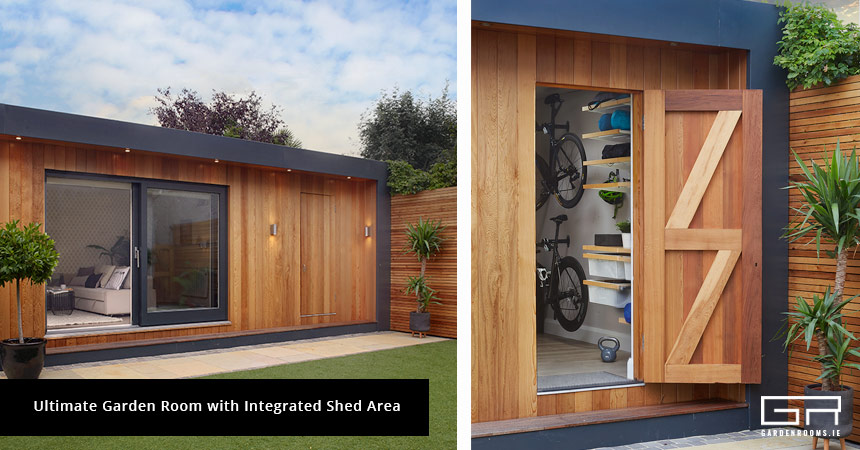 Ultimate Garden Room with Integrated Shed Area
3. Glass Partitions
Glass partitions offer a contemporary and stylish way to zone your Garden Room and create the illusion of privacy, while maintaining traffic flow. Unlike a solid plastered wall, a glazed partition provides a visual division of the space, without fully cutting off the area, or blocking natural light.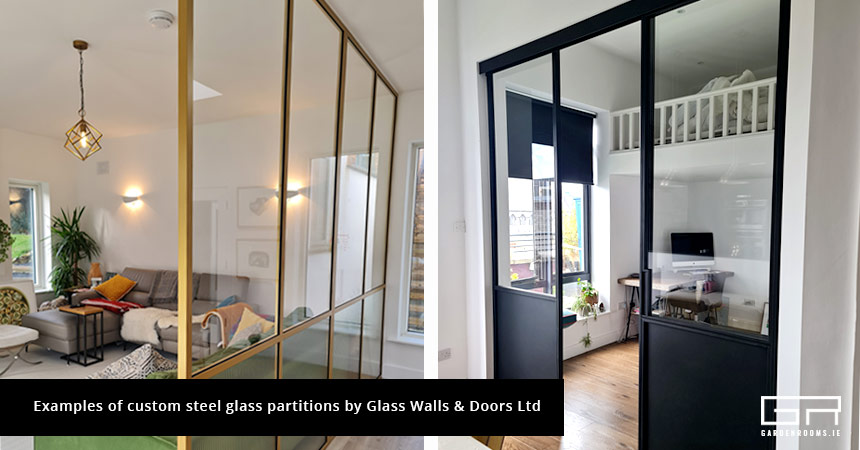 Examples of custom steel glass partitions by Glass Walls & Doors Ltd
4. Foldable Room Dividers & Screens
A quick and easy way to divide a room is with a folding screen. This option provides you with endless flexibility, and is available in a huge range of styles and prices. Foldable screens define the space and create coziness, whilst also offering an attractive backdrop for video calls. Perforated or woven materials allow light to travel through them, keeping all corners of your Garden Room light and airy.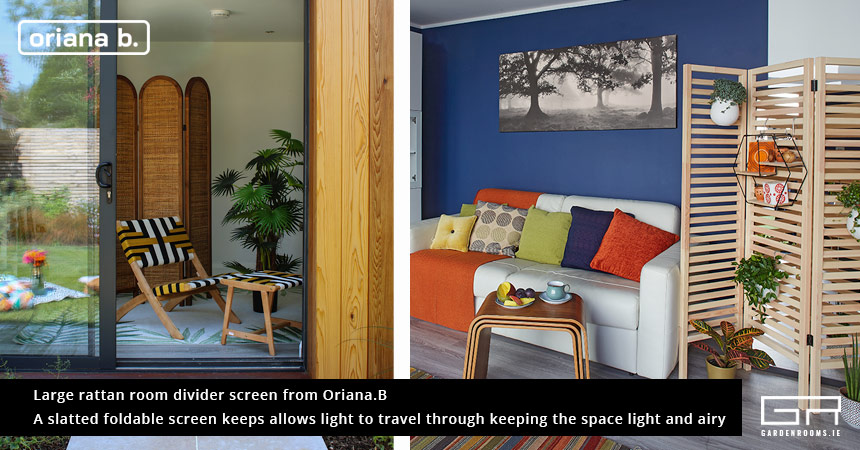 Large rattan room divider screen from Oriana.B
A slatted foldable screen keeps allows light to travel through keeping the space light and airy
5. Open Shelving
Another easy way to physically and visually divide a multi-functional space is to create the illusion of a wall with an open backed bookcase or shelving unit. This ensures the space doesn't feel too enclosed, nor does it block too much light.  It can also provide much needed storage, as well as a place to display your own personal décor.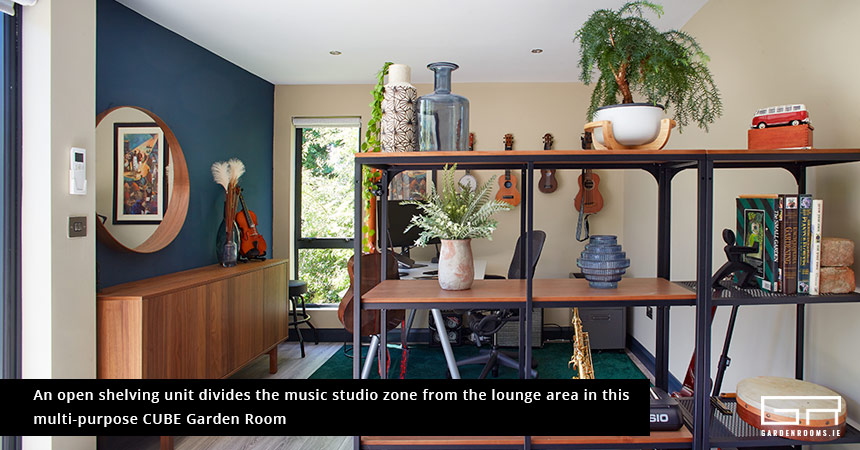 An open shelving unit divides the music studio zone from the lounge area in this multi-purpose CUBE Garden Room
6. Sofa
The well-planned placement of a sofa is a great way to zone a multi-functional room. Instead of positioning your sofa against a wall, try facing the back of the sofa into the middle of the room. This will instantly cut off the lounge area, and create a feeling of division between it and the zone behind. Corner sofas are particularly useful for this, creating a cosy seating zone, while maintaining a walkway to one side.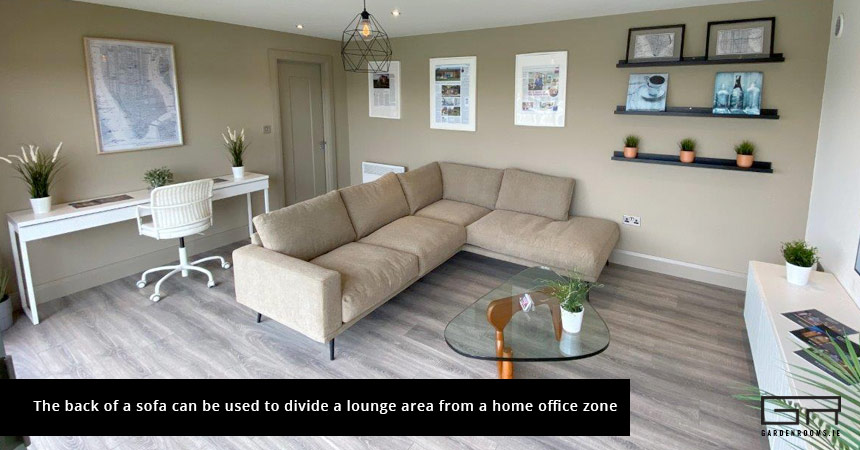 The back of a sofa can be used to divide a lounge area from a home office zone
7. Lighting
One way of creating zones in your Garden Room is to use different light sources in different areas. Depending on its function, each area will have its own lighting requirements. For example, an office space or crafting zone will need effective task lighting to reduce eye strain. You might therefore choose an articulated desk lamp or bright wall light here. A lounge area, on the other hand, requires lower-level lighting for relaxing or entertaining. So you might go for warm or dimmable floor lamps or table lamps here. Or perhaps you want to promote a feeling of inner calm in a yoga area. In which case, you might include smart lighting, that can adapt to each yoga session. Turn on the bright light setting to get the blood pumping, or choose a warmer, dimmed setting for slower, more meditative practices.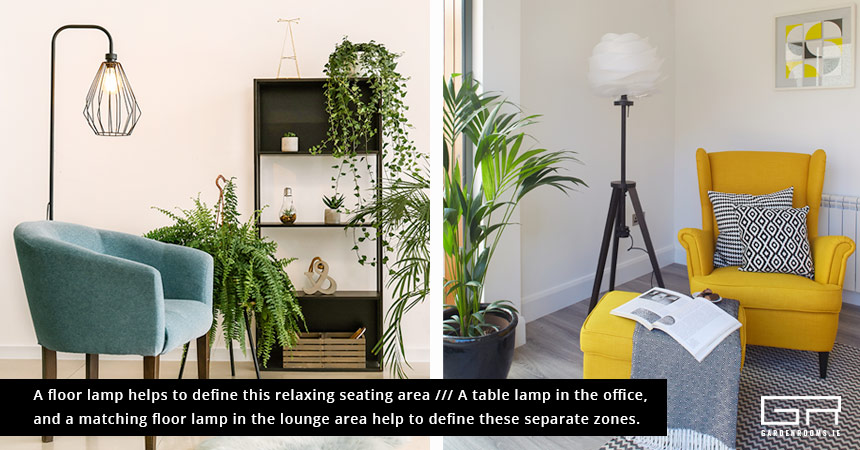 A floor lamp helps to define this relaxing seating area
A table lamp in the office, and a matching floor lamp in the lounge area help to define these separate zones.
8. Rugs
One effective way of delineating boundaries and specific task areas is with rugs. Rugs don't just feel and look good, they can also act as a visual division between zones, without the need for any sort of vertical divider or partition. Using different textures, colours and patterns can keep your Garden Room feeling visually interesting. Just make sure the different rugs complement each other, to stop your Garden Room décor feeling disjointed.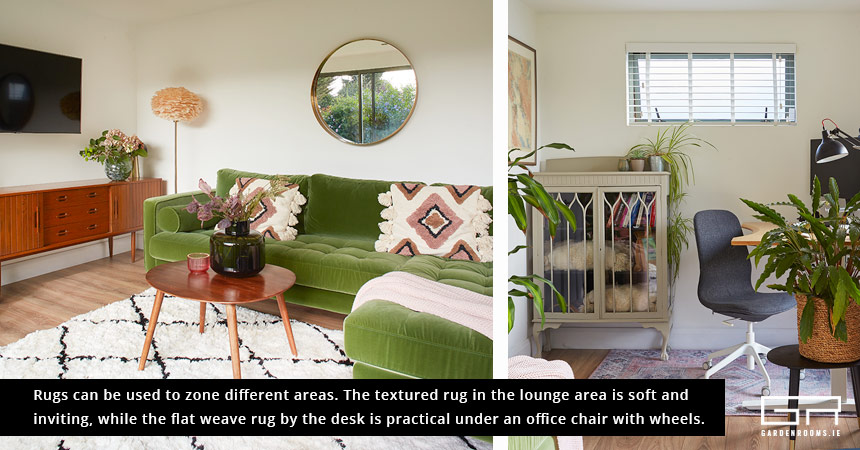 This Garden Room owner, has used rugs to zone the different areas. The textured rug in the lounge area is soft and inviting, while the flat weave rug by the desk is practical under an office chair with wheels.
9. Paint
Getting creative with colour is a quick and cost-effective way to define the boundaries of two or more discreet zones in one room. By choosing a bold, contrasting colour in one area, this will clearly delineate it, whilst simultaneously making a design statement. Alternatively, you can go for a more subtle look, by choosing different shades of the same colour, to create more understated transitions.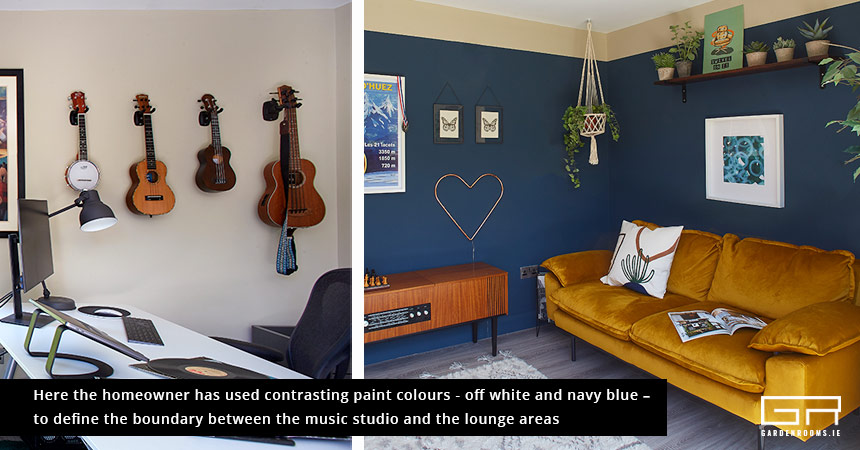 Here the homeowner has used contrasting paint colours – off white and navy blue – to define the boundary between the music studio and the lounge areas
10. Artwork
Finally, choosing artwork and wall décor is another design decision you can use to your advantage when creating zones within your Garden Room. Choosing one large statement piece of wall art, and hanging it above a desk, sofa or sideboard, can visually define that zone. By the same token, a gallery wall, where a collection of smaller artworks are hung together in a group can also create a striking focal point, visually delineating one area nicely. Neon wall signs are also a fun addition, adding personality to a teen zone or a games area.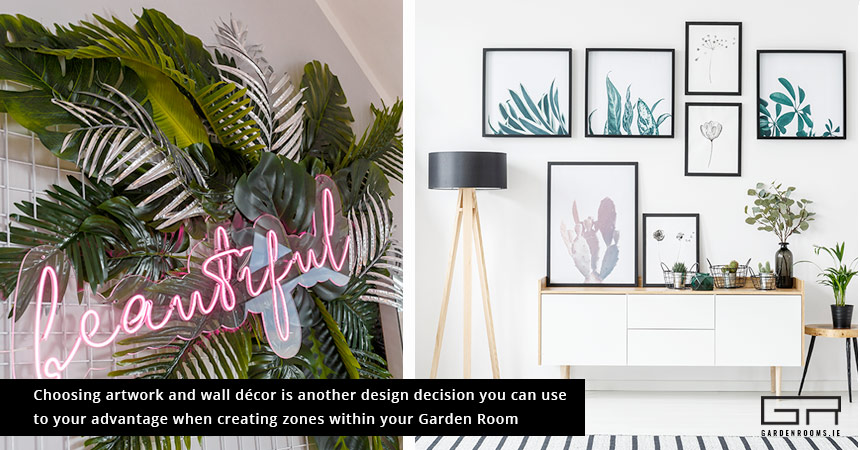 Considering a Multi-Purpose Garden Room?
If you are feeling inspired and would like to find out more about creating a multi-purpose room in your garden, a member of our experienced sales team would love to help.  Give us a call on 01 864 28888, email us at info@gardenrooms.ie or contact us online and make your appointment to visit our showroom today! We look forward to hearing from you.