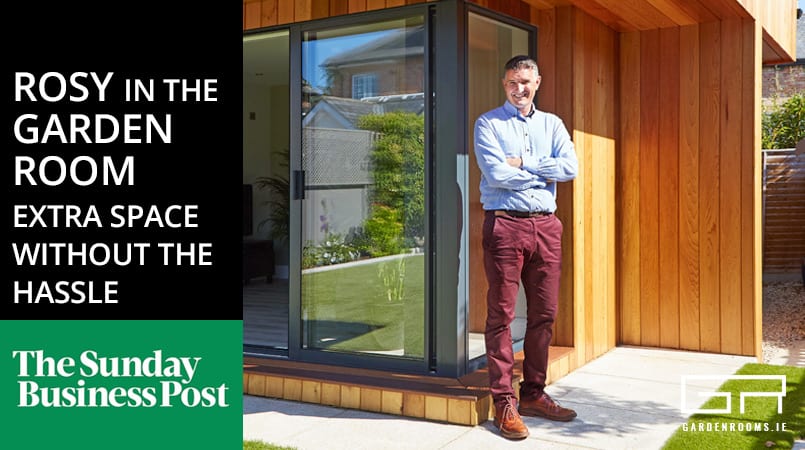 18 Oct

Rosy In The Garden Room – Extra Space Without The Hassle

Is your family in need of extra space? Perhaps Mam or Dad need their own home office, or your teenagers need their own space to hang out with their friends? We can show you a way to get this extra space without disruption to your home as discussed in the recent Sunday Business Post article we were featured in.
Rosy In the Garden Room in the Sunday Business Post
Tina-Marie's article in the Sunday Business Post on 16th September 2018, highlights the ever-growing need of families for more space in the home, and how a Garden Room fares as a cheaper and more practical alternative to moving to a new house or building on an extension.
Better Than Building An Extension?
With a Garden Room costing around €1,200 per square meter, building an extension can cost double this amount and would still leave you with an open plan setup. This setup is not always practical if what you really need is a private home office or a quiet place of study for your teenager. Many families opt for a Garden Room for the multi-purpose space solution it provides. A Garden Room can separate home life and work life by creating a separate work space outside of the home. This also doubles up as a hang out for teenagers and their friends in the evenings or on weekends, making for happy teens and happy parents!
Garden Rooms To Suit Your Needs
At Gardenrooms.ie we are flexible on the dimensions of our Garden Rooms, therefore you are not restricted to our set measurements. We also have a number of add on packages to customise the Garden Room to suit your needs. These include features to build sound proofed music rooms, art studios, & home gyms as examples. Our Garden Rooms are also suitable for small gardens, where a stunning courtyard effect can be created.
Gardenrooms.ie are available to call out to your home and conduct a site survey to determine the best size, design and position for your own Garden Room.  We bring our 15 years of experience and solid customer rapport with us to bring the best in quality and master craftsmanship to your own Garden Room.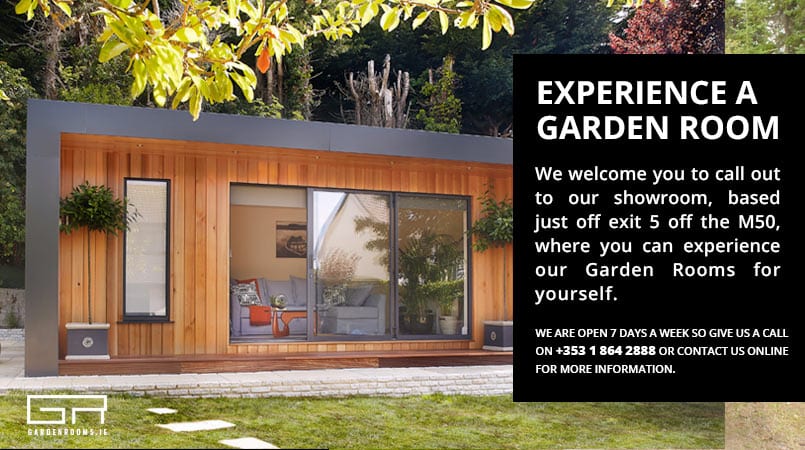 Experience A Garden Room
We welcome you to call out to our showroom, based just off exit 5 off the M50 between Ikea and Blanchardstown, where you can experience our Garden Rooms for yourself. We are open 7 days a week.  Alternatively call us on +353 1 864 2888, email info@gardenrooms.ie or contact us online for more information.