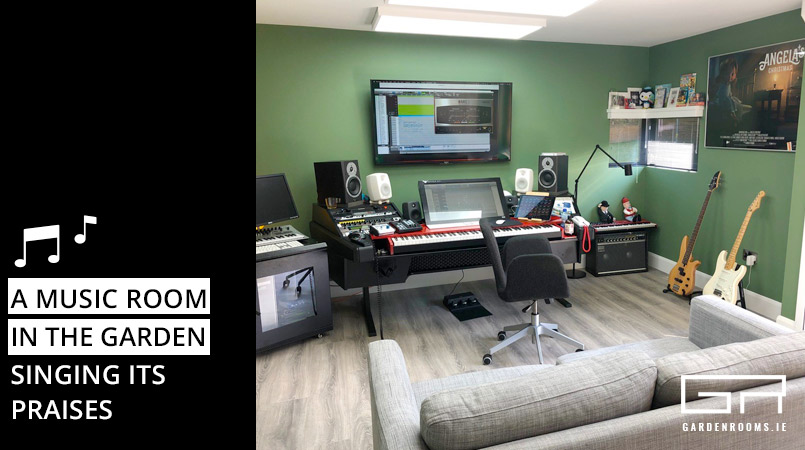 20 Aug

A Music Room in the Garden – Singing Its Praises

Finding a space to rehearse and create in the home can be difficult, between interruptions, noise levels and available space, it can feel as though there is no way to rehearse carefree. Looking to your garden may just be the solution. What would your ideal music room entail, and why might a Garden Room suit? A space that looks great, performs acoustically, isolates sounds and doesn't require the headache of planning permission all sounds like a good start. A Garden Room can give you the extra room of an extension, at a fraction of the price, and with added privacy and seclusion from the rest of the house. In the post we'll have a look at a few clients who opted to build a music room in their garden and to hear what they think about them!
A Bespoke Music Room
We met Darren in his south-side home, who has had a year to settle into his bespoke Garden Room, to discuss why we were the perfect fit for what he wanted. He began by explaining the makeup of his Music Room. Darren opted for additional soundproofing within his Garden Room come studio, saying "Rather than me not being able not to hear the outside world I also want the outside world not to hear me – it means I can play music really loudly." Acoustic underlay, acoustic glass and extra wall insulation all help to further reduce noise levels in the Darren's bespoke Garden room.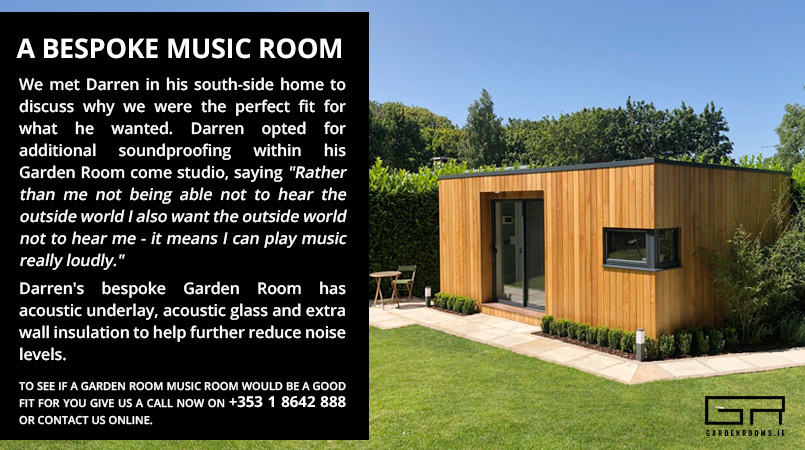 Separating Work and Home
By separating the physical spaces of work and the home, we also separate them mentally. While there are many benefits to working from home such as spending more time with family and cutting the commute, the ability to 'switch off' when we have left the office is something we all crave. Darren describes how his Ultimate 27 Garden Room offers him the best of both worlds, "When I leave my Garden Room I'm finished work, whereas when I worked in the house I was always dropping into to check emails and downloads". Undoubtedly, a short walk down your garden path is a much nicer way to begin to unwind than being stuck in traffic.
A Positive Building Experience
Darren comments on his positive building experience with us, voicing his initial reservations about having building work done in the Garden, "Honestly when I first started I was apprehensive because I've had building work before and people would say one thing and things would get pushed back". However, his experience of the Garden Rooms crew meant his reservations were laid to rest, "I was really delighted with the respect I was treated with – if they weren't there I was told and I knew exactly what was going on at each stage of the build which meant I could relax- I've never had that before."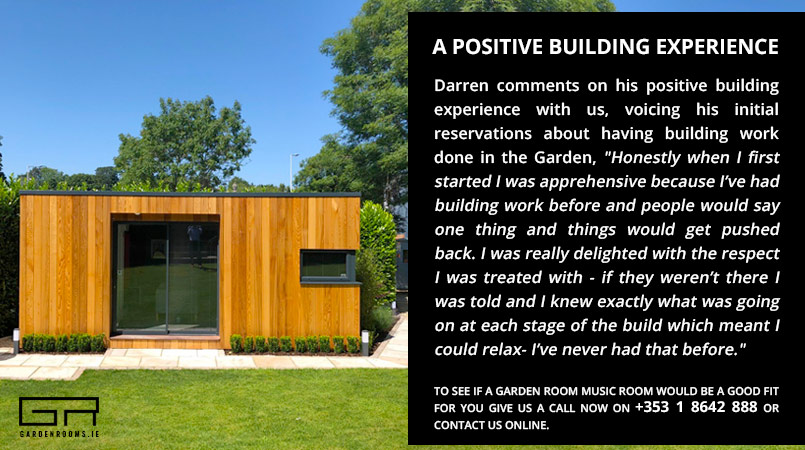 A Music Room To Make A Difference
We also met with Piano and Singing teacher Helen McHugh in Meath, who recalls a time when she taught from inside the house and the difference her Garden Room has made to her lessons, "I used to teach out of my kitchen but now there's a dedicated space outside so they don't even have to come into the house". Keeping noise levels to a minimum no longer means the whole family are forced into silence. And, this ties in with a recent post about why you should buy a Garden Room through your business – make sure you read it to see the advantages of doing so.
Music Rooms Designed To Your Needs
No two customers' needs are the same, and this is reflected in the variety of design between music rooms, for example, Helen McHugh opted not to get additional acoustic insulation as many of her clients are singers, "I didn't get it sound proofed on purpose because I also teach singing and I wanted the reverberation in the room." Oftentimes we encourage clients to bring their instruments out to our showroom to experience the acoustics of our rooms for themselves. Another delighted customer, Drummer John McCrea based in Louth, observes that he can focus on his music without fear of distraction in his Garden Room, "For me, it allows me seclusion and not to be disturbed when practicing". A Garden Room offers a private and productive space, a sanctuary where creativity can flourish.
Feedback That Hits The High Notes
Helen further elaborates on the respect and work ethic of the Garden Rooms team, "The crew working were tidy and neat, they didn't interfere with anything – they just got on and did the job." The feedback is not just coming from our customers alone, but anyone benefiting from the rooms, such as Helens students, "Every single person has commented on how good it is and how lovely it looks aesthetically". All in all, feedback and reviews like that is music to our ears and what keeps us raising our standards and what is possible in a Garden Room.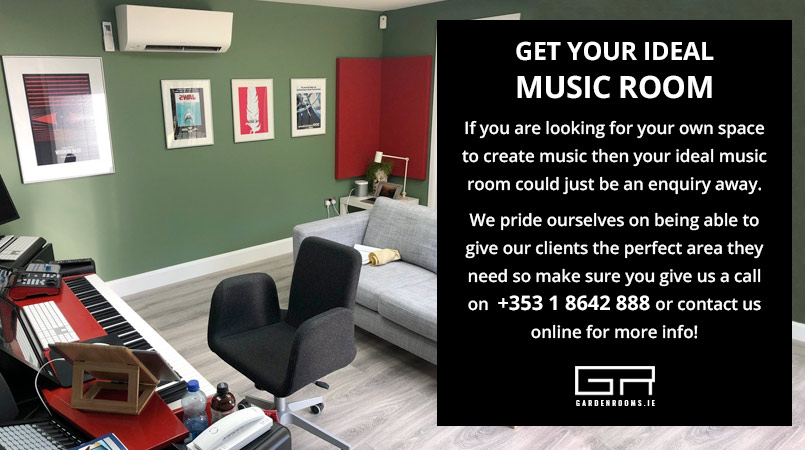 Get Your Ideal Music Room
If you are looking for your own space to create music then your ideal music room could just be an enquiry away. We pride ourselves on being able to give our clients the perfect area they need so make sure you give us a call on +353 1 8642 888 or contact us online for more info!