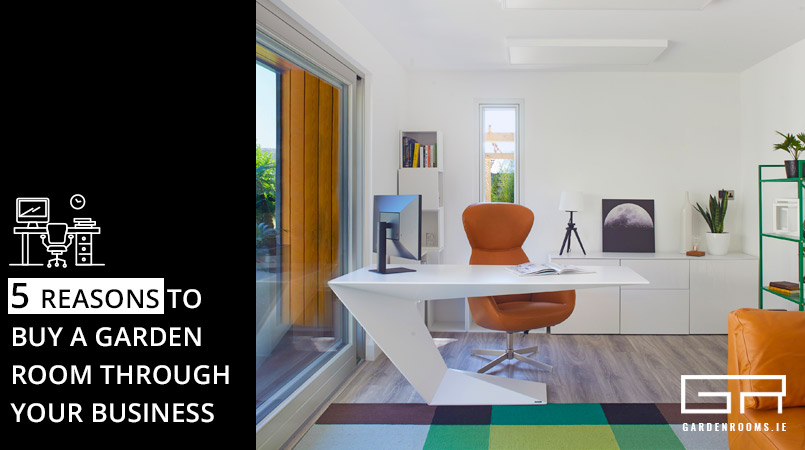 06 Aug

5 Reasons to Buy a Garden Room Through Your Business

Working from home has countless benefits, some of which are listed below, but have you considered how buying a home office through your business can benefit both you AND your bank balance? Read on to discover the top five reasons to buy a Garden Room through your business.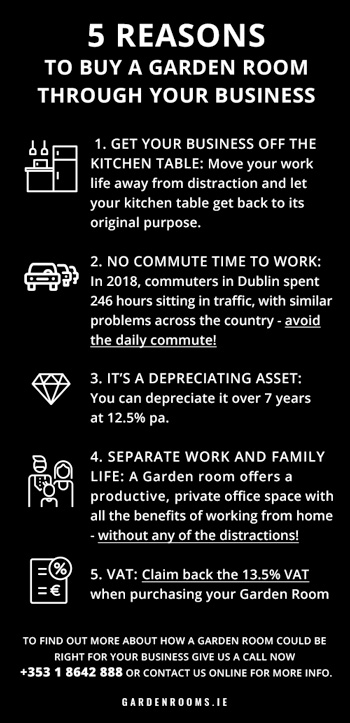 1. Get Off The Kitchen Table
When you started your business, the kitchen table was the most suitable space you could find within the house. But have you outgrown it? Are you moving papers every time the table needs to be set for dinner? A garden room allows you to operate from home in a comfortable and professional setting. Moving your work life away from distraction and letting your kitchen table get back to its original purpose.
2. No Commute Time to Work
In 2018, commuters in Dublin spent 246 hours sitting in traffic, with similar problems across the country. A study by the Dublin Chamber reports that 75% of businesses in the capitol had experienced negative effects on their business due to traffic problems! Sound familiar? A short walk down your garden path is undoubtedly a better way to start your day than being stuck in a traffic jam- keeping stress levels low so you can arrive into the office in the headspace you need for productive work.
3. It's A Depreciating Asset
As your home office is a depreciating asset you can depreciate it over 7 years at 12.5% pa. When you consider this alongside the current extortionate rates for renting High street offices in Irish cities and towns, switching to a Garden Room seems like a no-brainer.
4. Separate Work and Family Life
A home office in the spare room still means there is room for distraction and no clear boundaries between work and family life. A Garden room offers a productive, private office space with all the benefits of working from home- without any of the distractions!
5. VAT
Claim back the 13.5% VAT when purchasing your Garden Room
Home Office Success Stories
Now that we've had a look at 5 reasons why you should buy a garden room through your business let's have a look at some success stories which highlight some people who have done just that!
Eamon Twomey
As a self-employed Marketing consultant for the Financial Services Industry, Eamon used to run his business from a High Street Office in Howth. In 2016, Eamon decided that the space and cost of the High Street office was just not worth it and he decided to move his business back home. However, working in the house was not ideal. He found that he could not switch off from work after hours as there was no separation between work and home. Fast forward a while and thanks to a home office garden room he now has that separation, as he says:
"I'm working at home, I like the fact that I don't have to commute. It's just a lovely space to work in. It's bright, airy, and it just really works for me."
Check out more from clients who use their Garden rooms for their Home Office
Home Office for Your Business? – Talk To Your Accountant!
Talk to your accountant today about putting a Garden Room through your business. If you are a sole trader or an owner of a limited company this could be a way for our business to work for you for a change, by providing you with a Home Office in your Garden. We now have numerous customers purchasing their Garden Room through their business.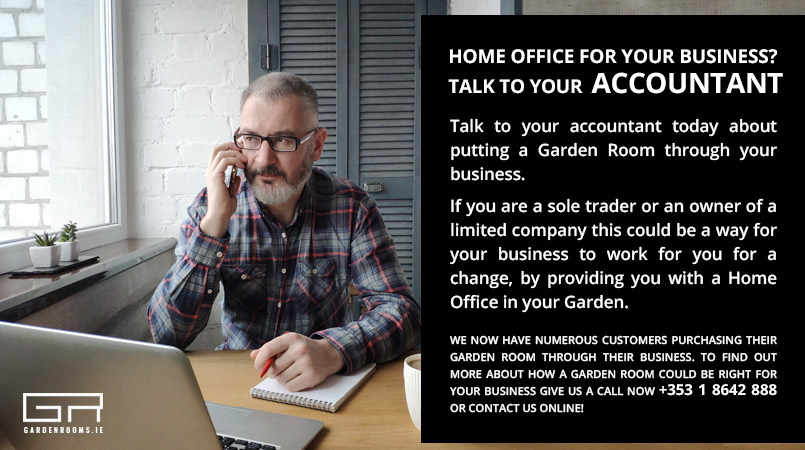 Home Improvement Loans for Garden Rooms
Beat the rush hour traffic and work from the comfort of your Garden with a Home Improvement Loan. We have partnered with leading loan specialists to create loans tailored for GardenRooms.ie customers, ideal if you are self-employed sole trader or director of a limited company and considering working from home.
Garden Room As A Business Expense
If you don't need to be on the high street or if you are wasting money every month paying rent for premises that you don't necessarily need, you could take a home improvement loan through your business and have the business make the loan repayments. This is an allowable company expense and the benefit is you get to work from home but still have a private space separate from home life.
To find out more about how a Garden Room could be right for your business give us a call now +353 1 8642 888 or contact us online!