18 Apr

Gardens Rooms – An Attractive Alternative to a House Extension in 2023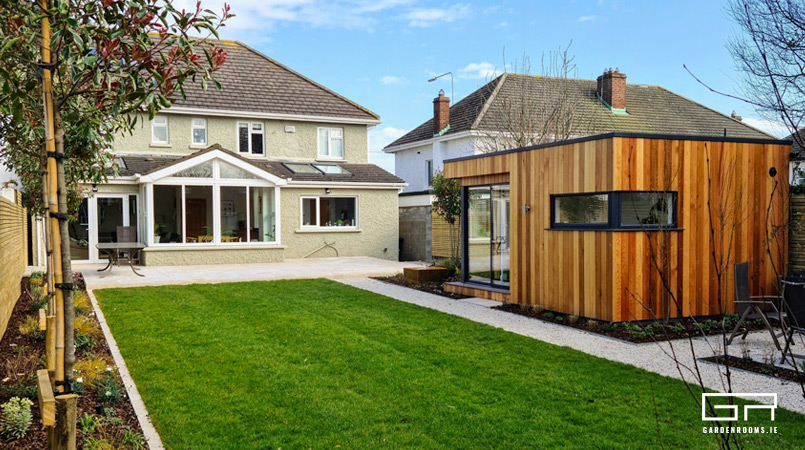 Do you dream of a home extension, but you've been put off by soaring costs and eye-watering quotes? A Garden Room could be the answer. Unlike an extension, where homeowners often find themselves shelling out significantly more than the original quote to complete their project, the prices of our Garden Rooms are fixed at the start. We provide a comprehensive and transparent quote, with no hidden costs. So you can go ahead, safe in knowledge that you won't be hit with any nasty surprises when the final bill arrives. And coming in at around half the cost of a traditional extension, per square metre, a luxury Garden Room could be the answer to your space problems.
And it's not necessarily an either/or situation. For many of our customers who have chosen to put their extensions on ice, a Garden Room is an attractive and viable solution to implement now. Then, when building costs and material supplies stabilise in the future, they plan to re-visit their house extension ideas.
Move, Extend or Improve
Whether you are a growing family in what feels like a shrinking house; someone who craves a home office away from domestic distractions; or a hobbyist who dreams of a dedicated room in which to paint, sculpt or play music; the options you face are often the same: do you move, extend or improve?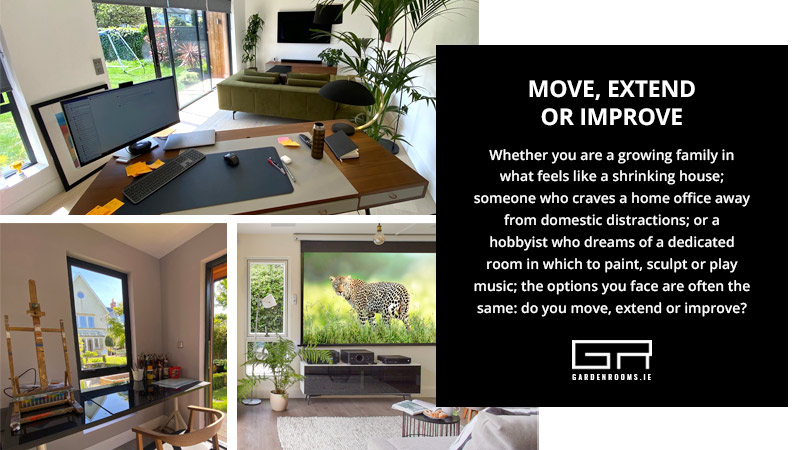 Moving House
Moving to a bigger house may seem like an obvious solution, but for many, uprooting the household and moving out of an area where you are already established with friends, family and local schools is simply out of the question. Therefore, you may wish to move to a bigger house within the same area. But this will probably set you back around €120,000 to €160,000. And then of course there's the upheaval of moving to consider, not to mention the current mortgage rate situation, the spiralling cost of new builds and the shortage of homes on the market that may make this option impossible.
Traditional Extension
Because of these factors, homeowners are increasingly choosing to extend or improve their existing homes. But traditional house extensions are being approached with trepidation by many. Over the past couple of years, challenges such as covid, Brexit, materials shortages as well as increased transportation, fuel and operational costs have all contributed to rocketing building prices. And all this means that homeowners may be undertaking extortionate extension projects where they don't even know what the final cost will be.
Garden Room
That's why so many of our customers are choosing instead to build a fully insulated, architecturally-designed Garden Room, that can be used comfortably all year-round. With the price fixed price right at the start, there's no more guess work. And with our luxury Garden Rooms costing around half as much as a standard house extension per square metre, it really is an appealing alternative. With our Garden Rooms taking just 10-14 working days to install, they also come with significantly less stress and disruption to your existing house that a traditional extension creates. See our 'Garden Rooms vs Building a House Extension' blog for further information and cost comparison details.
So if you have received a house extension quote that took your breath away, or you're worried the final cost of an extension may end up being more than you have budgeted for, why not consider a Garden Room?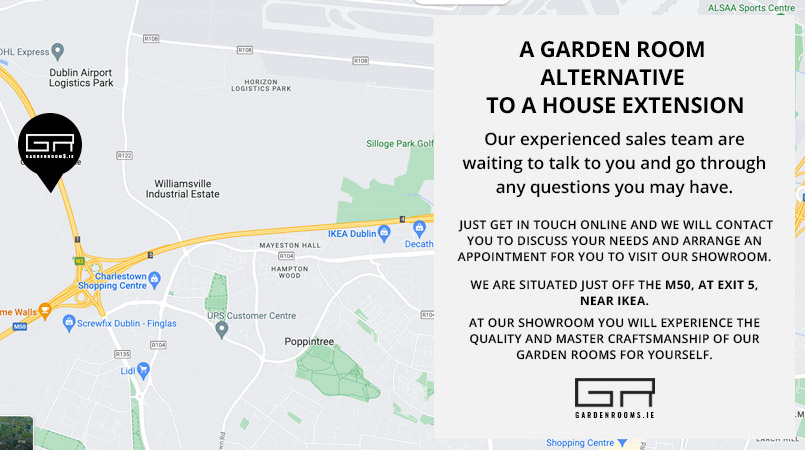 A Garden Room Alternative to a House Extension
Our experienced sales team are waiting to talk to you and go through any questions you may have. Just complete our enquiry form and we will contact you to discuss your needs and arrange an appointment for you to visit our showroom. We are situated just off the M50, at Exit 5, near IKEA. At our showroom you will experience the quality and master craftsmanship of our Garden Rooms for yourself.