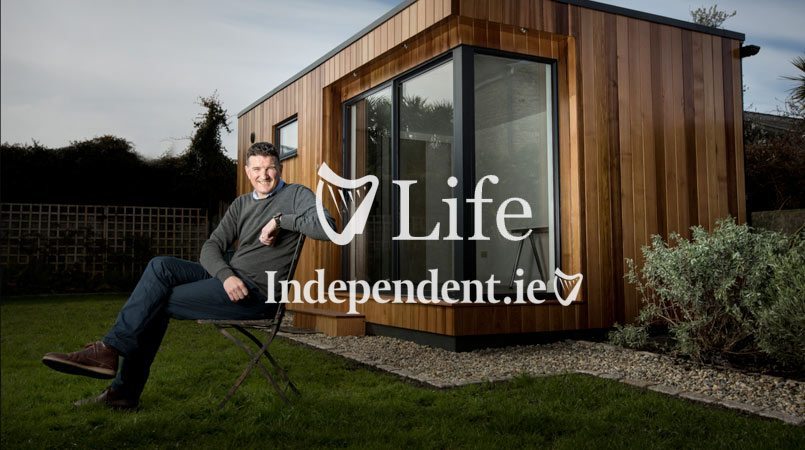 29 Jun

Garden Rooms Featured in Sunday Independent Life Magazine

When teenagers have their friends over, the parents need the space.

John was delighted to be asked to explore a day in his life as managing director of Garden Rooms and Garden Play, for Life Magazine's Waking Hours, with Ciara Dwyer, photography by David Conachy.

Ciara started with John's backstory. He'd survived the downturn by sheer hard work and chameleon-like diversification! When orders slowed down for Garden Rooms as home offices and dens he established Garden Play selling outdoor play equipment for children. His research revealed that albeit adults had stopped spending on themselves, they were still willing to spend on their children, resulting in Garden Play being key to surviving the recession. Now Garden Rooms is back in business in earnest and thriving and in fact John only realised how busy he was when Ciara forensically went through a typical day in his life!
Passionate About Quality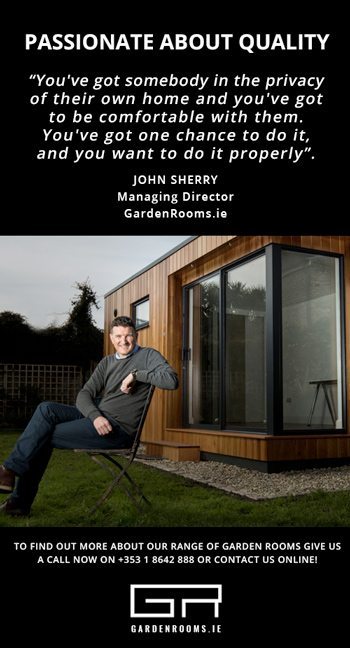 With renovations in progress at his own home John was reminded of the all-important matter of 'Trust'. John feels passionate about the quality and reliability of the products and services he sells and places great emphasis on Trust and its value in business most especially when working within people's homes.  "You've got somebody in the privacy of your own home and you've got to be comfortable with them. You've got one chance to do it, and you want to do it properly"…and that's exactly what the team in Garden Rooms aspire to do on a daily basis.
Parents Need Space Too
Ciara wrote about John's family life, working life, his keep fit regime and all the joys and chase of the elusive work-life balance. Ciara loved the space dilemma which a Garden Room can instantly resolve! When teenagers have their pals over to visit it's great to know where they are and that they're safe, but parents often find themselves cooped upstairs in the bedroom watching Netflix while the teens take over the downstairs.
Be it for teenagers, Dads man cave, Mums book club, Granny and her bridge friends, or Uncle Johns hobby train set, a Garden Room makes such practical sense.
Affordable, stylish and architecturally designed it simply maximises space already available to you and with no planning permission generally required and renovation schemes available, it's so easy!
Thanks again to all at the Sunday Independent for publicising the benefits of Garden Rooms. To find out how you could benefit from a Garden Room then give us a call on +353 1 8642888 or contact us online!
Click here to read the full article.
All Images © www.independent.ie