27 Jan

Should You Get an Attic / Loft Conversion or a Garden Room?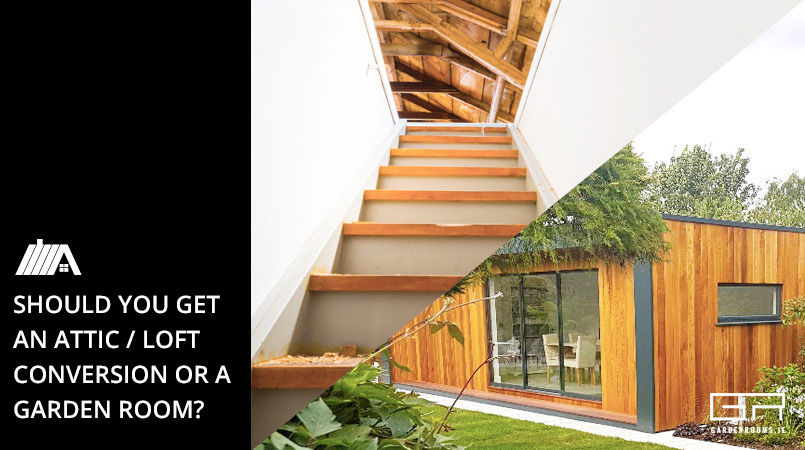 Growing families need extra space. We've covered this topic several times in recent blogs, most recently in our comparison of building a home extension versus going for a Garden Room. Another option for extra space is an Attic / Loft conversion. These Attic / Loft conversions can be a great way to gain extra space in the home especially if you are looking for an extra bedroom or guest bedroom. That being said, there are few key points to consider when deciding between an Attic / Loft conversion and a Garden Room, read on to learn more.
1. Planning
Just as we build Garden Rooms using the planning exemption and guidelines, there are also planning guidelines attached to building an Attic / Loft conversion.  An attic / loft conversion should not officially be used as a bedroom, and therefore can technically be only used for storage or other uses. The attic conversion also means you now have 3 floors on your property and you will need to consider the fire rating on the whole house when you introduce the third floor. The following measures would need to be taken:
All the doors in the levels 1 and 2 will have to be replaced with fire rating doors
Appropriate steel has to be introduced to the roof structure and needs to be signed off my an engineer.
2. Cannot Add Attic Square Meterage To Your Home
A key difference between an attic / loft conversion and a Garden Room is that you cannot add on the square meterage of the attic to your home. As an attic is not deemed a bedroom and therefore you cannot include the extra square footage when advertising your house should you wish to sell your house. The attic conversion is seen only as storage space.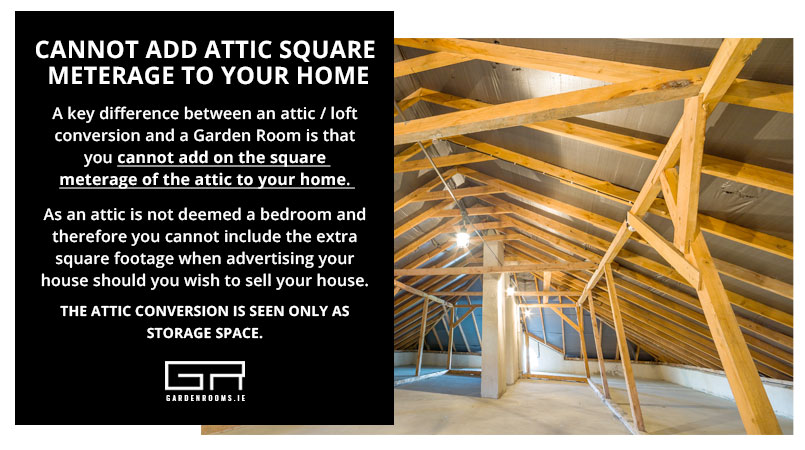 3. Unsuitable Roof Height for Attic Conversions
We have spoken with many customers through the years who have told us that their roof pitches simply aren't high enough to accommodate an new attic conversion. For the cost involved it simply wouldn't make sense, especially if you would have to consider an expensive dormer to achieve additional roof height.
4. Long Term Use of an Attic Conversion
One important question to consider is whether or not your family get use out of an attic conversion in the long term? An attic conversion can be a welcome addition to your home if you plan to use it as bedroom or guest bedroom (even though this goes against planning). However, if the attic conversion is used as an extra play room / teen room we have found it only has a certain life span. The room works really well for pre–teens to early teen years. However, as your teens grow they take up more space in your house. We have found that a teen room in the attic works well until the teens are 15 – 16, however even when they reach 18 – 19 and are bringing friends home, the whole house can be disturbed by their shenninagans. All generally harmless fun as they are our little angels after all, but if they are having a drink before leaving the house it could disturb the whole house.
We have found from calling to customers down through the years, that the attic works well for a 4-5 years and then it can potentially become a dead room. A dumping ground or a place where old stuff goes to die.

Advantages of Garden Rooms Over Attic Conversions
Since we're in the business of selling Garden Rooms, we thought we'd give our take on the advantages of going for a Garden Room versus an attic /loft conversion:
A Garden Room is Away from the House – You are close to the home but far enough away to make as much noise as you wish without disturbing the whole family.
A Garden Room makes a Great Hobby Room – if you have a budding musician in the house or would like an art studio with loads of light, a Garden Room is a great place to go to that will give you your own separate space and wont disturb the rest of the family.
A Separate Home Office – If you work a few days a week from home and need a space to make phone calls or conference calls, a Garden Room will give you a home office completely separate to the house. You will be able to get your work done with out having to do the daily commute to the office nor will you take over the family kitchen table with your work.
Teenagers / Young Adults Room – Teenagers  and young adults need their own space to develop and find themselves amongst their peers. Having a space close to the house but in a completely separate room in the garden allows this to be achieved. They can bring their friends over, you know where they are and you can keep them off the streets. This especially applies when they become that little bit older and start heading for college. You might be glad of the space in the family home if you are the type of family that has an open door policy with all your kid's friends. This room also works well if they need a place to study or to receive grinds for the Junior or Leaving cert.
Home Gym – Imagine your own home gym kept in a Garden Room! Having a home hym in the attic is not ideal –  getting the gym equipment up into the attic can prove to be difficult, and the equipment will place a large amount of pressure on the rest of the house when you are using it.  An early morning gym session in the attic may not be appreciated by other members of the family still sleeping in their beds!
Planning Permission for a Garden Room – There is no planning permission required for a Garden Room, provided the Garden Room meets the requirements of the planning exemption. As a summary, the room cannot be more than 25 square meters or more than 3 meters in height, and there needs to be 25 square meters of open space left to the back and side of the house. The exemption makes the Garden Room simple to build and perfect for use as a home office, home gym, teen room, music room, or hobby room.
Selling you Home in the Future with a Garden Room or Attic Conversion – Research has shown that a Garden Room will potentially add 7% to the value of your home. You could also find if 10 people view your home, 7 may be indifferent to the Garden Room and 3 may fight over the house if a decent premium Garden Room comes with house. This tallies with similar studies of an attic conversion. A house with an attic conversion might sell quicker on your road than a house that does not have an attic conversion.
Luxury Garden Rooms in Ireland
If you have been considering an attic conversion, but now feel a Garden Room may suit you better, do get in touch with us. We build our luxury Garden Rooms throughout Ireland. Visit our showrooms, complete our online form, send us an email or call us on 01 864 2888 and we will be happy to discuss the options with you.