18 May

82 5-star Google Reviews and Counting!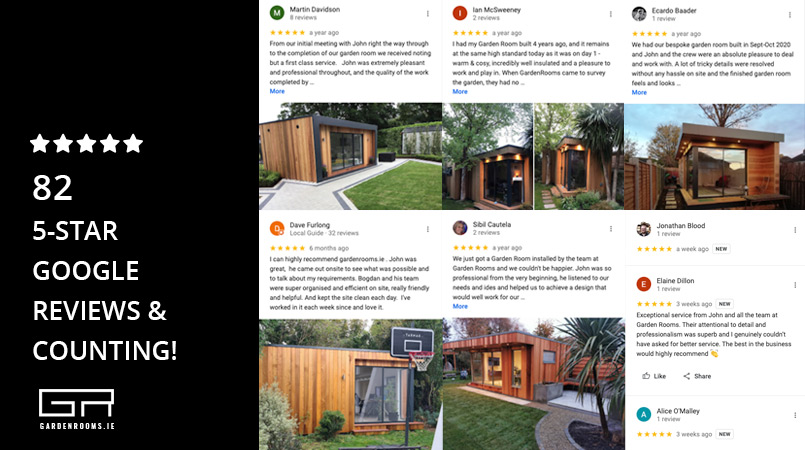 From building log cabins in 2003 to our contemporary CUBE and Ultimate Garden Rooms of today, something you can always count on from us is our exemplary Customer Service. Here at Garden Rooms, we pride ourselves on not only providing you with a beautiful high-end Garden Room to last you a lifetime, but we believe in honesty, integrity and professionalism throughout your journey with us. From your very first phone call to your final coat of varnish, all members of our team are available to listen and assist you and put you first.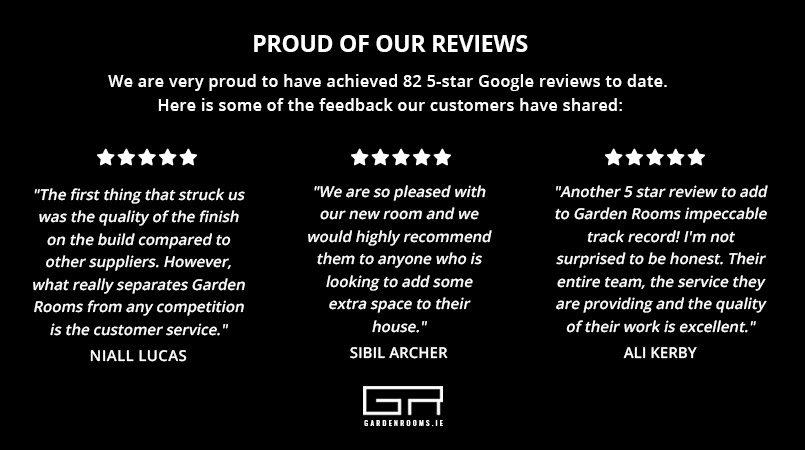 Proud of our Reviews
We are very proud to have achieved 82 5-star Google reviews to date. Here is some of the feedback our customers have shared:
'We did a lot of research before deciding on Garden Rooms for our new office. The first thing that struck us was the quality of the finish on the build compared to other suppliers. However, what really separates Garden Rooms from any competition is the customer service. John and his team were a pleasure to deal with. There was no hard sell and really useful advice around design choices and options. Timelines were clear and delivered upon or exceeded. Every single person we interacted with from Garden Rooms was top class. Minor snags were resolved promptly without any need for follow up. We were 100% happy and couldn't recommend John and the team highly enough.'
– Niall Lucas
'We just got a Garden Room installed by the team at Garden Rooms and we couldn't be happier. John was so professional from the very beginning, he listened to our needs and ides and helped us to achieve a design that would well work for our family for years to come and would fit well in our garden. His team were exceptionally professional during the build and completed the job very quickly. The attention to detail by Brendan was fantastic. We are so pleased with our new room and we would highly recommend them to anyone who is looking to add some extra space to their house.'
– Sibil Archer
'Another 5 star review to add to Garden Rooms impeccable track record! I'm not surprised to be honest. Their entire team, the service they are providing and the quality of their work is excellent. As an interior designer I managed a Garden Rooms project for my clients recently. From the outset my experience with John Sherry and his team was incredibly positive. Nothing was too much trouble. Communication was efficient, professional, while being warm and friendly too. The perfect balance! The result is a fantastic Home Office/Home Gym Garden Room, that my clients are thrilled with. I will be highly recommending John Sherry and his team's Garden Rooms to all of my clients looking for high quality, extra space in their gardens.'
– Ali Kerby
No Hard Sell
At Garden Rooms we don't believe in a hard sale. We know a Garden Room is a substantial investment and so we work with you to achieve a build that suits both your needs and your budget. We will offer our advice both at our Showrooms and in your garden at your site visit, to determine the best size, orientation and finish for your Garden Room.
Promises Kept
We believe in keeping our promises when it comes to the building of your Garden Room. We aim to arrive on time, build within the confirmed time frame (usually maximum 10-14 days on site), cause little to no disruption while we build, and leave you not only with your perfect Garden Room, but clear away any debris and leave your garden clean and tidy.
Over 2000 Garden Room Builds
With over 2000 Garden Room builds to date, we are proud of the credibility we have earned. Our sales and admin team, together with our master craftsmen who make it all happen are all hand picked and dedicated to providing a 5-star experience to each and every customer.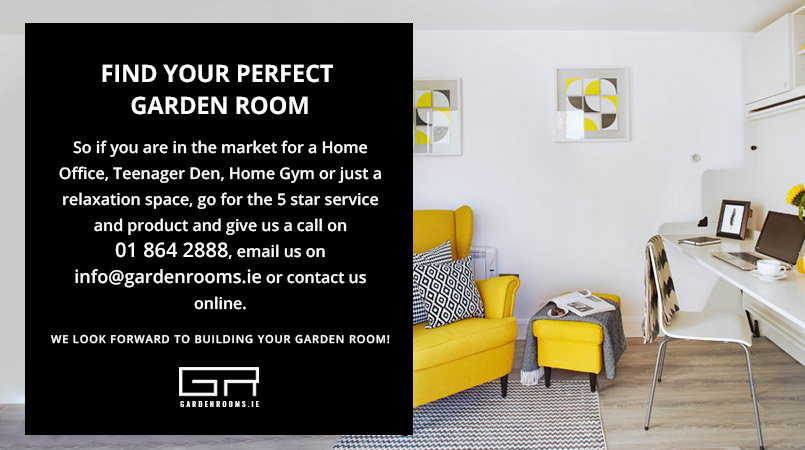 Find Your Perfect Garden Room
So if you are in the market for a Home Office, Teenager Den, Home Gym or just a relaxation space, go for the 5 star service and product and give us a call on 01 864 2888, email us on info@gardenrooms.ie or complete our contact form here. We look forward to building your Garden Room!