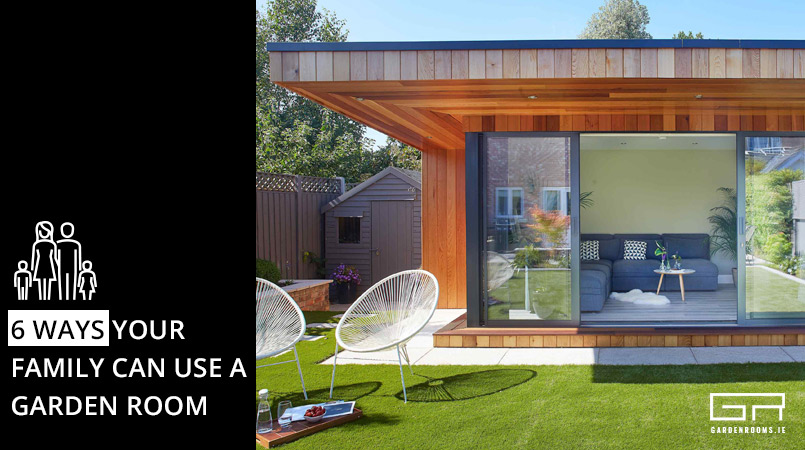 24 Sep

6 Ways Your Family Can Use A Garden Room

What would your family do with a bit of extra space? When it comes to Garden Rooms, we're used to families in desperate need of a space that can adapt to suit everyone in the family. Below is a list of potential uses for a Garden Room that your family could benefit from!
1. Home Office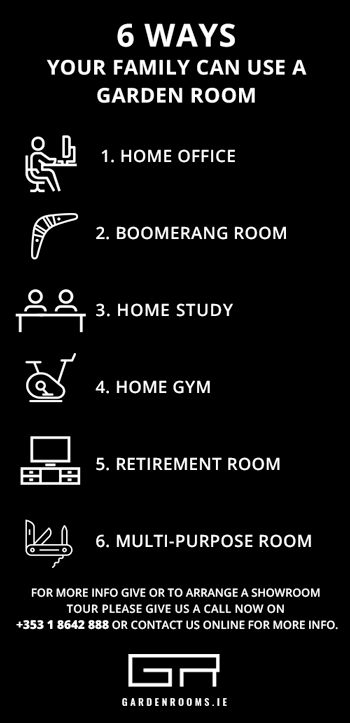 Sick of working from the kitchen table? Have you taken over the spare room with files and papers? Working from home has its benefits but making the simple leap from working in a spare room to a Garden Room has endless benefits including a dedicated, uninterrupted home office space. Cut the commute to work and design your ideal office within the comfort of your home.
2. Boomerang Room
It's a reality that parents and their children will be living under the same roof for a lot longer than past generations, a sizeable percentage of 18-28-year olds are staying in their family homes. With rental prices around the country sky rocketing, Dublin being the fifth most expensive place to rent in Europe, it's no wonder that generation Boomerang are moving back to their family homes. While current planning guidelines do not permit Garden Rooms built under the planning exemption to be used as granny flats, they can be an excellent way to add extra living space to the family home – giving a private space in the house to relax and a level of independence, tucked away from the main house, that a home extension can't offer.
3. Home Study
Leaving cert, Junior Cert & College often mean the whole family are sworn to silence when exam time looms! Leave the packed libraries behind and focus on designing an ideal study space in your Garden. A Garden Room home study gives you a productive space where distractions are minimal.
4. Home Gym
Sick of waiting in line for machines or planning your workout to avoid peak-hours at the Gym? Garden Rooms make for ideal home gyms. With commercial grade flooring, air conditioning and no chance of disturbing the neighbours – a Garden Room can offer what a spare room can't. We love working with clients to create a space that works for their workout needs.
5. Retirement Room
Finally have the time to give to your hobbies, but don't have the space to do them? This is a familiar story among Garden Rooms customers who are looking to reignite their passions and focus on music, art and everything in between. If you're happy in your family home but want to make some extra room, a Garden Room may be the perfect solution, as well as adding value to the house.
6. Multi-purpose Room
If the reasons listed above don't quite fit your family's situation – all our Garden Rooms come bespoke and can be designed to suit your garden, your family, and your needs. A room which is an Office Monday-Friday can become a teen room on the weekends – rooms change with your family over the years and will see you from exams to visits to everything in between! A Garden Room can give you the ultimate multi-purpose room!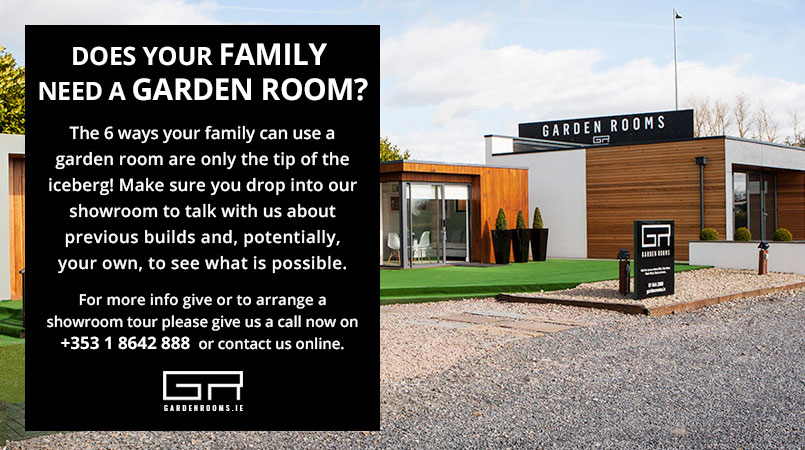 Does Your Family Need A Garden Room?
The 6 ways your family can use a garden room are only the tip of the iceberg! Make sure you drop into our showroom to talk with us about previous builds and, potentially, your own, to see what is possible. For more info give or to arrange a showroom tour please give us a call now on +353 1 8642 888 or contact us online.