15 Mar

New Law Gives Employees the Right to Request Remote Working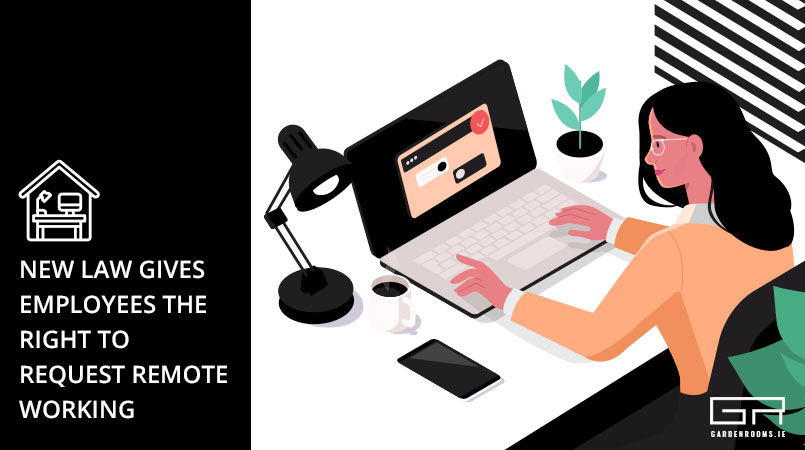 The Government recently announced a new Remote Work Strategy for employees across Ireland. Launched by Leo Varadkar, the strategy's objective is to ensure remote working is a permanent feature in the Irish workplace in a way that maximises economic, social and environmental benefits. The legislation, set to be introduced in September 2021, will give employees the right to request remote working. As Varadkar stated "the pandemic allowed what might have been achieved over 5 or 10 years to be realised in a much shorter space of time". He also added that in the October 2021 budget there will be tax, expense, and allowance changes to facilitate people who choose to work remotely.
Working from Home in Ireland Stats
Currently 47% of work has been done remotely in Ireland since the start of the pandemic, a figure only exceeded by Belgium within the EU. The Future of Work report questioned business leaders and employees across the spectrum of Irish businesses and discovered companies believe 45 per cent of employees will continue to work remotely post-COVID. It's safe to say the workspace of the future will be different to the traditional one.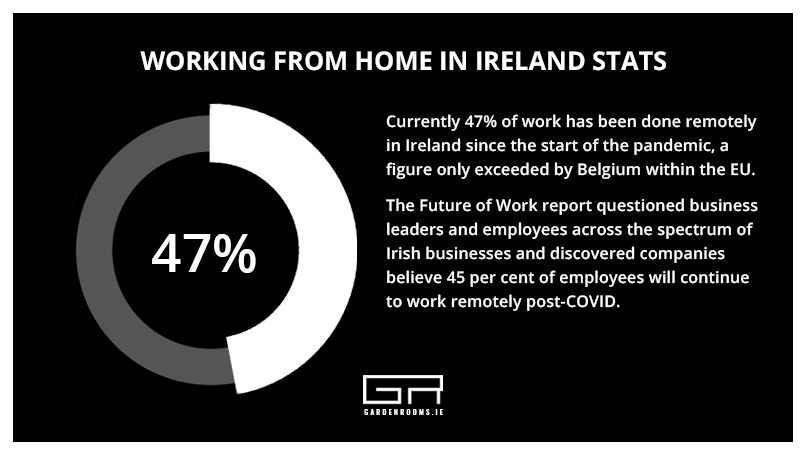 Working from Home Landscape Has Changed
John Sherry, the Managing Director of GardenRooms.ie, has seen a huge spike in visits to the website since the pandemic started in March 2020. "We have recorded over 130,000 visitors to our site in the last 12 months, of which over 65% are considering a home office. We are hearing the same frustrations from customers contacting us. They are working from the kitchen table, the kids' bedroom, we even had one customer operating from an ironing board in the utility room." We, at GardenRooms.ie, have been promoting the concept of home working for nearly 20 years and it feels like it has suddenly happened overnight. The pandemic has changed the landscape of working from home forever.
Budget for Home Office
It'll be interesting to find out what the government proposes in this year's budget for home offices. It would be great to see companies using some of their perk budget on home offices for select employees, those who normally get perks like company cars or overseas travel. These traditional benefits are not great incentives to employees stuck at home anymore.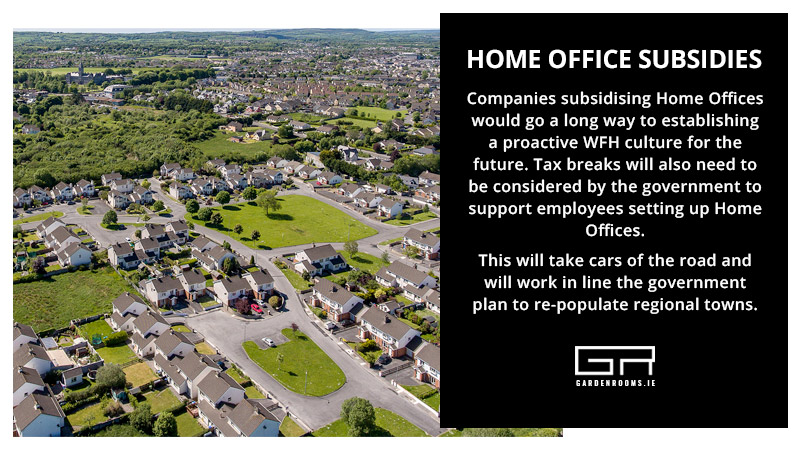 Home Office Subsidies
Companies subsidising Home Offices would go a long way to establishing a proactive WFH culture for the future. Tax breaks will also need to be considered by the government to support employees setting up Home Offices. This will take cars of the road and will work in line the government plan to re-populate regional towns. It will also encourage employees to set them selves up properly at home for the long term.
WFH – Things to Consider
If you are considering a Garden Room to WFH, we recommend that you think about what other uses you may have for the home office. Customers who use their Garden Room for home offices get the most return on their money if they allow other family members to use the room at certain times of the week. A lot of our customers use their Garden Rooms for Home Gyms, Teen Rooms and home study's as well as home offices. Everybody needs an escape from the house at the moment! Once you decide what you need from the room, we can guide you on size and positioning in your garden. Natural light is energising and allows you to focus and get settled into your work. While a clear view of the greenery and nature in your garden is a calming, stress-relieving sight. As our Garden Rooms are built on site we can change around the positioning of doors and windows to suit your needs and preference.
Overall, we believe the WFH revolution will have a positive impact on the way we work in the future offering greater flexibility, improved work-life balance, company savings, less commuting and more.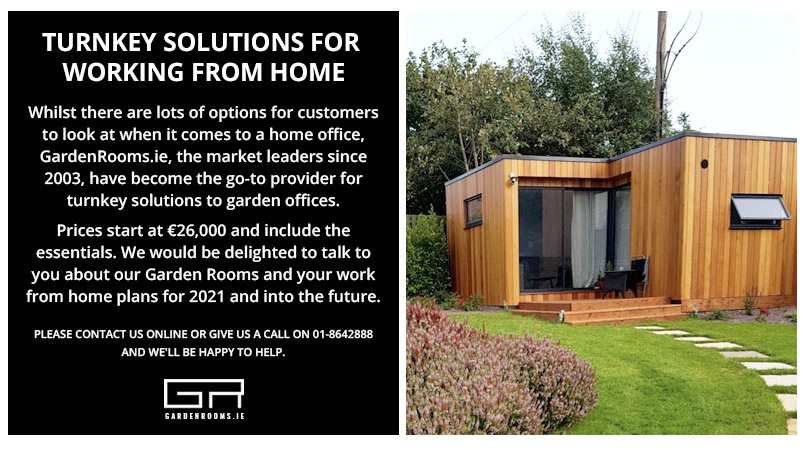 Turnkey Solutions for Working from Home
Whilst there are lots of options for customers to look at when it comes to a home office, GardenRooms.ie, the market leaders since 2003, have become the go-to provider for turnkey solutions to garden offices. Prices start at €26,000 and include the essentials such as foundations, windows, doors, flooring, full installation etc. We would be delighted to talk to you about our Garden Rooms and your work from home plans for 2021 and into the future. Please complete our enquiry form and we will be in touch to discuss your home office options. Alternatively, call us on 01-8642888 or email info@gardenrooms.ie.