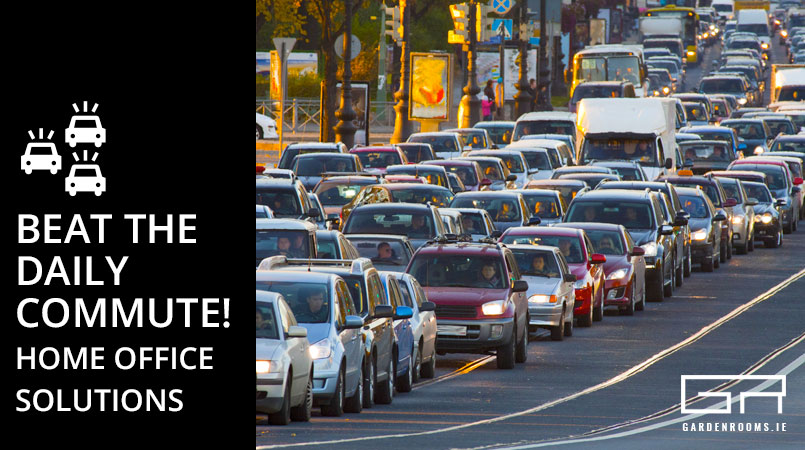 30 Nov

Beat The Daily Commute! – Home Office Solutions

You're watching and waiting – the clock strikes 5.30pm and it's finally home time! Time for a cuppa, maybe a beer or glass of wine, spending time with the kids. But alas, home time is truthfully another hour away, maybe more. First you have to make your way through rush hour traffic. You can't switch off, you need to remain alert for a while yet. It all depends on that one variable. Traffic.
Home Office Solutions – Beat the Daily Commute!
In a parallel universe, it's a different dynamic. It's 5.30pm, you step out of your office, lock the door, walk a few steps and you are in your home. Having a cuppa, that beer or glass of wine, spending time with the kids. An extra hour or more. For you! No shivering while waiting for your car to warm up. No fumes. No aching leg holding in that clutch. No horns honking at you. No traffic.
It doesn't have to be a parallel universe. It can be real. Here at Garden Rooms we offer a solution to improve your lifestyle, take you away from traffic and give you that extra time. A Garden Room makes a home office a reality.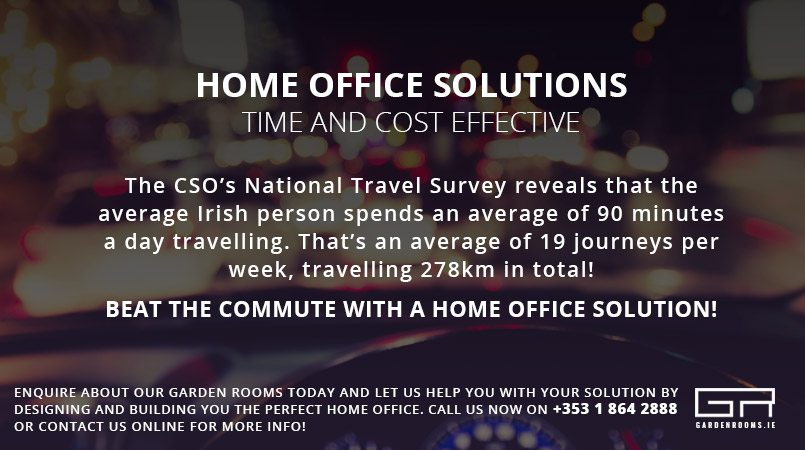 Home Office – Time and Cost Effective
The CSO's National Travel Survey reveals that the average Irish person spends an average of 90 minutes a day travelling. That's an average of 19 journeys per week, travelling 278km in total!
Then there is the cost of rent. On average, an office in prime Dublin will cost you €561 per square meter, giving you an annual rental expense of around €14,000. Let's compare that to the cost of a Garden Room. With prices ranging from €19,000 to €33,000 you have yourself not only a solution, but an asset. An investment. Our Garden Rooms are built of solid quality materials, guaranteed to last you 2-3 generations. Check out our garden room range now!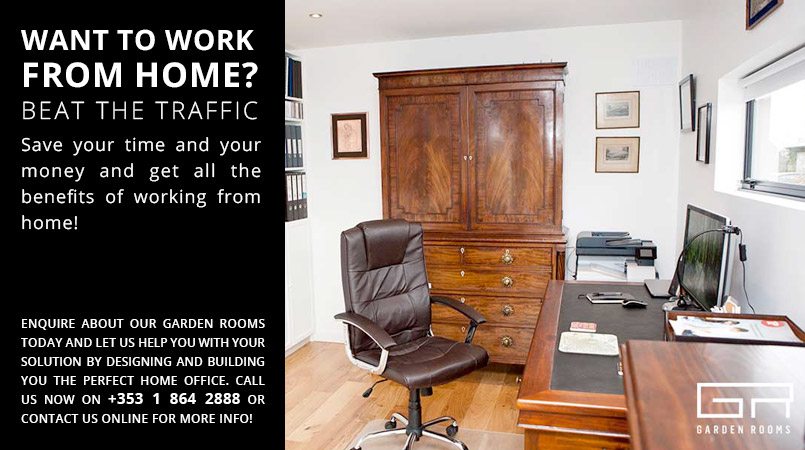 Want To Work From Home?
Beat the traffic. Save your time and your money! Enquire about our Garden Rooms today and let us help you with your solution by designing and building you a the perfect home office. Contact us on +353 1 864 2888 or fill in our online contact form for more info!