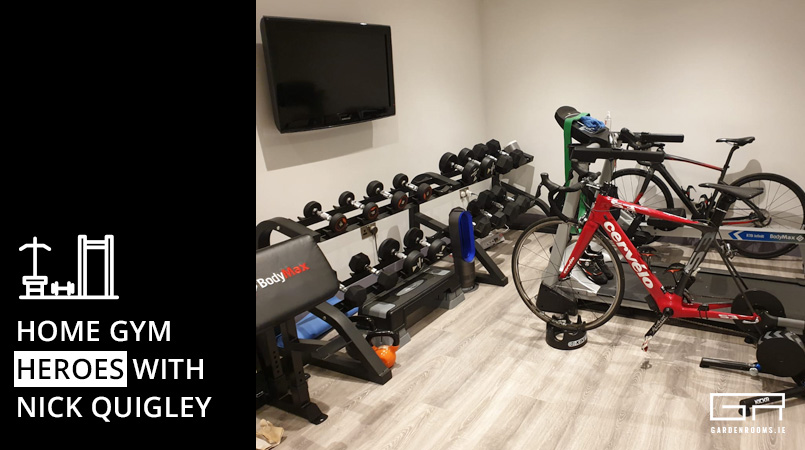 16 Oct

Home Gym Heroes with Nick Quigley

Tired of long ques, waiting times, rising membership fee's, booked out classes and crowded changing rooms? Sometimes it can feel as though you are being punished for exercising at the gym. If this list sounds familiar, it might be time to consider something different. Home Gyms offer a unique privacy that you can't get with your gym membership, allowing you can focus on your own workout without distraction or disgust (we're looking at you, guy who doesn't wipe down the machine after he uses it!).
A Home Gym Without The Room
Nick Quigley always had the idea of a home gym in the back of his mind, but his spare room didn't quite cut it, "I just wouldn't have had the room, it would have completely taken over". A newspaper feature in the Sunday papers was the prompt Nick needed to turn the idea of a home gym into a reality, "I saw two articles in successive weeks in the Sunday papers, some really nice pieces about Garden rooms and that kind of really prompted me to contact Garden Rooms and John and it went on from there".
Garden Room Design Process
The Garden Rooms design process appealed to Nick because of its personal approach,
"What I liked about the Garden Rooms was it was designed on site, it wasn't prebuilt".
All Garden Rooms designs are bespoke, whether it's the windows around to suit the light in your garden, to sizing the build perfectly to the available space in your Garden. While a showroom visit is a chance for customers to see our standard designs and high quality finish, a site survey offers us the chance to share our expertise and more advice specific to your garden, ensuring that the best possible design is achieved.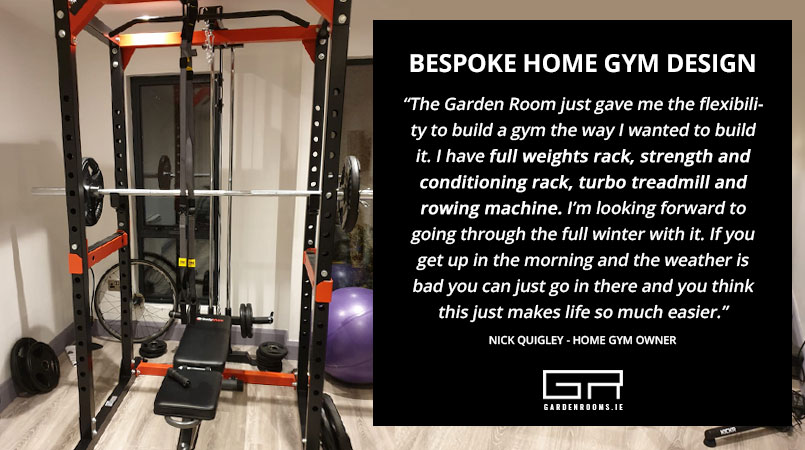 Bespoke Home Gym Design
A bespoke Garden Room means a Gym space designed exactly to your needs, "The Garden Room just gave me the flexibility to build a gym the way I wanted to build it." Our commercial grade oak laminate flooring is strong enough to take the weight of heavy gym machinery and a slanted roof can be added to the Garden Room to add height for use of equipment while also staying within planning permission guidelines. "I have full weights rack, strength and conditioning rack, turbo treadmill and rowing machine". If your gym equipment is gathering dust in the house, creating a dedicated home gym space may just offer it the new lease of life it needs.
When A Gym Routine Becomes A Lifestyle
A home gym means that workouts can not only fit into your routine, but into your lifestyle. Life often gets in the way of routine, but we could all afford to give twenty minutes of our day if the gym was (quite literally) on our doorstep! During the dull and rainy winter months it can be particularly difficult to muster up the motivation to make the trek to the gym, something Nick doesn't have to consider anymore, "I'm looking forward to going through the full winter with it. If you get up in the morning and the weather is bad you can just go in there and you think this just makes life so much easier." When its only down the back of your garden, you don't have that long list of excuses, you just get to it.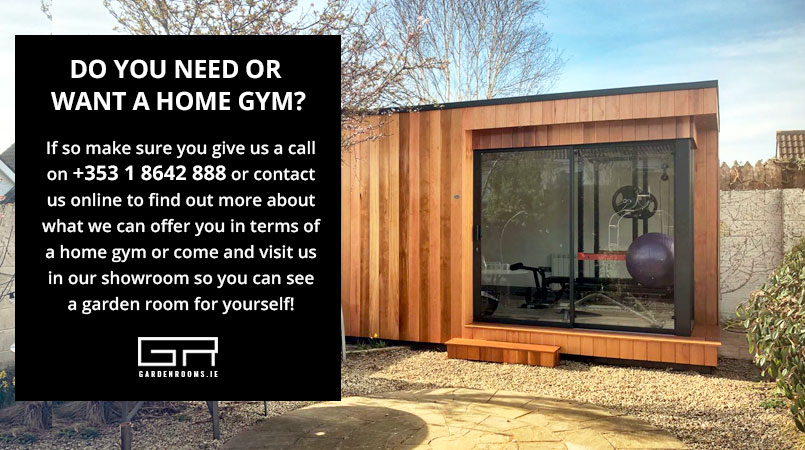 Do You Need or Want A Home Gym?
Do you need or want a home gym? If so make sure you give us a call on +353 1 8642 888 or contact us online to find out more about what we can offer you in terms of a home gym or come and visit us in our showroom so you can see a garden room for yourself!