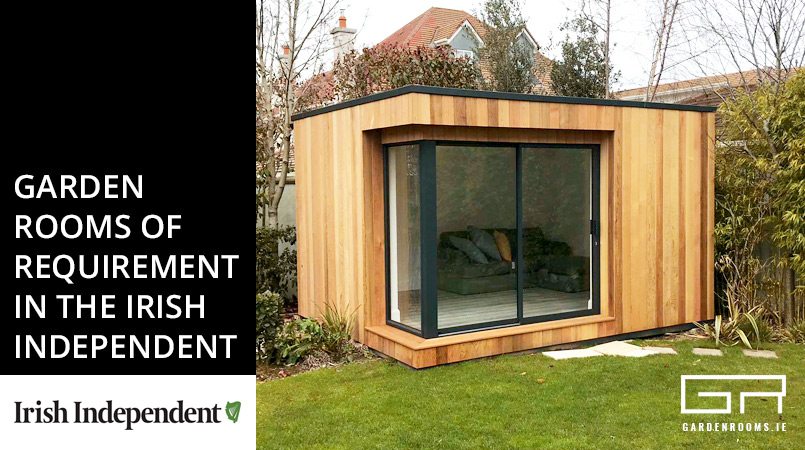 17 May

Garden Rooms of Requirement in the Irish Independent

We would like to thank Caroline Foran for her exclusive article on Gardenrooms.ie in the Weekend Magazine of the Irish Independent on 25th March 2018. Caroline has covered everything you need to know about our architecturally designed Garden Rooms, from planning, design and usage, to quality, cost and build time.
Growing Families Require Space
As families grow they need more space, and with house prices soaring, moving is not often a viable option. Moving also uproots children and their education and friendships. The alternatives are an extension or attic conversation. Both high cost and invasive to your privacy.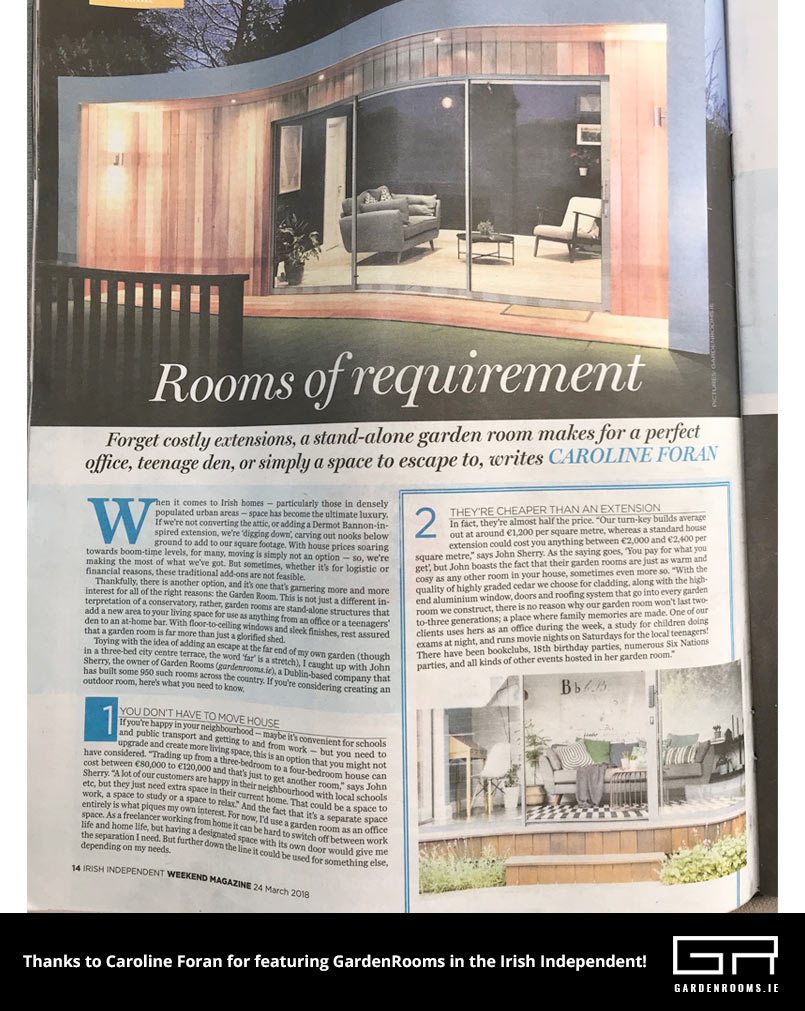 Garden Rooms Provide The Solution
Caroline highlights in her article how a Garden Room could be the solution. Built onsite within around 2 weeks, outside of your home as a stand-alone structure, the build causes minimal disruption to your home and family life. A Garden Room can serve as multiple solutions – home office, teenager Room, extra living or entertainment space, a home gym or a music room or art studio. A Garden Room can be beneficial specifically for self-employed individuals or freelancers working from by serving as a dedicated space away from house providing a separation between home and work. If you have kids or teenagers to throw into the mix, the space can be used after hours for study, movies or play, away from the house but still within earshot of parents!
Quality Materials That Can Last For Generations
Dependent on the size required, a Garden Room can cost half the price of an extension. Garden Rooms invests heavily in the materials used in the build, sourcing only the highest grade Canadian Cedar, aluminium doors and windows, and fixtures and fittings. The quality of our materials means that our Garden Rooms can last 2-3 generations, and many family memories. You can also add on additional extras such as a bathroom. Garden Room meets with the customer and discusses the needs in detail to design and build the best Garden Room specific to the customer's needs.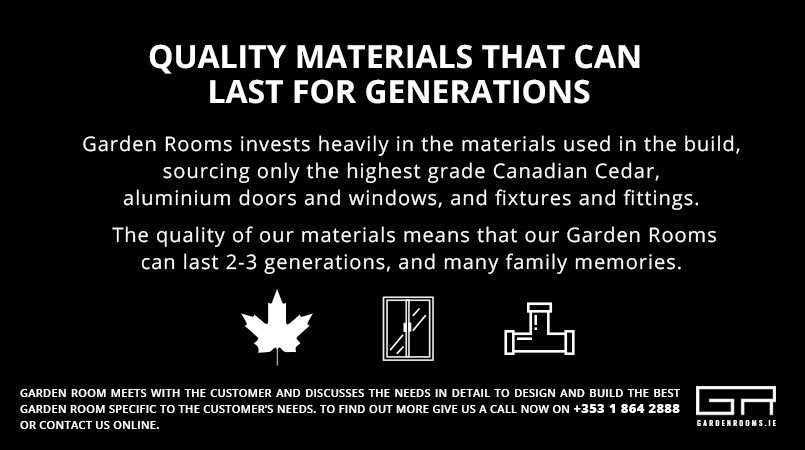 Big Gardens Aren't Needed!
Caroline also highlights that you don't need a big garden to build a Garden Room. Smaller terraced gardens can also accommodate a Garden Room. There is no planning permission required below 25 square meters, and as long as you leave 25 square meters of remaining garden to the back or side of the house, you can create an exclusive courtyard effect.
"Aesthetically on point"
Caroline's conclusion? Garden Rooms are not only practical and valuable, they are also 'aesthetically on point.' Thank you again to Caroline for the feature! You can read an online version of the article here. To find out more about our range of Garden Rooms give us a call now on +353 1 8642 888 or contact us online!