08 Mar

Garden Rooms Tops 100 5-Star Reviews on Google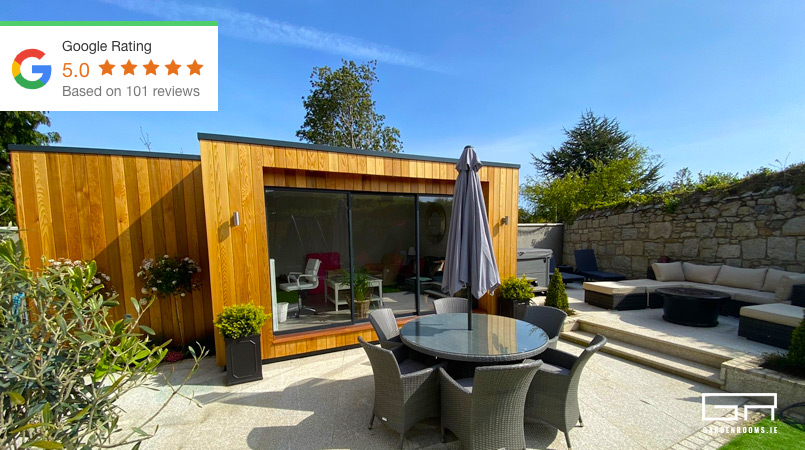 At Garden Rooms we strive to deliver the highest quality product with a level of craftsmanship and after-sales care that is second to none. What matters to us more than anything, is making our customers happy, every step of the way when designing and building their perfect Garden Room. That is why we are so proud to have received over 100 5-star reviews on Google.
Ireland's Original Garden Room Company
As Ireland's original and most trusted Garden Room company, we strongly believe in the value of being on a platform like Google Reviews, where our customers have the opportunity to tell us what they really think about their experience, from start to finish. This provides us with invaluable feedback, and builds credibility and confidence between our company and our clients.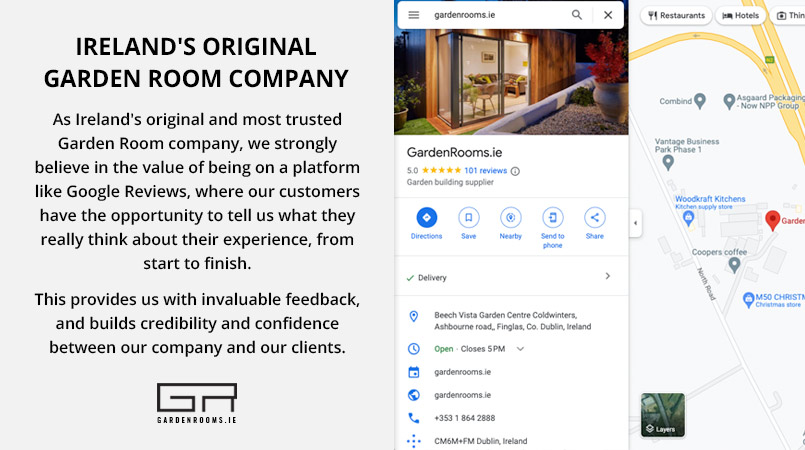 Recent Reviews
Here are just a handful of our latest reviews that reveal why our happy customers rate Garden Rooms so highly:
Garden Rooms just finished installing a new room for us. They were brilliant from start to finish. Every member of the team was highly professional and a joy to work with, they called ahead to confirm when they'd be on site, turned up each morning exactly on time, workmanship was top quality, and the final finish as neat as a pin. We also added smart bulbs for mood lighting, broadband, and aircon, which is great for both heat in winter and cool in summer. I could not recommend them highly enough.
– Erik Gannon
From planning to the completion of the project Garden Rooms were great to deal with. Stephanie and Bernadette were always quick to respond to our queries. The whole team were adaptive to changes requested during the build. Steven and Co kept the build on schedule despite it being the wettest fortnight of the year. Aftercare services have been superb. We would not hesitate to recommend the Garden Rooms crew. We love our Garden Room. It is the envy of our neighbours and friends.
– Michael McCormick
Great experience from start to finish working with the team at GardenRooms.ie. Expert customer service throughout and the team were very amenable to last minute changes in the build spec. Material and construction quality is excellent, and was completed ahead of schedule. Post-completion support also great. Highly recommend GardenRooms.ie to make your garden dreams a reality!
– Colin Cashin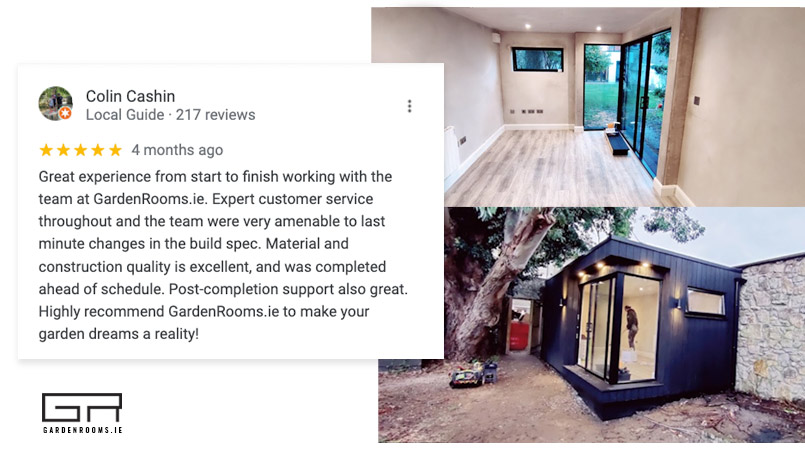 No hesitation in recommending John and his Garden Rooms Team. From advice when deciding on location and size, to the build and finish, the GR Team were excellent. We have our GR just over a year now and it's brilliant. It looks great, it's well insulated and we have used it year-round. The product is superb and the team professional, from sales to build, to after care.
– Ciaran Fanning
We have been using our Garden Room since early January 2023, and we are delighted with it.
Having extensively researched the market, and some of Garden Rooms' competitors, we ultimately decided to go with these guys. The full team were easy to work with from the very beginning, flexible, professional, and delivered the project on time and in line with the specification we wanted. Their ability and willingness to modify the design and layout (e.g., floor plan, window placement, etc.) was also very welcome and never too much of an ask.
From our initial consultations with Kerry (both at the Garden Room showrooms and at our house), to the lads working on the construction side of things (Stephen, JP, Alan and Thomas) and those in the office (Bernadette and Gina), the whole process was easy and stress-free.
The garden room, which is a CUBE 15 is now built and the materials, both internal and external, are very attractive and highly spec'd. It's 4 degrees outside today(!) and the space is as warm and comfortable as an A-rated house.
Overall, we were delighted to choose Garden Rooms as the provider of our garden studio; I really couldn't recommend them more.
– Ian Boyle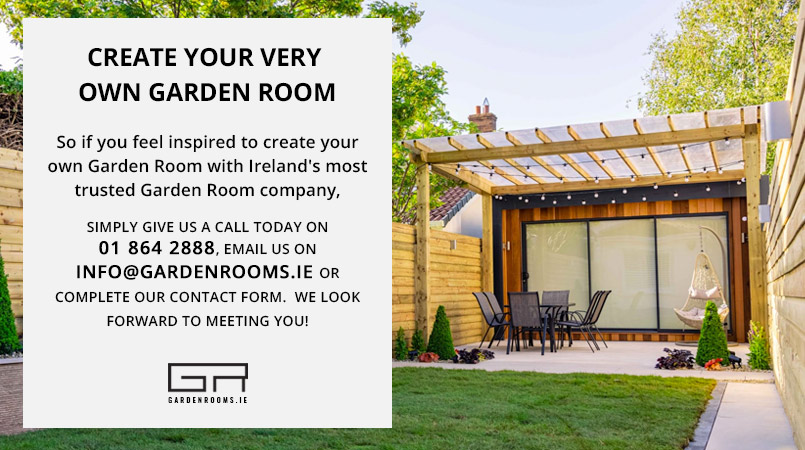 Feeling Inspired? Why Not Create Your Very Own Garden Room?
Having installed over 2000 Garden Rooms since 2003, and proudly achieving the top rating on Google Reviews, we are committed to continue offering a 5-star experience to each and every customer now and in the future. A garden room can enhance your life by adding value and luxury to your home, as well as creating space for your very own home cinema, home office, yoga room, home gym, art studio, teen den, music room or a multi-functional space for maximum versatility!
So if you feel inspired to create your own Garden Room with Ireland's most trusted Garden Room company, simply give us a call today on 01 864 2888, email us on info@gardenrooms.ie or complete our contact form. We look forward to meeting you!