11 Feb

Keeping Cosy in Your Garden Room – Are They Warm Enough in Winter?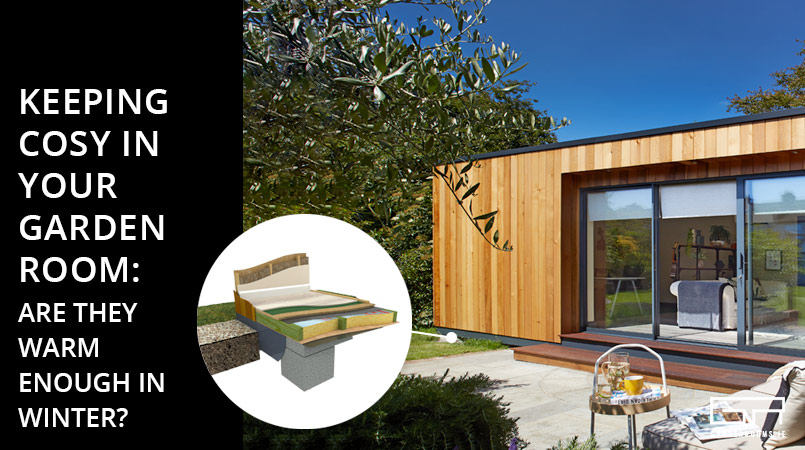 One question we get asked a lot about our Garden Rooms is to do with their heat and if they are warm enough for Irish winters? And the answer is yes! They most certainly are. In this post we'll explain the materials we use to ensure your Garden Room is snug and cosy all year round.
Are Garden Rooms As Warm As Houses?
Our Garden Rooms are as (if not even more) comfortable than a room in your house. Here at Gardenrooms.ie we have ensured that our Garden Rooms are suitable for use all year round, including those cold, frosty winter months. Our premium quality materials ensure that your Garden Room stays warm, dry and comfortable, no matter what the outside weather may bring.
Garden Room U-values
Another question we often get asked is how can we be sure that our Garden Rooms are warm enough? For this we measure the u-value of the structure – and the lower the u-value the better. A u-value, also known as thermal transmittance, is an indicator of the rate of transfer of heat through a structure, such as your Garden Room. The lower the value, the better the insulation.
We are pleased to confirm our u-values are very low, and confirmed at the following:
Floor – 0.30 w/m2k
Walls – 0.25 w/m2k
Roof – 0.24 w/m2k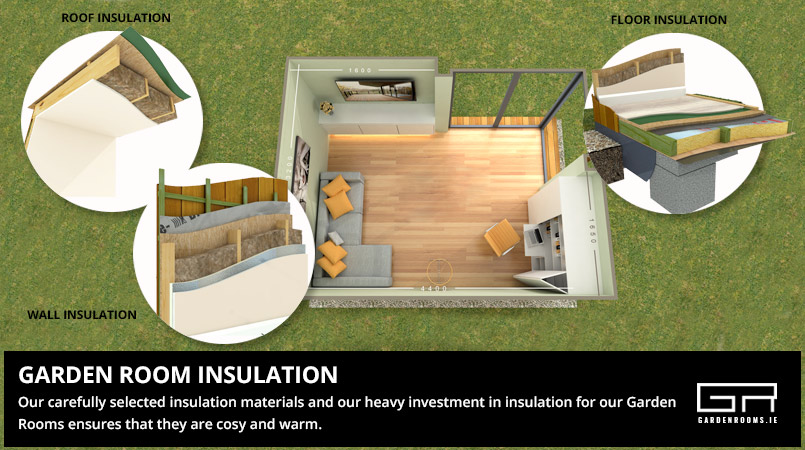 Garden Room Insulation
So how do we keep our Garden Rooms so cosy? Well, it's all due to our carefully selected insulation materials and our heavy investment in insulation for our Garden Rooms.
Walls: Our walls are 200mm thick and are doubled up with a combination of 25mm of Foil back insulation, as well as 100mm of Earthwool insulation.
Foil back insulation is a rigid polyunsaturate foam panel. It is designed with one side having reflective foil to eliminate heat loss. The foil-side is installed facing into the Garden Room to reflect energy back inside.
Earthwool is made from up to 80% recycled glass material with an environmentally friendly binder. Earthwool acoustic insulation is denser than regular insulation which also enables sound absorption prevents sound transfer from outside to inside the Garden Room.
The walls also contain a breather membrane, which allows for one directional flow of moisture out of the Garden Room – keeping it dry and healthy inside.
Roof:
Our roof contains 150mm of Earthwool as standard.
Floor: Our floor contains 80mm of Foil back insulation. Our Garden Rooms are also raised off the ground using concrete pads to allow for airflow whilst eliminating the risk of damp.
Garden Room Windows and Doors
"Close the door or you'll let the heat out!!" – and when you close one of our A-rated doors you'll really keep the heat in. All the windows and doors on our Garden Rooms are double glazed, with an aluminium frame. They are A-rated, energy efficient and maintenance free. The windows and doors carry a 10-year colour fastness guarantee and a 12 month guarantee on mechanical parts.
Garden Room Heating
Heating is included as standard and it completes the puzzle when it comes to keeping our Garden Rooms cosy. All our Garden Rooms are supplied with a 2kw electric, wall mounted panel heater. The heater comes with an electric timer so that you can program the heating to come on when needed, and therefore save on energy.
There are other options to up-spec your heating, for example a ceramic wall mounted heater, which provides a more ambient heat and works on an electric thermostat. Alternatively, a Smart
heater with connectivity to your Wi-Fi and mobile phone can provide even greater functionality.
Stay Cool in the Summer
Being comfortable in summer is just as important as being snug in winter. As our Garden Room designs are for use all-year-round, we need to be sure you are just as comfortable in summer. Whilst our insulation helps keep you warm in winter, it also helps keep you cool in summer. If you find yourself roasting on one of our envied Irish summer days, there is also the option to have an aircon fitted into your Garden Room.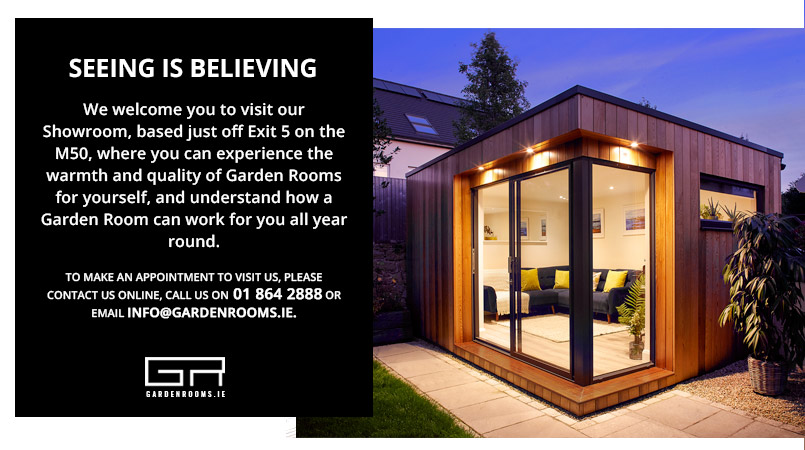 Seeing Is Believing
We welcome you to visit our Showroom, based just off Exit 5 on the M50, where you can experience the warmth and quality of Garden Rooms for yourself, and understand how a Garden Room can work for you all year round. To make an appointment to visit us, please complete our Showrooms Appointment Request form, call us on 01 864 2888 or email info@gardenrooms.ie