14 Jan

6 Reasons to Visit Our Gardenrooms Showroom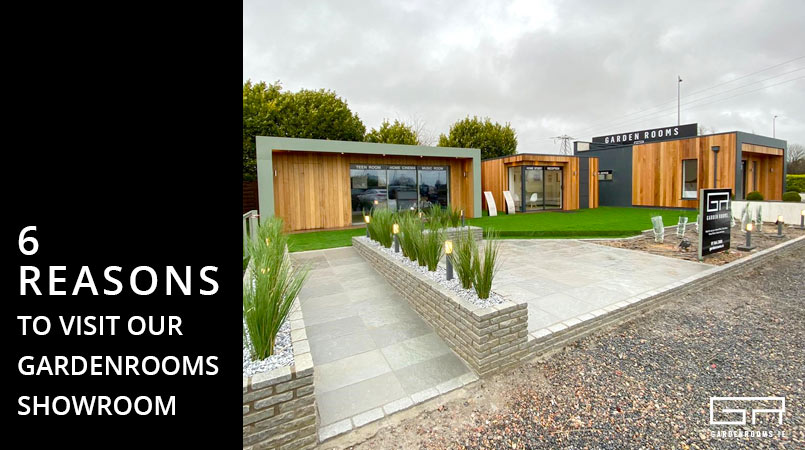 In this edition of our blog, we have outlined 6 reasons why you should visit our Gardenrooms Showroom as part of your decision-making process. We know that investing in a Garden Room is an extensive commitment. Our team here at Garden Rooms want to ensure you are fully equipped with all possible knowledge of our Garden Rooms before you make your big decision and that's why these are the 6 key reasons you should visit our showroom before deciding – read on!
1. We Are The Original Garden Rooms Company
Handcrafted since 2003, we are the original providers of premium Garden Rooms in Ireland. We guarantee our personal stamp of craftmanship on every Garden Room we build, and we are proud to have constructed over 1500 custom designed Garden Rooms nationwide. Garden Rooms MD, John Sherry, has become the leading voice on luxury Garden Rooms in the press and has earned enormous respect and recognition across the Garden Rooms industry. GardenRooms.ie have received a lot of national press coverage and featured in The Irish Times, The Irish Independent, The Sunday Times, Irish House and Homes, Thinkbusiness.ie and Celebrity Home of the year.
Nearly 20 years of perfecting our craft has given us exceptional know how and the enviable reputation as the market leaders for luxury Garden Rooms here in Ireland. These Garden Rooms have enabled our customers to work from home, create space for a growing family, exercise or record music in, or, in general, just have an outside refuge.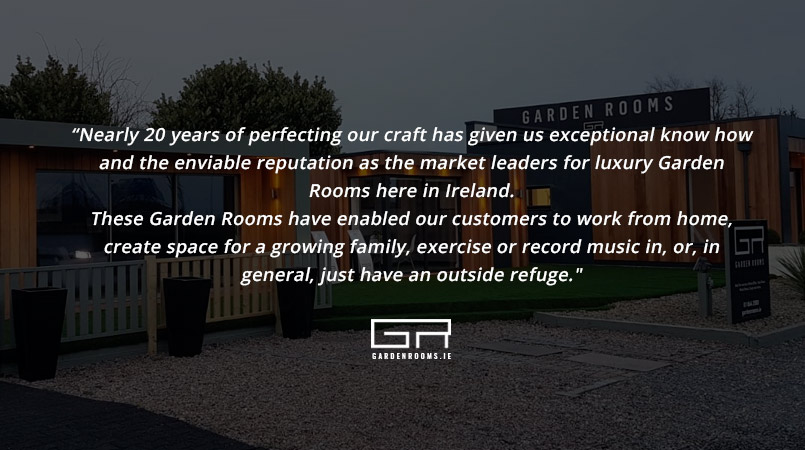 2. Try Before You Buy
We welcome you to step inside our Garden Rooms for yourself to feel the quality and warmth they ooze. You wouldn't purchase a car without taking it for a test drive, and the same should be said for your Garden Room. Our Showrooms are situated just off Exit 5 of the M50, and one of our friendly team would be delighted to take you on a tour. We have one of each of our CUBE and Ultimate designs on show, each tastefully decorated and designed to allow you to imagine your own Garden Room for your own needs. We have also converted a section of our back offices into the interior of an Ultimate 23 Home Gym for our fitness enthusiasts.
As you approach our showroom you will likely first notice our Ultimate design, with its unique veranda which catches the eye. The veranda is framed in Cement Grey aluminium (RAL 7033), creating a visually aesthetic design. Inside the Ultimate we have a sitting room area, complete with couch and TV, as well as a desk to the side. We have added a toilet and wash hand basin. Hidden behind the external secret cedar door we have a storage area, for all your storage needs. We've designed our Ultimate as a multipurpose Garden Room, however your Ultimate design could be used as a Home Office, Teenager Room, Home Gym or whatever your needs may be.
Our CUBE 17 is also designed as a multipurpose Garden Room. We have split the Garden Room into 2 zones. One side of the CUBE 17 is a Home Office, with a very clever bespoke foldaway office door, whilst on the other side we have a couch and TV, providing a space for teenagers, or anyone in the family to chill out, away from the house.
3. Quality & Finish
We invest heavily in only the best quality materials for our Garden Rooms. Our Garden Rooms are clad in beautiful 350-year-old British Columbian cedar. We only use full lengths of cedar so that there are no visible joins, only clean lines. The different tannins in each cedar length really add to the beauty of the cladding. Windows and Doors are maintenance free, double glazed with aluminium frames. Once inside the Garden Room we know you will be impressed by the level of insulation which not only offers warmth, but extensive sound proofing. As our showroom is situated adjacent the busy N2, you will be able to hear the soundproofing as you close the Garden Room door. The Garden Rooms come fitted with an electric heater and hold their heat very efficiently. This is due to our extensive insulation. We double up the insulation in the walls with both Earthwool and Foilback insulation. The floors are also insulated with Foilback insulation, whilst the ceiling has Earthwool.
The electrical package includes tasteful brushed chrome finish double sockets, and brushed chrome LED spotlights in the interior and exterior. Standard flooring includes a beautiful anti-slip 12mm laminate in Platinum Grey Oak giving a realistic wood floor appearance. The AC4 rating makes this floor suitable for heavy domestic and medium commercial use.
4. Better Than Online Photos
Look at the finishes in person, not just online. It can be difficult to compare what companies offer by just looking at the photos on their websites. Quality must be experienced first-hand, which is why visiting our Showroom is a must. We have had extensive feedback from customers that our quality is far superior to the majority of our competitors.
5. Understand Pricing
One of the key deciding factors for you as a customer is the price of the Garden Room. It's important to ensure that we are transparent in giving you a price. One of our Garden Rooms team will be happy to discuss the costings of your Garden Room, detailing what is included in your base price and the cost of any additional extras which you may require.
6. Our Great Team
Visiting the Garden Rooms Showroom will allow you to discuss your ideas with experts and get their feedback and advice. Because our team are well versed with Garden Room designs, their knowledge will be useful and more tailored to you, as compared to the generic information you will find on the internet. They may even bring up some ideas that you'd never considered before.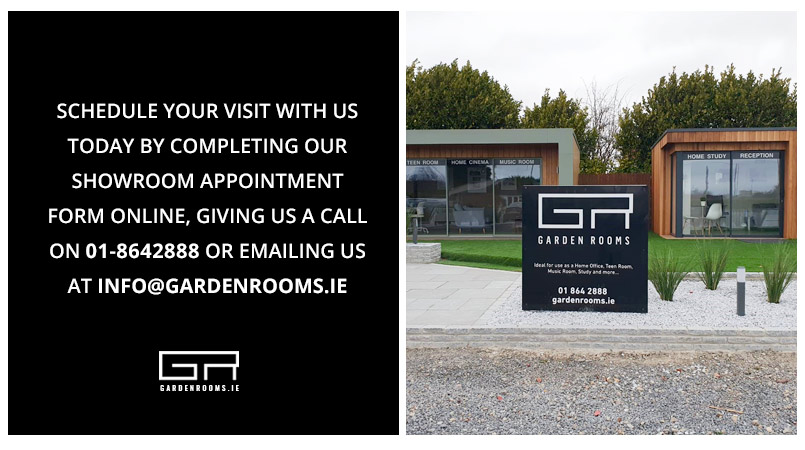 Schedule Your Showroom Tour Visit
We would love for you to visit us and see how one of our Garden Rooms can add value to you. Thereafter we can call out to your house and discuss your very own Garden Room. We will discuss with you the best size and position for your Garden and your needs. We will also stake out the ground to help you visualise the space. Schedule your visit with us today by completing our Showroom Appointment form, giving us a call on 01 864 2888 or emailing us at info@gardenrooms.ie.