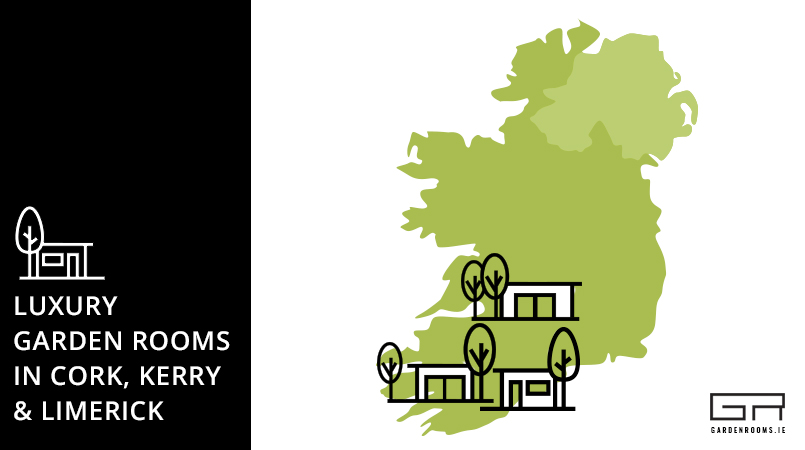 21 Jan

Luxury Garden Rooms in Cork, Kerry & Limerick

Garden Rooms receives a good number of enquiries from the beautiful counties of Cork, Kerry & Limerick. Since 2003, we have built many Garden Rooms in these counties, especially Garden Rooms in Cork. Every single Garden Room is custom made, with our primary focus on superior quality materials, master craftsmanship and exceeding customer expectations.
Introducing Benny From Kerry – A Master Craftsman
Our showroom may be based in Dublin, but it may interest you to know that our best master craftsman Benny Moss is based in Kerry. You won't find a better Garden Rooms builder in all of Ireland! For the past 6 years Garden Rooms has been very fortunate to have Benny Moss (nicknamed Superman by many of our customers for his strength, speed and skill) as one of our Master Craftsmen, building our beautiful, custom designed Garden Rooms throughout Ireland, but focusing primarily on Dublin.
A Bit About Benny
Benny and his wife Desiree and their children have family home in Rathmore, County Kerry. Benny originally hails from Tyrone in Northern Ireland, and then fell in love and married Kerry native, Desiree. Whilst Benny has primarily been building our Garden Rooms in Dublin, he has now made the decision to focus only on areas closer to his family home. This way Benny can focus on his family and completing his own dream home which he is in the process of building while affording him a much sought-after work / life balance. Whilst we are sad we won't be seeing much of Benny around Dublin, this is great news for customers looking to have a Garden Room built in Cork, Kerry or Limerick. Benny will now be dedicated to these counties.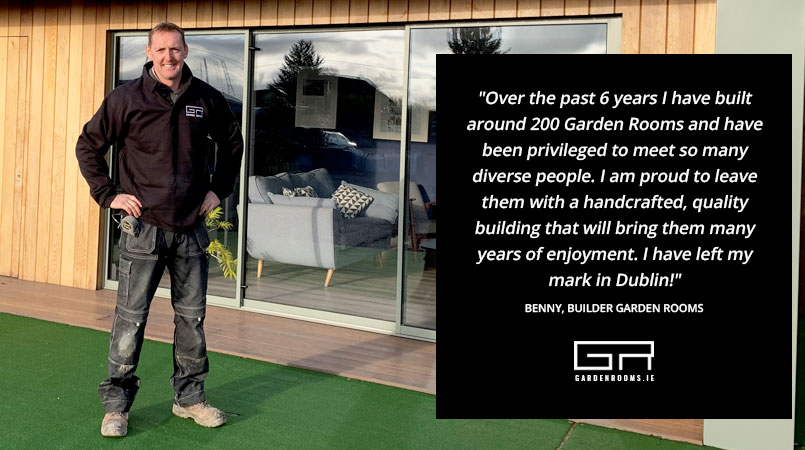 Handcrafted, Quality Garden Rooms
On building our Garden Rooms, Benny had the following to say –
"Over the past 6 years I have built around 200 Garden Rooms and have been privileged to meet so many diverse people. I am proud to leave them with a handcrafted, quality building that will bring them many years of enjoyment. I have left my mark in Dublin!"
We wish Benny everything of the best and are very grateful that he remains part of our team while at the same time allowing us to dedicate a master craftsman to Cork, Kerry & Limerick!
Garden Rooms Success Stories & Site Surveys
You can view one of our Cork Garden Rooms in the Music Room Success Story, where Snooks Lee gives us his feedback on his CUBE 20 which we built back in 2016. We do offer site surveys in Cork, Kerry and Limerick. Our Sales and Project Manager, Kieran, enjoys his travels to these counties and can schedule in a visit to your home to discuss your requirements for your own custom designed Garden Room.
Areas We Have Already Built Garden Rooms
Within the three counties, these are the areas we have already built our luxury Garden Rooms in:
Cork: Ahada, Cobh, Inishannon, Blackrock, Douglas, Glanmire, Liamlara, Macroom, Coolatooder, Kerry Pike, The Lough, Rochestown, Ballincollig, Roscarberry, Ballinhassig, Middleton, Kilshane, Bishopstown
County Limerick: Corbally, Mount Shannon, Ennis Road
County Kerry: Kenmare, Tralee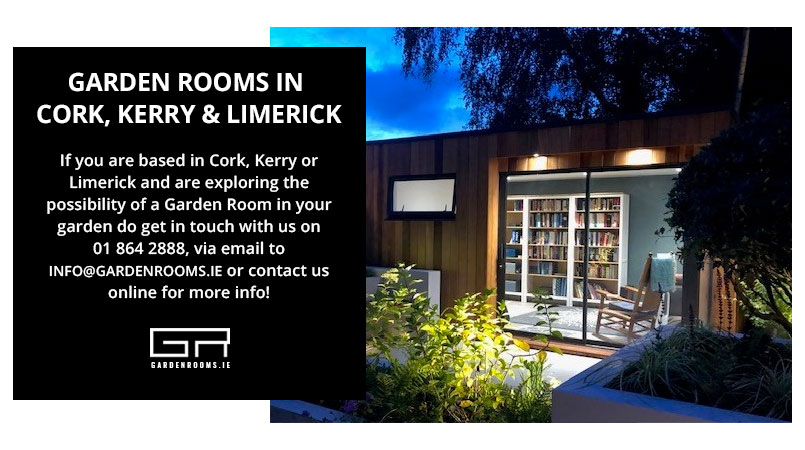 Garden Rooms in Cork, Kerry & Limerick
If you are based in Cork, Kerry or Limerick and are exploring the possibility of a Garden Room in your garden, do get in touch with us on 01 864 2888, via email to info@gardenrooms.ie or contact us online for more info!